Romanian-Hungarian director Cecília Felméri makes a confident debut with this atmospheric thriller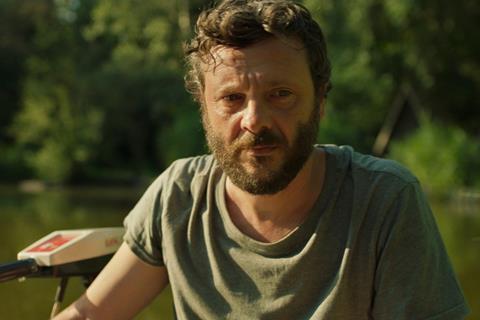 Dir/scr: Cecília Felméri. Hungary/Romania 2020. 98mins
Environmental and psychological instability intriguingly intertwine in Spiral, the slow-burning feature debut from Transylania-born writer-director Cecília Felméri. A promising transition to the larger canvas for a filmmaker whose shorts attracted international attention, it picked up a special mention when world-premiering at Warsaw last October in the first/second features competition. Romanian cinema has long been something of a "boys' club," and the emergence of a strong new female voice behind the camera from that part of the world is always welcome.
A confidently-handled mood-piece
That said, issues of nationality here are not clear-cut. Herself a member of Romania's ethnic Hungarian minority, Felméri — her name, like all the others in the credits, is presented Hungarian-style with the surname first — combines prominent performers from both countries in an smoothly organic co-production. Even the fact that all the dialogue of Romanian leading man Bogdan Dumitrache is dubbed into Hungarian by Ernő Fekete will likely elude the vast majority of viewers.
It probably helps that Dumitrache/Fekete's character Bence is a gruffly taciturn chap, much more prone to bottling up his emotions than verbalising them. He's the one abiding human element in Felméri's screenplay, which is elegantly divided into three sections of approximately equal length. In the first, Bence lives and works with his girlfriend Janka (Diána Magdolna Kiss) at the fishing-lake he owns in an unspecified but evidently remote location: the extreme spottiness of mobile-phone reception is frequently remarked upon and proves pivotal at several junctures.
In this opener Felméri splits her focus – plus our attention and sympathies – equally between the couple: György Réder's camerawork may fleetingly adopt the subjective POV of either character. The pair enjoy a close physical, romantic relationship, but it's clear that not everything is plain sailing here. Minor frictions and dysfunctions among the two are paralleled by manifestations of disease and abnormality in the natural world around them; when Bence abruptly flourishes an engagement ring, the troubled relationship waters remain defiantly unsmoothed. Communication problems of various stripes plague people like the area's ever-buzzing flies. The careful balance of this first section means we (like Bence) are shocked when tragedy strikes the pair, and Bence subsequently spirals into mental and physical decline.
Dumitrache essayed similar psychological terrain when winning Best Actor at San Sebastian in 2017 for playing the distraught father of a missing child in Constantin Popescu's Pororoca. Here, however, he is halted from that kind of spectacular total breakdown by the arrival of Nora (Alexandra Borbély), representative of a grant-awarding body who turns up to check that Bence's application is fully ship-shape. A connection quickly blossoms between the pair, haunted — for Bence and the viewer alike — by shadows from the past.
Skilfully playing with tropes familiar from Hitchcockian suspense thrillers and rural supernatural dramas (including several brief dream-sequence interpolations) without ever quite heading down the genre route, Felméri benefits significantly from the input of her considerably more experienced key collaborators. Réder was László Nemes' camera-operator on Son of Saul and Sunset; editor's Péter Politzer's credits stretch back to the last century. The performers also shoulder their share of heavy emotional lifting — Borbély, the breakout from Ildikó Enyedi's On Body and Soul, once again turning in subtly detailed, empathetic work.
Making atmospheric and economic use of a single lakeside location and avoiding musical scoring until the last seconds, Spiral perhaps errs a little on the side of excessive restraint in terms of piecing out matters of exposition and motivation. But overall this is a confidently-handled mood-piece which signals the emergence of a promising new talent from that ever-fertile Hungarian-Romanian hybrid zone.
Production companies: Inforg-M&M Film, FocusFox Studio, Hai-Hui Entertainment
International sales: NFI World Sales, Budapest, klaudia.androsovits@nfi.hu
Producers: Ernö Mesterházy, András Muhi, Monika Mécs
Production design: Renátó Cseh
Editing: Péter Politzer
Cinematography: György Réder
Music: Adam Balazs
Main cast: Bogdan Dumitrache, Alexandra Borbély, Diána Magdolna Kiss