Dir. Tom McCarthy, US. 2015. 128mins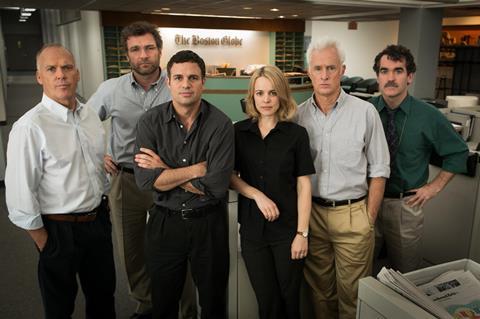 A polished, engrossing procedural, Spotlight offers plenty of old-fashioned pleasures — chiefly, the sight of smart, scrappy muckraking journalists stopping at nothing to uncover systematic corruption. With strands of All The President's Men unmistakably embedded in its DNA, this real-life drama chronicles how, in 2001, a handful of Boston Globe reporters exposed a widespread cover-up of sexual abuse in the Catholic Church. Although director and co-writer Tom McCarthy can fall victim to prestige-picture preciousness and narrative conventionality, Spotlight goes a long way on the strength of superior acting and a crackling tale.
The filmmaker is aided immensely by a cast topped by Ruffalo, who plays Rezendes with all the tenacity and charm of a pit bull
Playing the Venice and Toronto film festivals before hitting US theaters on November 6, Spotlight hopes to court awards-season favour with a cast that includes Mark Ruffalo, Michael Keaton, Rachel McAdams and Liev Schreiber. Audience awareness of the Church's sexual-assault crisis could draw discriminating adult viewers, and strong reviews will only help build interest in a journalistic exposé that may not offer many visceral thrills but should satisfy those looking for grownup entertainment.
Taking place over the course of about six months, the film illuminates the work of the Boston Globe's Spotlight team — editor Walter "Robby" Robinson (Keaton) and his reporters Michael Rezendes (Ruffalo), Sacha Pfeiffer (McAdams) and Matt Carroll (Brian d'Arcy James) — who can take up to a year digging deep into investigative pieces for the paper. When their new editor Marty Baron (Schreiber) becomes interested in allegations that Cardinal Bernard Law, Boston's archbishop, shielded priests who raped young parishioners, Spotlight starts tracking down victims and anyone else who has evidence of the decades-long wrongdoing.
Much like other fact-based films such as All The President's Men or The Insider, Spotlight derives much of its low-boil intensity from the stripped-down recounting of how these journalists went about revealing the cover-up. Though there is some attempt to fill in these characters' personal lives, McCarthy (The Station Agent, The Visitor) adopts a just-the-facts-ma'am tone, mostly eschewing huge dramatic moments to let the reporters' industrious, unglamorous work take centre stage. And because Spotlight is set at a time before the Internet was ubiquitous, that means a lot of face-to-face interviews, combing through court archives and other laborious investigative work that, as filmed by McCarthy and edited by Tom McArdle, has a pleasing, compelling rigour to it.
The filmmaker is aided immensely by a cast topped by Ruffalo, who plays Rezendes with all the tenacity and charm of a pit bull. He isn't much fun to be around — even his wife seems to have abandoned him — but Rezendes comes across as Spotlight's unapologetically hardnosed hero, a relentless investigative journalist who attacks his job with the avenging-angel fury of a man who cannot abide corruption and hypocrisy.
Ruffalo's two main costars, McAdams and Keaton, are both strong as well, playing veteran journalists whose whole lives appear to be their work. In the past, McAdams has been wobbly in dramatic roles, but she has the right tenor for Pfeiffer, who may be the youngest of the Spotlight team but doesn't shrink from the challenges of confronting difficult interview subjects. And although Keaton's character is somewhat burdened by a guilty secret, the Oscar-nominated actor exudes a weary, wise tone that makes it obvious why Robinson's coworkers respect him so.
If Spotlight is more handsomely constructed than revelatory or incisive, it's because McCarthy drapes the proceedings in a tastefulness that can be smothering. Despite the hot-button topicality at its core, Spotlight isn't particularly emotional or outraged, and likewise the filmmaking tends to settle into a slightly staid professionalism that's always crisp but never particular electrifying. But like its ink-stained main characters, it gets the job done with a minimum of fuss.
Production companies: Entertainment One, Participant Media, ​First Look Media, Anonymous Content, ​Rocklin/Faust
International sales: Entertainment One, CVanWeede@entonegroup.com
Producers: Michael Sugar, Steve Golin, Nicole Rocklin, Blye Pagon Faust
Screenplay: Josh Singer & Tom McCarthy
Cinematography: Masanobu Takayanagi
Editor: Tom McArdle
Production design: Stephen Carter
Music: Howard Shore
Main cast: Mark Ruffalo, Michael Keaton, Rachel McAdams, Liev Schreiber, John Slattery, Brian d'Arcy James, Stanley Tucci