Netflix presents an engaging portait of irreverent filmmaker Robert Downey Sr by his actor son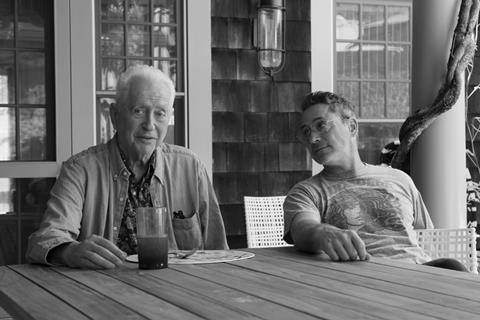 Dir: Chris Smith. US. 2022. 89mins
It's something of an irony that actor Robert Downey Jr., who now spearheads the blockbusting Avengers franchise, comes from such an anarchic filmmaking background; his father, Robert Downey Sr., directed anti-establishment films like Chafed Elbows (1966), Greaser's Palace (1972) and, most famously, Putney Swope (1969). While this Netflix documentary doesn't dig too deeply into this creative dichotomy — Downey Sr. never expresses an opinion on his son's mainstream output, although he does have an Iron Man 3 poster on his wall — it's an engaging and moving study of the tensions between art and life, and between the generations.
Conversations are frank and unguarded, and run the gamut from fond memories to bitter regrets
Director Chris Smith (American Movie, Home Movie) has a long history of non-fiction filmmaking, establishing a strong relationship with Netflix through documentary series including Bad Vegan and feature Fyre: The Greatest Party That Never Happened. (He was also executive producer on the streamer's hit series Tiger King). Here, as with those works, an unfussy fly-on-the wall style allows his subjects to tell their story in their own words — and, in the case of Downey Sr., who determines to edit his own version of the film, his own way. After premiering at Telluride before subsequently bowing on Netflix on December 2, the film finds itself in the Oscars conversation after being named Best Documentary by the National Board of Review.
Filming in black and white to emulate his eponymous subject's style, Smith is well aware that, despite the film's title, it will be the Downey Jr. name that drives mainstream audience attention, framing this as a portrait of Downey Sr. through his son's eyes. In talking head interviews, Downey Jr. — occasionally sporting that trademark Tony Stark moustache — explains that this project is a way for him to better understand his dad. Over the course of three years from 2019 to Downey Sr.'s death in July 2021, Smith and his team document the interactions between father and son at the former's home in Manhattan, at Downey Jr.'s house in East Hampton and, as the pandemic bites, over Zoom and phone calls.
Conversations are frank and unguarded, and run the gamut from fond memories to bitter regrets. They discuss early family life, where the young Downey Jr. was surrounded by a culture of filmmaking (his mother, Elsie Ford, was a formidable actress) and, later, of substance abuse, leading to his own years-long problems with addiction. Downey Sr. talks with pride about how his son's talent was evident from a young age — he made his debut, aged five, in his father's film Pound — and laments his role in his son's drug habit. Elsewhere, Downey Jr. explores how his relationship with his son Exton has been influenced by his own unconventional childhood. Though never given voice, there's the suggestion that, perhaps, this need to provide stability and security has shaped Downey Jr.'s own career choices.
Revelations and remembrances are interspersed with snippets of old home movies and sequences from Downey Sr.'s films. What emerges is an enduring passion for cinema that never wanes, even as he becomes increasingly frail from Parkinson's Disease. Downey Sr. is a delightful raconteur, gruffly honest when speaking about his move to LA in the 1980s to make studio features like Up The Academy (1980). Unlike his son, he couldn't gel with Hollywood, and soon returned to New York — a place that inspired him all his life.
Downey Sr. is also inspired by making this documentary which, says his third wife Rosemary, brings him to life. He offers constant directorial suggestions, and keeps a notebook of shots that he feels would best convey the beats of his story. And with an edit suite placed first in his apartment and then in his bedroom, Downey Sr. pieces together his own version of this film — snippets of which we see on screen captioned 'Sr. Edit'.
These sequences may at first seem to follow the abstract, non-linear template of most of Downey Sr.'s work; extended scenes of city ducks on a pond, Downey Jr. playing with his children or performing, rather strangely, a German folksong. Yet these are the images that matter most to a man in his final days, moments of contemplation, connection and, ultimately, redemption. With Sr., this notorious, rebellious director isn't just making his final film; he's making his peace.
Production companies: Team Downey, Library Films
Worldwide distribution: Netflix
Producers: Robert Downey Jr., Susan Downey, Emily Barclay Ford, Kevin Ford
Cinematography: Kevin Ford, Chris Smith
Editing: Kevin Ford, Amanda C Griffin, Daniel Koehler