Dir. Bill Clark. UK. 2016. 92 mins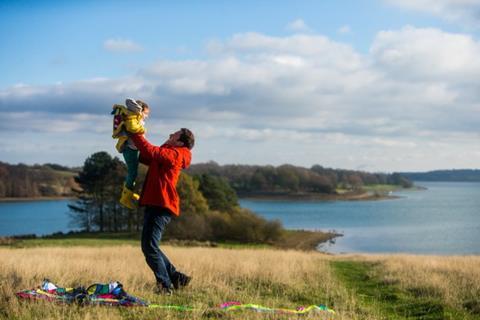 Considering cinema's propensity for stories about battling the odds and triumph over adversity, it's a wonder that nobody thought to tell the true tale of English East Midlands couple Tom and Nicola Ray any sooner. Perhaps it's because the balance is tipped so decisively towards adversity rather than triumph: Starfish is the tough, heartbreaking story of a man who in 2000 suffered life-saving – but massively invasive – surgeries after contacting septicaemia.
Starfish is the story of a family, and most of all a marriage – offering a relatable hook to events that are very far from the experiences of most audience members.
Strong critical acclaim and recognition for two nicely modulated lead performances could combine to tempt cinema audiences to experience a film that does not shy away from depicting the devastating physical and mental toll on its subject. Failing that, a healthy broadcast and festival life looks likely for a powerfully moving issue-driven drama with some strong PR potential.
In the tiny landlocked English county of Rutland, children's book author and stay-at-home dad Tom Ray (Tom Riley) is looking forward to the imminent birth of his second child with breadwinner wife Nicola (Downton Abbey's Joanne Froggatt, earning her first executive producer credit). He initially attributes violent stomach pains to a couple of date-expired sausages, and even when he reaches hospital, doctors are slow to diagnose a life-threatening blood disease. Only radical surgery has a hope of saving him, and a grim-faced Nicola signs the permissions to amputate all four limbs and most of his lower face.
After the surgery, Riley's naturally handsome features are swathed in bandages, and audiences are left to wonder what his character now looks like. With respect to Tom Ray and his family, what is eventually revealed is not a pretty sight, and adjustment for all is painful. But the Rays' problems do not end there: Tom did not suffer his injuries as a military serviceman or in an industrial accident, and there is no insurance payment. The family turns to charitable fundraising to pay for prosthetic limbs – a story element that briefly gives the film an added political edge without unbalancing the essential human drama at its heart.
Writer-director Bill Clark, making a belated follow-up to little-known 2007 DVD movie The Christmas Miracle of Jonathan Toomey, maintains an assuredly quiet control over potentially histrionic material, making the dividends all the richer when Tom and Nicola finally do bare their souls to each other. Froggatt in particular socks it over with a nicely scripted speech which is tailor made for an awards clip reel, while Riley finds his most affecting moment when he realises he could lose something even more precious than what has already gone. Starfish is the story of a family, and most of all a marriage – offering a relatable hook to events that are very far from the experiences of most audience members.
Made with what is presumed to be relatively modest production resource, Starfish convincingly depicts the impact of Tom's brutal surgeries. For the limb stumps, the real Tom Ray provided a body double, helped by seamless visual effects work. For the amputated lips and swollen face, London's Millennium FX supplied prosthetics, working under the direction of make-up department head Melissa Lackersteen. Paul Saunderson's nicely judged score amplifies emotion with foregrounded piano, violin, viola and cello, while holding back from too-easy sentimentality – chiming, in other words, with the affecting tone of Clark's thoughtfully composed film.
Production companies: Origami Films, Crossday, What's The Story
International sales, Genesius, enquire@genesiuspictures.com
Producers: Pippa Cross, Melanie Paton, Ros Hubbard
Screenplay: Bill Clark
Cinematography: Clive Norman
Editor: Carmela Iandoli
Production design: David Bryan
Music: Paul Saunderson
Main cast: Joanne Froggatt, Tom Riley, Ellie Copping, Michele Dotrice, Phoebe Nicholls, Greg Haiste, Oliver Cunliffe, David Carr