Andrew Scott stars in this US-set crime thriller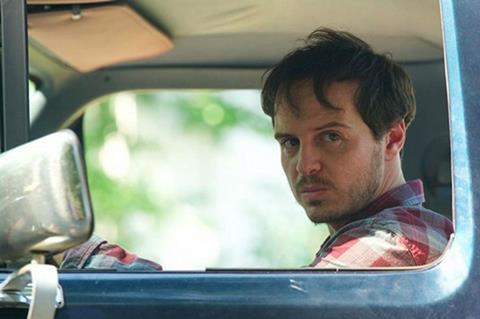 Dir. Simon Fellows. UK. 2018. 89 mins
A nervy, angular performance from Andrew Scott in the central role of this US-set crime picture is not enough to bridge the chasm-like credibility issues which litter the plot. Scott plays Donny, a garbage truck driver with a learning disability who takes it upon himself to investigate the death of a young child. His lack of social skills and blundering interest in the case puts Donny in the frame for involvement in a death which had previously been dismissed as accidental. The film has something interesting to say about the way that disability can be shadowed by suspicion. However the glaring question marks over character motivation and each increasingly unlikely plot development means that Steel Country fails to engage as a thriller.
A cluelessness in the writing undermines the credibility of the picture
Although this is certainly a technically polished piece of filmmaking – the cinematography by Marcel Zyskind is particularly striking – and Scott's characteristically complex performance is a selling point, this picture might struggle in the open marketplace. Following on from its world premiere in Edinburgh, it may connect with further festival audiences. However, given the likelihood of muted word of mouth, Steel Country might ultimately be better suited to VOD platforms.
It is never specified, but Donny appears to be on the autistic spectrum. He recites the names of the presidents in moments of stress, and, to relax, he has a huge box of felt tip pens which he grades by colour. What's more, Donny has a tendency to take everything he is told literally. "What, are you a reporter now?" jokes an off-duty cop when Donny probes him for information. "No, I still work in sanitation," he answers. It's this dogged single-mindedness which first causes him to fixate on the case of the drowned child. The boy's mother, distraught, muses that it was not in his nature to wander off alone. Donny gets his teeth into this seemingly throw-away comment and won't let go.
Shot in Griffin, Georgia doubling for Ohio, the film is loaded with small-town, small-mind signifiers. Trump/Pence campaign posters adorn boarded up businesses; every available surface is decorated with a US flag. Extreme close-up shots of the flies which cluster around Donny's bin lorry suggest a rot at the core of society. This is America's heartland, the kind of close-knit community where everyone's business is public, and only the very powerful can afford to keep secrets. But increasingly it becomes clear that Donny might be onto something and the accidental death might not be as clear cut as the police assume.
With a more slippery and enigmatic screenplay which spreads the seeds of doubt wider, Donny's quest might have been dramatically persuasive. As it is, the story requires characters to blurt out chunks of ill-guarded information, propelling Donny on an journey which can only ever end badly. There's a cluelessness in the writing – regarding criminal investigation, the ethical considerations of forensic pathology and the use of a crossbow as a dramatic device – which undermines the credibility of the picture.
Production company: Bedlam Productions
International sales: Bankside Films krisztina@bankside-films.com
Producer: Leon Clarance, Tai Duncan, Gareth Unwin, Mark Williams
Screenplay: Brendan Higgins
Production Design: Erik Rehl
Editing: David Arshadi, Chris Dickens
Cinematography: Marcel Zyskind
Music: John Hardy Music
Main cast: Andrew Scott, Denise Gough, Bronagh Waugh, Christa Beth Campbell, Griff Furst, Michael Rose, Andrew Masset