Dirs. John McKenna, Gabriel Clarke. UK-US, 2015. 107 mins.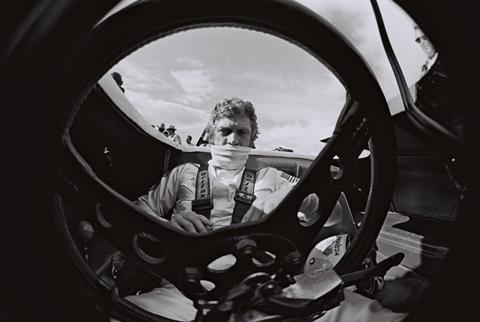 Back in June 1970, taciturn and troubled Hollywood superstar Steve McQueen shot a vanity project called Le Mans, a hugely-expensive 'ultimate racing picture' about the 24-hour sports car competition. It was a flop. The monosyllabic McQueen fell out with everyone involved on the project, including his director, friends and family, and headed back to the safety of studio projects such as The Towering Inferno. A decade later he was dead from lung cancer.
McQueen was hubris on wheels – he had even planned on competing in the race himself, until he was dissuaded at the last minute
Some 45 years on, British TV documentarians John McKenna and Gabriel Clarke have unearthed a treasure trove of supposedly-lost footage from the film, coupled with some terse voiceover recorded by McQueen shortly before his death. They have assembled this alongside interviews with all the main players in Le Mans, including his McQueen's wife, Neile and son Chad, into a leisurely 107-minute documentary which is likely to preach to the previously-converted. Audiences who aren't already stuck on Steve McQueen or 1970s endurance racing are unlikely to be won over by this film, which does nothing to salvage McQueen's reputation, as, in essence, a paranoid, drug-taking womaniser who loved fast cars and was prone to domestic violence. Oddly enough, that rag-bag of combustible character traits doesn't sizzle onscreen as it should.
Having largely ruled out the female demographic, McKenna and Clarke will look to the automobile crowd for support, which should be forthcoming in select play – the footage here is fascinating, if exhaustive. (Le Mans spared no resources in building special mounts on cars to achieve some riveting footage from a very rough-and-ready era of car-racing and the film's reputation has survived amongst racing enthusiasts.) But their documentary adds little to the pantheon made about films which implode, from Hearts of Darkness: A Filmmaker's Apocalypse by Eleanor Coppola to Lost In La Mancha, about Terry Gilliam's attempts to film Don Quixote, and lacks a relatable human element or narrative tension – McQueen isn't a sympathetic protagonist and the collapse of the film always seems inevitable, given the production arrived at Le Mans without a shooting script.
Once dubbed Hollywood's 'King of Cool', Steve McQueen's posthumous reputation hasn't quite survived the memoir machine intact. The star of Bullitt, The Thomas Crowne Affair and earlier blockbusters such as The Magnificent Seven and The Great Escape is remembered largely for being difficult, a trait this documentary reinforces. He was, in fact, the product of an extremely troubled background, abandoned by his father and bounced around the United States by his alcoholic mother before ending up in a boys' borstal and joining the Navy. He had no discipline to tame the inner beast which Hollywood fame and indulgence unleashed and, as he admits here, no real education either. His story is interesting, but framed entirely within the prism of just one film, Le Mans, feels frustratingly abridged.
He did, certainly, reach a personal crossroads during the making of the film. Fast cars were his obsession. He had, the previous year, narrowly escaped the Manson Family murders when his friend Jay Sebring was murdered, and he carried a gun around with him during production of Le Mans. His marriage was crumbling, even as he surrounded himself with women and drugs. He was hubris on wheels – he had even planned on competing in the race himself, until he was dissuaded.
The fallout from Le Mans was crucial in McQueen's short life and career, although it is just as interesting to see how it affected the other principals involved, from the actor's own son to the racing car drivers hired for the production, one of whom suffered a devastating injury. John McKenna and Gabriel Clarke have been assiduous in tracking down the participants and their descendants, and deserve recognition for the effort they have put in to raising Le Mans for a new generation of fast car enthusiasts and Hollywood buffs.
Production company: The Man & Le Mans Limited
International sales: Content Media, judith.baugin@contentmediacorp.com
Producer: John McKenna
Executive producers: Andrew Marriott, Barry Smith, David Green, David Reeder, Bonamy Grimes, Jamie Carmichael
Screenplay: Gabriel Clarke
Cinematography: Matt Smith
Editor: Matt Wyllie
Music: Jim Copperthwaite
Featuring: Cast: Chad McQueen, Neile Adams McQueen, Derek Bell, Jonathan Williams, David Piper, Alan Trustman, John Klawitter, Peter Samuelson, Haig Altounian, Les Sheldon, Michael Keyser, Mario Iscovich, Craig Relyea, Bob Rosen, Siegfried Rauch, Louise Edlind, Hal Hamilton