Miroslav Terzić's film follows a woman in search of the truth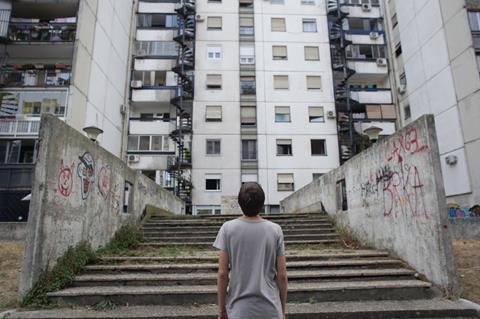 Dir. Miroslav Terzić. Serbia/Slovenia/Croatia/Bosnia and Herzegovina. 2019. 97 mins.
A woman searches for truth in Belgrade-set drama Stitches - and viewers may also find themselves searching for clarity in a teasing, obliquely-told drama that's not always best served by its narrative indirection. The fact that the film is based on real events may have led director Miroslav Terzić, reasonably enough, to eschew a four-square 'torn-from-the-headlines' approach, but this leaves Stitches a little too dependent on an immensely watchable central performance by Snežana Bogdanović as a seamstress coming apart at the seams. She's certainly the likeliest conduit to festival platforms for a film that is confidently and elegantly made but not quite communicative enough for wide exposure.
The film is often overwhelmed by its artfully chilly execution
Working with screenwriter Elma Tataragić (Aida Begić's Snow), Terzić follows his 2012 Redemption Street with a drama inspired by a seemingly representative case of malpractice in Serbia, involving newborns who disappeared from hospitals under the noses of parents who were told they had died. The theme, however, doesn't emerge straight away, Threads favouring a slow build.
Bogdanović plays Ana, a middle-aged woman who lives with her security guard husband Jovan (Marko Bacović) and teenager daughter Ivana (Jovana Stojiljković) and runs a small dressmaking business in Belgrade. She seems to live entirely on her phone. From the first wordless sequence, it's apparent that something is not right in Ana's world, and it soon emerges that she's been stalking a hospital doctor in pursuit of an investigation that Jovan, and the local police, would prefer her to drop.
We eventually discover that Ana is trying to find out what happened to the baby boy she gave birth to 18 years before. Either he's dead – in which case she wants to know where he is buried – or he's still alive and there's been a cover-up somewhere. New evidence emerges in the form of complex bureaucratic discrepancies, but Ana's obsession has driven a wedge between her and her daughter over the years. In the end, however, it's Ivana who unexpectedly offers some hope of reconciliation with the past.
All credit to Terzić and Tataragić for making the story more tantalising than it might have been, although the specific ins and outs, especially where bureaucratic minutiae are involved, can be hard to follow. And the film is often overwhelmed by its artfully chilly execution, notably Damjan Radovanović's photography of soulless hospital spaces and other official zones.
The disconnection between people – played against the sewing metaphors, framed in close-up, that suggest mending and healing – is best conveyed in the acting, notably by one character who speaks in robotic bureaucratic tones when behind plate glass, but more humanly face to face. The film is also good on the male systems that try and marginalise and silence Ana – as in a visit to a police station, where the officer insists on talking to Jovan while Ana waits outside.
That's why the film is so impressive as a platform for Bogdanović, whose Ana isn't in any conventional sense the indomitable heroine she might have been in a mainstream version of this story. Her anxious reserve suggests a woman struggling to pursue her mission and to overcome the pressures on her to be quietly accepting. Bogdanović's features don't often give much away, but it's one of those performances – like Maria Onetto in Lucrecia Martel's The Headless Woman - where a female lead's seemingly placid, opaque exterior conceals inextinguishable storms.
Production company: West End Productions
International sales: Cercamon World Sales, sebastien@cercamon.biz
Producers: Uliks Fehmiu, Milena Garfield
Screenplay: Elma Tataragić
Cinematography: Damjan Radovanović
Editor: Milena Z. Petrović
Production design: Ana Buljan
Music: Aleksandra Kovač
Main cast: Snežana Bogdanović, Marko Baćović, Jovana Stojiljković, Vesna Trivalić, Dragana Varagić