Dir: Roland Emmerich. US. 2015. 129mins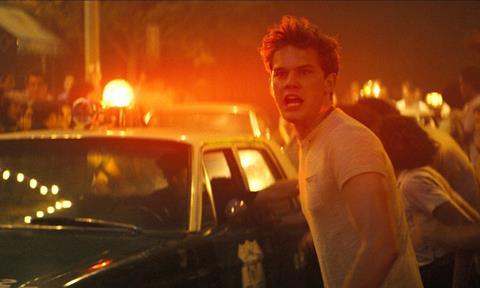 Seeing historical events through a personal lens is a time honoured movie tradition, but Stonewall almost lets its tale of a young gay man finding his way in New York City overshadow its account of the 1969 riots that give the film its title and led to the birth of the gay liberation movement. That might not have mattered if the personal story had been more satisfying, but as it is this passion project from blockbuster director Roland Emmerich (who last stepped out of the mainstream with his 2011 Shakespearean thriller Anonymous) feels like a strangely squandered opportunity.
Danny's story isn't dramatic or affecting enough to carry the film and other characters never develop into anything more than colourful ciphers
While its Toronto festival premiere will give the film some cachet, domestic distributor Roadside Attractions will have to work hard to reach beyond a core audience when Stonewall gets a limited US release on Sept 25 (criticism of the film's trailer from some sections of the LGBT community could also affect the take). Independents in international markets may also have to contend with a relative lack of familiarity with the riots and their significance.
Scripted by playwright Jon Robin Baitz (A Fair Country), the film turns around Danny (the UK's Jeremy Irvine, from War Horse), a naive high-schooler forced to leave home in the country when his cruel father learns about an affair with another boy. Finding himself homeless and lost in Greenwich Village, Danny makes friends with Ray (Penny Dreadful's Jonny Beachamp) and group of raucous street kids trying to live under the city's repressive anti-homosexual laws. He also befriends older gay man Trevor (The Tudors' Jonathan Rhys Meyers), who is involved in a nascent non-violent movement pushing for gay rights.
The characters come together in the Stonewall Inn, a grungy bar – run for the Mafia by manager Ed Murphy (Sons of Anarchy star Ron Perlman) – that is the only place in the city where gays, lesbians, drag queens and trans can dance and drink together.
Danny is a fictional character – others characters are based on real individuals or are composites, according to press materials – and his story is center stage for much of the time, first in his small home town and then in New York, where he becomes the object of Ray's unrequited affection and is let down by the philandering Trevor.
But Danny's story isn't dramatic or affecting enough to carry the film and other characters never develop into anything more than colourful ciphers. Irvine is appealing and relatable, but his performance isn't always convincing and he's handicapped by some clunky dialogue.
When if finally arrives – after a particularly invasive police raid of the Stonewall Inn – the initial riot (in real life the protests went on for several days) is fairly vivid but not as rousing as it might have been. And after the riot, the film cuts to a year later as Danny, now a Columbia student, briefly visits his family back home and then returns to New York to march with the other characters in the very first gay pride parade. The only other explanation of the riots' long term effects comes in captions about how the main real-life protagonists ended up.
German cinematographer Markus Forderer (currently working with Emmerich on Independence Day Resurgence, follow up to the director's 1996 smash Independence Day; the director's last big studio outing was White House Down in 2013) gives the film a period look by employing a warm colour palette and using 70s-era lens coatings. The music soundtrack is mostly made up of sixties pop tunes from the likes of The Isley Brothers, Shocking Blue, Procul Harum and The Staples Singers.
Production company: Centropolis Entertainment
US distribution: Roadside Attractions
Intl sales: Goldcrest Films, www.goldcrestfilms.com
Producers: Roland Emmerich, Marc Frydman, Michael Fossat, Carsten Lorenz
Executive producers: Adam Press, Kirstin Winkler, Michael Roban
Screenplay: Jon Robin Baitz
Director of photography: Markus Förderer
Production designer: Michèle Laliberté
Costume designer: Simonetta Mariano
Editor: Adam Wolfe
Music: Rob Simonsen
Website: www.thestonewallmovie.com
Main cast: Jeremy Irvine, Jonny Beachamp, Joey King, Caleb Landry Jones, Matt Craven, David Cubitt, Jonathan Rhys Meyers, Ron Perlman