Disney's heartwarming holiday animation is a quest narrative focused on fathers and sons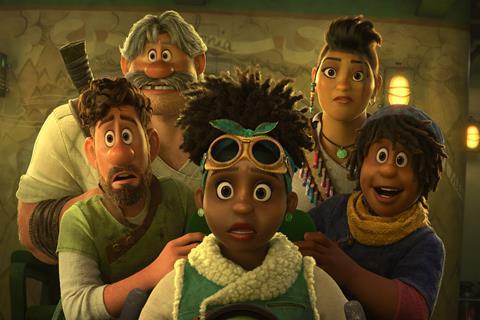 Dir: Don Hall. US. 2022. 102mins
Some bighearted characters go on a semi-fantastic journey in Strange World, a likeable Jules Verne-esque action-adventure featuring beautiful visuals that are undercut by a storyline that can't quite keep pace. This tale of a father trying to raise his teenage son more lovingly than his own dad raised him packs plenty of sweetness — not to mention an acknowledgement of the importance of respecting other people's choices, even if they're not your own. But Disney's latest animation ultimately feels weighed down by both its predictable quest narrative and its daddy-issue themes, which fail to be as moving as one would hope.
What gives Strange World some forward momentum is the clear affection the filmmakers have for their characters
Opening November 23 in the UK and US, Strange World boasts a voice cast that includes Jake Gyllenhaal, Dennis Quaid and Gabrielle Union — and is directed by Don Hall, who's been involved in hits such as Big Hero 6 and Raya And The Last Dragon. (The latter film was co-written by Qui Nguyen, who wrote and co-directed this new picture.) Strange World doesn't have any direct animation competition until Puss In Boots: The Last Wish opens in the USA in late December, likely resulting in solid, if not spectacular, box-office.
The picture starts out in Avalonia, an impoverished agrarian community surrounded by impenetrable mountains. The muscular, fearless explorer Jaeger Clade (voiced by Quaid) is determined to find a route to the outside world, but his nerdy, more scholarly young son Searcher (Gyllenhaal) discovers pando, a rare plant that generates power — enough to turn their village into a highly advanced civilisation. Jaeger stubbornly refuses to accept this new reality, however, disappearing into the mountains and presumed dead.
Strange World then fast-forwards 25 years, when Searcher is now a happy husband and father, hailed as a hero for bringing pando to Avalonia. He's content as farmer, until he discovers that pando seems to be losing its effectiveness, forcing him, his pilot wife Meridian (Union) and their teenage son Ethan (Jaboukie Young-White) to take a spacecraft deep beneath Avalonia's surface to see what is affecting the plant's root system. Much to Searcher's shock, this expedition will bring him face to face with his long-lost father, who is still very much alive.
Hall and his creative team focus on the angst that often occurs between fathers and sons. Jaeger never entirely embraced Searcher because he was bookish — as opposed to a rugged adventurer like himself — and, as a result, Searcher has tried to be a more empathetic father to Ethan, giving the young man the unconditional love Searcher never felt he received. Now reunited with his own dad, Searcher is suddenly confronted by the unresolved anger he feels toward Jaeger.
Quaid plays Jaeger as a burly man's-man, a clear contrast to Gyllenhaal's more vulnerable performance as the sensitive Searcher. We can sense immediately that Searcher has a great relationship with Meridian and Ethan — they're a warm, adoring family unit — but Searcher becomes concerned once Ethan starts connecting with Jaeger, threatening Searcher's own bond with his son.
There's a lot of primal emotional material to mine here. But the disagreements that develop between the three generations of Clade men aren't as resonant as the world Hall has envisioned for them. True to its title, Strange World gives us a subterranean realm filled with dazzlingly odd creatures, dangerous beasts and vivid colours, drawing inspiration from the odysseys in pulp magazines from nearly a century ago. Because this is a family film, that also means the addition of a self-consciously adorable sidekick named Splat; an unintelligible blob-like critter that goes along for the ride and serves as sporadically effective comedic relief.
That said, predictable story beats stall the quest narrative, and the film lacks awe-inspiring action sequences that would give such an epic yarn its mythic quality. Even a late twist, which speaks to the importance of seeing the world from fresh perspectives, ends up feeling a little underwhelming. What gives Strange World some forward momentum, however, is the clear affection the filmmakers have for their characters — and that they have for each other - giving the film ample modest charms in its portrayal of basically decent people coming to accept each other's differences.
Co-director: Qui Nguyen
Production company: Walt Disney Animation Studios
Worldwide distribution: Disney
Producer: Roy Conli
Cinematography: Tracey Scott Beattie (layout), Brian Leach (lighting)
Screenplay: Qui Nguyen
Production design: Mehrdad Isvandi
Editing: Sarah K. Reimers
Music: Henry Jackman
Main voice cast: Jake Gyllenhaal, Dennis Quaid, Jaboukie Young-White, Gabrielle Union, Lucy Liu