Dir/scr. Guido Hendrikx. Netherlands, 2016,72 mins.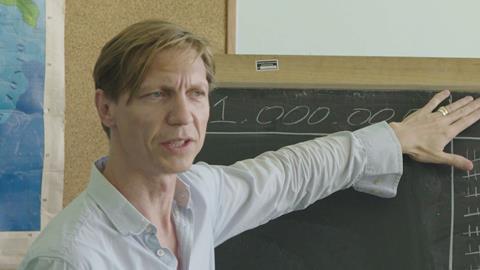 Stranger in Paradise, which opens Dutch documentary festival IDFA, is, quite literally, a classroom exercise which assembles would-be migrants in a Lampedusa detention centre and gives them – and the viewer – a brutally direct lesson in the realities of European refugee politics.
Rarely has the role of an "actor" been so charged and Valentijn Dhaenens doesn't hesitate
Slim and self-knowing, the film is, as it directly acknowledges, destined for human rights sidebars in film festivals and TV play where it should draw attention for how it dispenses with niceties to confront the continent's twisted and tortuous attitudes head on, in person.
The refugees in Guido Hendrikx's three-act doc are real, as are the stories of how they arrived in Italy, although Stranger in Paradise is a construct in which an actor (Valentin Dhaenens) sits three groups in a classroom and tells them what Europeans think about their plight and why. (The migrants were aware that this was an exercise, although they did not know what would transpire in the room.)
A compact, what-next companion to the filmic Fire At Sea, Stranger in Paradise informs desperate people who have risked their lives to arrive on these shores that they are most likely unwelcome and probably will not succeed in realising their dreams, even while it also tries to argue the opposing case in their favour.
In the first act, Dhaenens explains to the men and women from countries including Syria, Afghanistan, Mali, Somalia and Ivory Coast about the financial burden they will place on European society and how they are unlikely ever to integrate should they succeed in gaining a permit of residence, given that 55 percent of African migrants will never work in Europe. "Go home and build your own welfare state," he tells the hopeful, uncomprehending faces. "We don't want you."
In Act 2, he channels a different attitude, acknowledging both their bravery in risking their lives – 3371 people died crossing the Mediterranean in 2015 alone – and how the old world, the Europeans who are "born rich", owe a great deal of their good fortune to their colonial past. A bit of courage on behalf of Europe, he suggests, and the problem could be dealt with. The refugees help out with the maths.
Finally, though, Dhaenens must apply the rules and play the immigration game. One by one they leave the room.
Stranger in Paradise is a blunt essay; rarely has the role of an "actor" been so charged and Dhaenens doesn't hesitate in this arresting essay on refugee politics which marks Guido Hendrikx's long-form debut.
A buzzing prologue addresses – with archive footage – the origins of refugees in Europe. Abruptly-chopped musical interludes include Neil Young's Expecting to Fly, and, more poignantly Leonard Cohen's Shelter, with its thoughts of "reaching for the sky just to surrender" add some texture to the film's bare-bones technical structure.
An epilogue is almost meta, as the migrants are told how much money it takes to make a film like this, and the cost of the film festival industry that surrounds it.
Production companies: Zeppers Film, NPRO
International sales: Cat&Docs, info@cantndocs.com
Producer: Frank van den Eng
Executive producers: Elize Kerseboom, Julia van Schieveen, Fleur Welter
Cinematography: Emo Weemhoff
Editor: Lot Rossmark
Sound: Taco Drufhout, Tijn Hazen
Music: Juho Nurmela, Ella van der Woude
Featuring: Valentijn Dhaenens