Dir. Levan Koguashvili. Georgia. 2010. 86mins.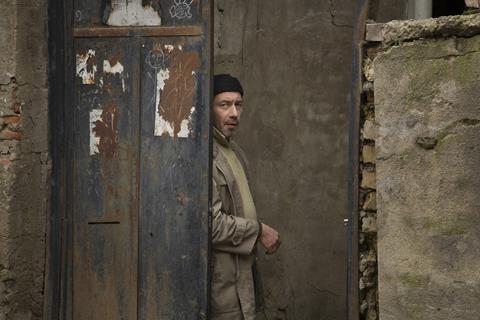 Levan Koguashvili's feature debut is a well-crafted, hard-edged look at life in contemporary Tblisi which is much more refined and profound than the scenes of ethnic strife which 24-hour-news organisations loop from Georgia. Focusing on a 45-year-old man helplessly trapped in the economic chasm between pre-1991 Soviet Communism and the current cold capitalist system, Street Days seems set for modest art-house success and certainly multiple festival berths.
Moving from a system that provided some basic services to one which has done nothing for the average citizen, Checkie (Kotetishvili, a painter and non-actor who is exceptional) has become a junkie. He is a member of what is termed in Georgia "the Lost Generation."
Checkie and his buddies hang out all day on the street, with the pursuit of heroin their overriding concern. He has big problems, such as keeping his seven-year-old in school, especially since his ex-wife (Kobiashvili) has gone broke. An otherwise likable soul, Checkie is avoided by most of his old friends, many of whom he owes money to. One old schoolmate, now an important government minister, is kind to him, but unfortunately, the man's sweet teenaged son (Ramishvili) wants Checkie to help him obtain junk for youthful experimentation.
A trio of corrupt cops threatens the desperate man with jail time unless he helps them set up the boy's arrest in order to blackmail his father. The film's climactic tension is embedded in Checkie's dilemma. The payoff is both surprising and dramatically inspired.
Koguashvili's direction is just tight enough, with a variety of shot angles to keep the tale moving forward without applying a false energy level to a narrative about someone who is running in place at best. Shot with a Red camera in browns and blues in the old, rundown Plekhanovi section of Tblisi, the film uses professional and non-professional actors who partially improvise, so it never feels overly scripted.
To sign up for Screen's weekly Reviews Newsletter with all the week's new releases, international openings and full festival reviews delivered free to your mailbox every Friday, please click HERE
Production companies
Independent Film Project, Tblisi
Moving Pictures, Tblisi
International sales
Independent Film Project, Tblisi
Tel: +995 32 106 362
Producers
Archil Gelovani
Gia Bazgadze
Levan Korinteli
Screenplay
Levan Koguashvili
Boris Frumin
Nikoloz Marr
Cinematography
Archil Akhvlediani
Editor
Nodar Nozadze
Production design
Kote Japaridze
Music
Rezo Kiknadze
Main cast
Guga Kotetishvili
Irakli Ramishvili
George Kipshidze
Zura Begalishvili
Zaza Salia
Ruso Kobiashvili