Goofy, gory horror comedy starring the Foo Fighters which will appeal to fans of the band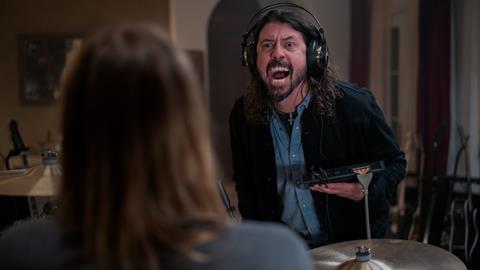 Dir: BJ McDonnell. US. 2022. 106 mins.
A sendup of the excesses inherent in both rock 'n' roll and horror films, Studio 666 stars the Foo Fighters as fictionalised versions of themselves preparing to record their new album, only to discover that the mansion where they're laying down the tracks may contain some unwelcome supernatural guests. Gory rather than scary and goofy instead of very funny, this fitfully amusing horror-comedy will be embraced by fans of the popular band, who demonstrate that, while they're adept musicians, they're not similarly gifted at delivering killer punchlines.
Cult status seems assured.
Opening in the UK and US on February 25, this will hope to lure viewers before The Batman arrives the following week. Paying homage to everything from The Exorcist to The Texas Chain Saw Massacre — plus, the theme song is co-written by John Carpenter, who also provides a cameo — Studio 666 should appeal to horror buffs who prefer their kills to be as hilariously over-the-top as possible. Cult status seems assured.
Wanting to make a definitive statement with his band's 10th album, Foo Fighters frontman Dave Grohl decides to decamp to a rundown sprawling estate where, legend has it, another rock group recorded in 1993, going insane and dying in the process. But Grohl instantly connects with the mansion's spooky vibe, and soon Foo Fighters — which includes bassist Nate Mendel, guitarist Pat Smear, drummer Taylor Hawkins, guitarist Chris Shiflett and keyboardist Rami Jaffee — are working on songs. However, the estate seems haunted, with mysterious forces beginning to adversely affect Grohl.
BJ McDonnell previously directed the slasher film Hatchet III, as well as a series of videos for the metal band Slayer, which makes him ideal for capturing Studio 666's cheerful mixture of head-banging hard rock and splatter cinema. And certainly the film boasts a tongue-in-cheek irreverence as the other members of Foo Fighters slowly realise that their leader is behaving strangely. (Grohl's sudden penchant for blood-red rare steaks is an early indication that something is wrong.)
The script, based on a story by Grohl (who has previously directed music documentaries such as Sound City) occasionally has clever things to say about the difficulties of juggling different personalities within a band — or the hell of dealing with a dictatorial frontman. And in the tradition of other fictionalised comedic celebrity self-portraits, Studio 666 presents Foo Fighters in a heightened, sometimes bizarre manner, with Grohl especially savouring the opportunity to mock his regular-guy persona by playing a creatively stifled songwriter who, once Studio 666's plot kicks in, transforms into an ego-driven artiste possessed by demonic forces.
Unfortunately, although Studio 666 is clearly a lark for the band, the film rarely builds much comedic momentum, primarily because the group's back-and-forth tends toward sophomoric name-calling and awkward line-readings. This is particularly disappointing considering that Foo Fighters are known for their unpretentious, funny music videos, but even Studio 666's professional comics in the supporting cast don't make much of an impact. (Will Forte appears briefly as a dim-witted food-delivery driver, while Whitney Cummings portrays a horny neighbour.) Beyond a general notion of satirising rock and horror — as well as music's ancient "selling your soul to the devil" myths — Studio 666's comedy is often lazy, performed by musicians who don't seem entirely comfortable as actors. (That said, kudos to Jaffee, who gives his all as Foo Fighters' resident lothario, proudly rocking bikini briefs, and little else, while on the make.)
The proceedings improve once the film reveals the malignant beings who dwell inside and around the mansion, setting the stage for some playfully gruesome kill sequences. The effects work is appealingly cheap-looking, a loving nod to the low-budget genre fare that inspired Studio 666. Indeed, only when copious amounts of blood is flying or entrails are spilled does the picture become a cheesy, gross-out good time. It's just a pity that the band members aren't better — or wittier — leading men. Foo Fighters endure myriad terrors in Studio 666, but none more frightening than the prospect of having to pretend to be movie stars.
Production companies: Roswell Films, Therapy Studios
International sales: Open Road Films
Producers: John Ramsey, James A. Rota
Screenplay: Jeff Buhler & Rebecca Hughes, story by Dave Grohl
Production design: Michael Barton
Editing: Byron Wong
Cinematography: Michael Dallatorre & Eric Leach
Music: Roy Mayorga
Main cast: Dave Grohl, Nate Mendel, Pat Smear, Taylor Hawkins, Chris Shiflett, Rami Jaffe, Whitney Cummings, Leslie Grossman, Will Forte, Jenna Ortega, Jeff Garlin