A 15-year-old Finnish boy becomes embroiled in the politics of a local right-wing gang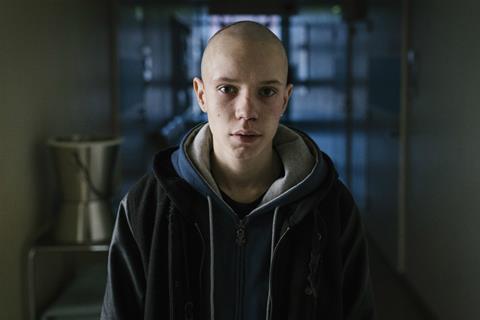 Dir. Selma Vilhunen. Fin/Neth/Swe. 2018. 102mins.
Set in a working-class Finnish neighbourhood with a growing multicultural population, Stupid Young Heart steps into a climate of escalating right-wing violence via one of the movement's naive recruits. In a film that's straightforward but never overly simplistic, Lenni (Jere Ristseppä) is a wispy slip of a 15-year-old who's about to become a father with pregnant girlfriend Kiira (Rosa Honkonen), faces an economically uncertain future and is lured in by comforting rhetoric.
Even with the narrative treading a predictable course, Stupid Young Heart remains an involving character study
The result is a timely and topical kindred spirit to American History X and This Is England, coupled with an affecting teen parenthood drama — and, thanks to sensitive direction from Selma Vilhunen (Little Wing) and stirring performances from its feature debutant leads, the pairing works. After jumping from Toronto to Berlinale's Generation 14plus lineup (via a mid-October general release on home soil, where it amassed six Jussi nominations), Stupid Young Heart should earn ample further festival berths, especially on lineups aimed at older adolescent audiences.
Lenni is a skateboarder accustomed to being taunted about his small stature, while dancer Kiira ranks among their grade's popular queen bees. Before their story is blighted by troubling ideology — and before Lenni finds a surrogate father figure in racist ringleader Janne (Ville Haapasalo) — they're just high schoolers hooking up at a party. The relationship means more to him than it does to her, with Kiira agreeing to his persistent advances largely to escape her chaotic home life. Indeed, that's the one thing that the duo shares: unhappy single mothers with very little interest in their welfare.
Scripted by Kirsikka Saari (Finnish TV's Syke), Stupid Young Heart establishes its social realist leanings early, painting a grimly familiar portrait of working-class families trapped in a devastating cycle. When Kiira discovers that she's expecting, the film doesn't shy away from its engrained commentary. With the overwhelmed Lenni swiftly struggling with his pledge to stand by her side, increasingly taking his cues from Janne and blaming the suburb's Somali community for his lack of prospects, the movie firmly critiques a mindset that's quick to attack others rather than direct its gaze inward.
Though used sparingly, Lenni's Muslim neighbour Abdi (Abshir Sheik Nur) provides context beyond the primary storyline. Already a target by virtue of his skin colour and religion, the taxi driver's purchase of a new vehicle incites further envy, blame and vitriol. A character that could have benefited from more flesh and more screen time, he nonetheless plays an influential role in Lenni's bleak rollercoaster ride through xenophobia and extremism.
Even with the narrative treading a predictable course, Stupid Young Heart remains an involving character study, an intimate snapshot of restless teenagers looking for solace from life's hardships where scant little exists. As Lenni and Kiira cope with their volatile predicament in vastly dissimilar ways, cinematographer Lisabi Fridell peers on with an unflinching gaze; unlike its protagonists, the feature's probing close-ups and jittery energy never fall prey to easy gloss.
Production company: Tuffi Films
Sales: The Yellow Affair, contact@yellowaffair.com
Producers: Elli Toivoniemi, Venla Hellstedt
Screenplay: Kirsikka Saari
Cinematography: Lisabi Fridell
Editing: Michal Leszczylowski, Yva Fabricius
Music: Timo Dirksen
Production design: Eva Torsvall
Main cast: Jere Ristseppä, Rosa Honkonen, Abshir Sheikh Nur, Pihla Viitala, Ville Haapasalo