A teenager's difficult relationship with her mother and stepfather plays out over several years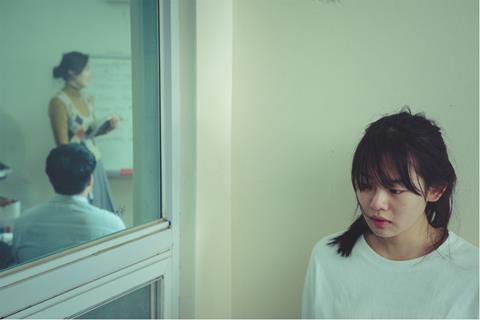 Dir/scr: Kim Yuri. South Korea. 2018. 109mins
Taking place over a number of years and dealing with a plethora of issues from broken families to housing, child abuse and the church, Kim Yuri's feature debut certainly shows amibition. Her story about a teenager who struggles with her mother and stepfather unspools over three distinct time frames, with three separate actresses taking the main role. One of several features in the Korean Cinema Today's Vision section at Busan this year to be directed by a woman, it reflects the growing number of female voices being heard in the Korean industry and as such, could attract notice among festival programmers both locally and internationally.
The film's message is clear and profound, and this is what resonates
The film centres on Young-ha, whose mother works at a local church as a missionary. We first see Young-ha as a young child (played by Moon Sang-an) who is often neglected by a mother (Shin Dong-mi) fixated on becoming ordained.
The film jumps forward three years to when Young-ha (now played by An Jin-hyun) is a young teenager attending school while living with her mother and step-father (Park Jong-hwan). He is still married to another woman. Her mother is supposedly taking care of Young-ha's friend Mijin (So Eu-jin), but uses the money she's given to further her career at the church rather than looking after Mijin who is living with her ailing grandmother – that is, until the old woman dies.
Much of the narrative takes place a further three years later when Mijin (Ok Su-boon) continues to have to take of herself with no-one other than Young-ha (now played by Kwon Han-sol) looking out for her. Young-ha, however, is facing her own problems at home.
Set in three different periods, the film is confusing in parts, with some rather convoluted storytelling; not least in relation to Young-ha's mother and step-father. But its message is clear and profound, and this is what resonates. Ultimately, it's made clear that these teenagers have nowhere to go, and that there is no system in place to support them. As Young-ha puts it, "the problem is getting a place to live, not getting a job." With temperatures plummeting in the winter, and as the film's title suggests, they are forced to confront sub-zero temperatures with no roof over their heads.
Three different actresses play the roles of Young-ha and Mijin at different ages, and all bring a unique dimension to their respective characters while also maintaining consistency across the timeframe. Other performances, most notably Shin Dong-mi as the mother are convincing, while the film's sombre ambience and lensing reflects the loneliness and alienation felt by the young leads.
Production companies/international sales: Secret Garden, Bridge Production (hwooshim@gmail.com, redssw@naver.com)
Producers: Shim Hyun-woo, Son Seung-woong, An Su-youn
Cinematography: Choi Won-uk
Production design: Kim Jin-young
Editing: Choi Hyun-sook
Music: Kim Se-jin
Main cast: Kwon Han-sol, Ok Su-boon, An Jin-hyun, So Eu-jin, Moon Sang-an, Park Su-jin Shin Dong-mi, Park Jong-hwan