Dir: Thomas Vinterberg. Denmark. 2010. 110mins.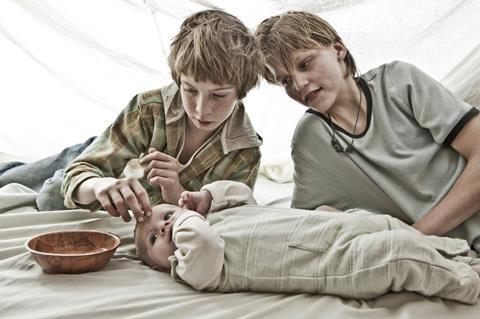 Dogme co-founder Thomas Vinterberg returns to spectacular form with Submarino. This hard-hitting but intensely spiritual drama revolves around two damaged brothers who have somehow fallen through the cracks of nanny-state Denmark, the world's happiest country, according to a recent survey.
Most impressive are the lead performances and Gustav Fischer Kjaerulff is memorable as a boy who holds out the film's best chance of breaking the cycle of abuse
Although some of the terrible things which take place in Submarino are difficult to watch, this is not cinematic miserabilism. What lifts Submarino well above the level of slum tourism is the vein of hope and grace that pervades it. Rarely has there been such a downbeat feelgood movie, but feelgood it is: this is a film which works like an emotional massage, leaving the viewer pummelled but invigorated.
Distributors will face a film which is ultimately a journey of hope and redemption but depicts, in just the first five minutes, a drunk mother punching her son, the child in turn electrocuting her as she lies in a stupor, and a baby dying in its cot from neglect. The more adventurous will accept the challenge, as this is a film with resonance that will work with resilient audiences beyond its home territory.
In its highbrow, auteurish way, Submarino may even feed the appetite for stories of early abuse and heroic survival against the odds that the publishing industry discovered over a decade ago with the memoirs of Dave Pelzer and his ilk.
The film opens with the sequence already described; older brother Nick takes the punches and administers the revenge while his younger brother – never named in the film – is content to follow his lead. There's a tenderness here too, in the two brothers' genuine, clumsy attempts to look after their third sibling – a baby boy. The radiant white light of the scene in which they perform a makeshift christening carries a suggestion of heavenly grace which will recur, recharged with significance, at the end.
We soon fast forward to Nick (Cedergren) as an adult: angry, tattooed and living in a shelter. He receives blowjobs from fragile neighbour Sofie (Schumann) and his only friend seems to be overweight, messed-up Ivan (Rose), whose sister Ana he once dated (when she left him, he violently assaulted 'some random guy' and ended up doing time in prison).
In another of the bad decisions that he seems fated to make, Nick decides that Ivan's violent sexual feelings towards women will disappear as soon as his fat friend has sex.
Meanwhile, Nick's younger brother (Plaugborg) is doing his best to look after his young son, Martin (Fischer Kjaerulff), following the death of his wife. Both were heroin addicts, and Nick's brother has failed to kick the habit. His doomed but utterly dedicated attempts to keep on being a good father – getting Martin to kindergarten, remembering his packed lunch, proving to social services that he can hold it all together – provide some of the film's most harrowing but also most affecting moments.
A lot more is going on here, though, than a plot summary might suggest. The script – written jointly by the director and first-timer Tobias Lindholm – is delicate but strong, deft at building visual bridges between the parallel timelines of the two brothers' stories and able to touch occasionally on semi-comic territory (as in the Ivan scenes) without ever taking its eye off its core drama of setback and response.
DoP Charlotte Bruus Christensen, also making a debut here, uses pale light and ashen colours effectively to set a wintry mood but takes some risks as well: a long-held shot of Nick in the dark, smoking, distant lights reflected in his eyes, is a memorable example, nailing the dreamlike, suspended quality that pervades much of the film.
But perhaps what most impresses are the lead performances. Cedergren brings a thoughtful, almost studious air to his performance which plays brilliantly against the violent rage that seethes inside. Plaugborg is equally faultless, but perhaps it is young Fischer Kjaerulff, as Martin, who gives the most memorable performance – as a boy wiser than his years who holds out the film's best, slender chance of breaking the cycle of abuse and damage.
To sign up for Screen's weekly Reviews Newsletter with all the week's new releases, international openings and full festival reviews delivered free to your mailbox every Friday, please click HERE
Production company
Nimbus Film
International sales
The Match Factory
49) 221 539 709-0
Producer
Morten Kaufmann
Screenplay
Tobias Lindholm
Thomas Vinterberg
Based on the book by Jonas T Bengtsson
Cinematography
Charlotte Bruus Christensen
Production design
Torben Stig Nielsen
Editors
Andri Stein Gudmunsson
Valdis Oskarsdottir
Music
Thomas Blachman
Main cast
Jakob Cedergren
Peter Plaugborg
Patricia Schumann
Morten Rose
Gustav Fischer Kjaerulff