Two 70-something Hong Kong grandfathers fall for each other in this gentle drama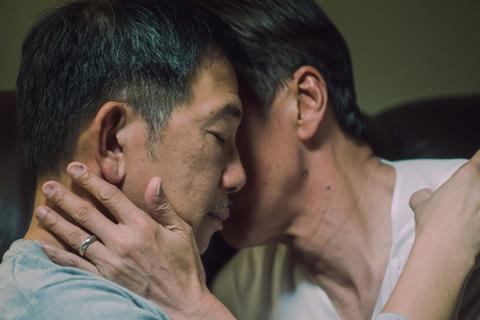 Dir/scr: Ray Yeung. Hong Kong, China. 2019. 92mins
This late life gay love story between two closeted Hong Kong grandfathers is a delicate little wisp of a romance which plays out in fragile moments and shared glances. Seventy-year-old Pak (Bo Tai) is a taxi driver who isn't quite ready to sink into retirement; Hoi (Ben Yuen) is an elderly divorcee who lives with his married son. They meet by chance, and an initial attraction builds into something momentous and potentially life-altering. A mosaic portrait of Hong Kong's older gay community is pieced together, but the film loses some of its energy and focus as it drifts to its close.
This is gentle, understated storytelling with subtly observant camerawork to match
Director Ray Yeung (Front Cover) adapted the screenplay from a publication by sociologist Travis Kong, titled 'Oral Histories of Older Gay Men in Hong Kong'. And it is the film's insights into a closed world populated by gay men who never felt able to publically claim their own sexuality which resonate most effectively. The film should find a home in further festival slots, and may be of particular interest to programmers of LGBTQ events and specialist interest distributors.
Pak approaches his family life with the same unconscious, well-worn habits with which he cleans his taxi every morning. He cares, certainly, but as his wife grumbles about her daughter's relationship with a younger man, we get the sense that, mentally, he splintered out of the conversation and is somewhere else entirely.
Before long, it becomes clear that Pak has one toe in another life entirely. He is drawn to cruising spots and it's at one of these – a park next to a public toilet – that he meets Hoi. Not one for small talk, Pak gestures brusquely at the toilet building. "Perhaps we could be friends first," says Hoi, hopefully. Pak cuts their encounter short. But a few days later, they meet again, in the same location. It soon becomes clear that they are destined to be more than friends. Even so, when the two become physically intimate for the first time, Pak instinctively moves his lips away from Hoi's kiss.
A pensive score brings a minor key even to the warmest moments of connection between the two. Being an elderly gay man in Hong Kong is not a comfortable way to live, as Hoi discovers through meetings with a group which is lobbying for a gay retirement home. Hoi helps out old-timer Chui (Kong To) with his visits to the doctor. Chui's crumbling apartment is saturated with loneliness and neglect. It's a stark choice that men like Hoi face: be true to themselves and face being ostracised by their family – and in Hoi's case possibly lose the home he shares with his devout Christian son – or to live a lie.
This is gentle, understated storytelling with subtly observant camerawork to match. Loaded glances between the two men are caught by Pak's wife. Nothing is spoken but much is said in gestures and facial reactions. That said, the picture does resort to a few too many shots of characters gazing sadly at the horizon while processing their heartbreak. Most satisfying, meanwhile, is the sensual and unsensational way in which physical intimacy is shown between two older men – something which is all too rarely depicted in cinema. The camere weaves nervily through a gay sauna and finds not squalor, but a moment of real tenderness.
Production Company: New Voice Film Productions Ltd
International Sales: Films Boutique contact@filmsboutique.com
Producers: Michael J Werner, Teresa Kwong, Sandy Yip, Chowee Leow
Editing: William Suk Ping Chang, Nose Chui Hing Chan
Cinematography: Ming Kai Leung
Production Design: Albert Yick Sum Poon
Music: Veronica Lee
Cast: Bo Tai, Ben Yuen, Patra Ga Man Au, Chun Yip Lo, Kong To