Dir: Clint Eastwood. US. 2016. 95mins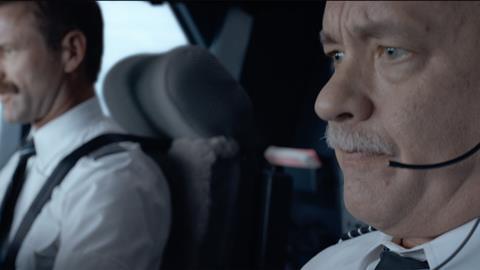 An unabashed salute to real-life heroism, Sully rivetingly recreates the daring 2009 emergency water landing in New York's Hudson River executed by American airline pilot Chesley "Sully" Sullenberger. As with his unlikely box-office smash American Sniper, director Clint Eastwood decorates his protagonist with a noble crown that sometimes sits heavy on his head, and Tom Hanks gives the character a soft-spoken, conflicted dignity. Though not always as confident outside of the cockpit, Sully mostly earns its crowd-pleasing, lump-in-your-throat sentiment.
It's as cool, calm and collected as its embattled main character.
After debuting at Telluride, this Warner Bros. release will hit North America on September 9, when adult audiences will no doubt be lured by the director, star and storyline. With similarities to other films about air disasters such as United 93 and Flight, Sully should do solid business, beginning the month's stream of serious offerings which also includes Snowden and Deepwater Horizon.
Based on the book co-written by Sullenberger, Sully stars Hanks as the pilot who, on January 15, 2009, successfully guided his crippled commercial flight into New York's Hudson River, saving the lives of all 155 souls on board. Although he is instantly hailed as a hero, soon he and co-pilot Jeff Skiles (Aaron Eckhart) must defend their actions to the National Transportation Safety Board, which questions whether Sullenberger could have landed on a nearby runway, thereby preserving the plane and not risking his passengers' safety.
Sully seeks to give us a glimpse into the federal investigation of Sullenberger's emergency manouvere, a procedure that received little attention because of the media's fascination with this horrific story and its happy ending — especially in the wake of the tragic 9/11 attacks. Todd Komarnicki's screenplay does a decent job of making the investigative board's questioning of Sullenberger compelling, offering a peek into the technical expertise required to fly and land commercial airplanes. Even though most will know the outcome of the findings, Sully's stripped-down dramatisation provides a crisp counterpoint to the film's gripping and cathartic centrepiece.
That, of course, is the depiction of Sullenberger's intrepid piloting the damaged aircraft. Shooting with IMAX cameras, Eastwood captures the terror of that fateful day from both inside the plane and from those watching helplessly around the Hudson. Although only 95 minutes long, Sully has a rather complex structure, the film taking place during the investigation but interweaving flashbacks of different moments during the flight as well as earlier episodes from Sullenberger's life. Each time Eastwood returns to the doomed flight, though, the film snaps to attention, the director's patented subdued approach working wonders to amplify the inherently thrilling and frightening incident that lasted all of 208 seconds.
The short running time also helps emphasise the modesty of Sully's title character. Playing Sullenberger without flourish, Hanks effectively suggests the man's relative normality, arguing that he wasn't destined to be placed into such an extraordinary circumstance but, rather, was just a smart, capable pilot who relied on his 42 years of flying experience to ensure a safe landing in a seemingly impossible situation. It's a performance most notable for its restraint, with Hanks capably navigating Sullenberger's self-doubt and his discomfort with being thrust into the role of hero.
What's less effective in Sully is Eastwood's heavy-handed depiction of Sullenberger's inner demons after surviving the crash. Relying on clichéd dramatic devices — vivid bad dreams, melodramatic fatal visions, critical voices that ring in his head as he tries to put the event behind him — the movie settles for a conventional survivor's-guilt tale, which is enlivened somewhat by the fact that Sullenberger must answer for his actions, even though they resulted in the safety of all those on board.
Taking a cue from Hanks, the rest of the ensemble is efficiently workmanlike. Eckhart is good as the only other person who knows exactly what Sullenberger went through in that cockpit. Laura Linney does what she can as Sullenberger's loyal, beleaguered wife, while Mike O'Malley, Anna Gunn and Jamey Sheridan give solid but one-note performances as the investigators who become Sully's de facto bad guys. Only at the end does Sully oversell its emotional undercurrents, but before then it's as cool, calm and collected as its embattled main character.
Production companies: Village Roadshow Pictures, Malpaso, RatPac-Dune Entertainment, Flashlight Films, Kennedy/Marshall Company
Worldwide distribution: Warner Bros., www.warnerbros.com
Producers: Frank Marshall, Allyn Stewart, Tim Moore
Executive producers: Steven Mnuchin, Kipp Nelson, Bruce Berman
Screenplay: Todd Komarnicki, based on the book Highest Duty by Chesley "Sully" Sullenberger and Jeffrey Zaslow
Cinematography: Tom Stern
Production design: James J. Murakami
Editor: Blu Murray
Music: Christian Jacob and the Tierney Sutton Band
Website: www.sully-movie.com
Main Cast: Tom Hanks, Aaron Eckhart, Laura Linney, Mike O'Malley, Anna Gunn, Jamey Sheridan