A graduate film from Mexico stakes its claim in Sundance's dramatic competition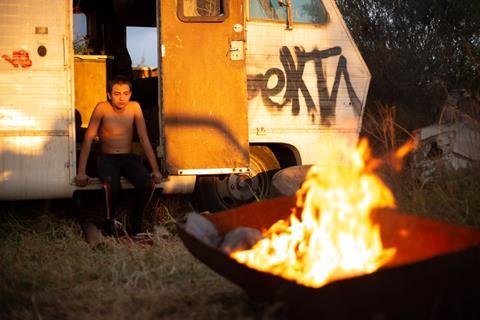 Dir: Rodrigo Ruiz Patterson. Mexico. 2020. 88mins.
A lonely adolescent who is too close for comfort to his needy single mother sees his life shaken when she gets herself a boyfriend in this debut fictional feature by Mexican director Rodrigo Ruiz Patterson. There's little local colour in a story that might be set anywhere in the world. But in a way that's the point of a film that pares back cast and narrative to bring out the universals of a tale that is firmly and sympathetically focused on young Rodrigo, fiercely played by the excellent Adrian Rossi – a boy lost in the crevasse that can sometimes open up between childhood and adolescence. We're left to make what we will of the fact that the protagonist and the director (who also co-scripted) share the same name – but there's certainly a sense here of raw, lived experience, which makes up to some extent for a thin storyline.
Ruiz Patterson's finely-shot dramatic debut catches something profound about adolescence as a time when emotions stampede while the words to express them retreat into sullen silence.
This is a 'student film' in the best sense of the word, produced by the director's alma mater, the leading Mexican film school Centro di Capacitacion Cinematografica, with a crew drawn mostly from among other CCC alumni. It flies a flag for enlightened public-funded film academies that double as commercial talent launchers. Whether that will translate into much commercial business is dubious, as Summer White breaks no new ground, either dramatically or stylistically. But Ruiz Patterson's solid, affecting drama looks set to score a few more festival berths after taking a bow in the 12-strong World Dramatic Competition line-up at Sundance, and it could just attract the attention of streaming platforms looking for gritty (but not too gritty) Latin American content.
There's nothing wrong, most would agree, with kids taking refuge in their parents' bed if they're having bad dreams or a sleepless night. But in Summer White's opening scene, the kid is 13-year-old Rodrigo, ominously lit by the flame of a lighter he holds near his midriff as he walks along the corridor, while the parent is young single mum Valeria (Sophie Alexander-Katz). Our unease is compounded when we see the two cleaning their teeth in the bathroom next morning: Valeria's ostentatious nakedness as she stands next to her son, who is almost old enough to shave, seems an odd blend of complex-free parenting and coquetry.
The film's name is a shade of paint – one that makes its appearance soon after Fernando (Fabian Corres) takes up with Valeria and moves into the small suburban house shared by the lower-middle class mother and son. Up to now the interiors of this cramped, boxy place on an estate that's nowhere near posh enough to be gated have been painted in bright primary colours, but Fernando – affable enough, yet with an edge of menace – imposes his own tastes, or convinces the lovestruck Valeria to change hers, and the pair are soon painting the place 'summer white'.
This is one of several affronts to his authority as the man of the house that the moody, sensitive Rodrigo, who seems to have no regular friends of his own age, is forced to suffer in silence. His refuge is an abandoned trailer on a scrapyard that becomes his own personal home design project. Fernando is by no means an evil stepdad, however. His awkward attempts to bond with his newly acquired son-of-sorts revolve around the driving lessons he gives a boy who is both hugely resentful of this rival and at the same time desperate to achieve manhood (which for Rodrigo revolves around a handful of macho symbols: smoking, being behind a wheel, and not wearing a shirt.)
In a film whose external scenes are dominated by the sun's midday glare (another type of 'summer white') and whose soundtrack is mostly that of the trucks that roar past on a nearby highway, Rodrigo's smouldering anger takes literal form as we watch him turn into a budding pyromaniac. But if its denouement is widely flagged in advance, Ruiz Patterson's finely-shot dramatic debut catches something profound about adolescence as a time when emotions stampede while the words to express them retreat into sullen silence.
Production company: Centro di Capacitacion Cinematografica, A.C.
International sales: Visit Films, info@visitfilms.com
Producer: Alejandro Cortes Rubiales
Screenplay: Rodrigo Ruiz Patterson, Raul Sebastian Quintanilla
Production design: Federico Cantu
Editing: Ernesto Martinez Bucio
Cinematography: Maria Sarasvati Herrera
Main cast: Adrian Rossi, Sophie Alexander-Katz, Fabian Corres