A Dickensian tale with a Disney feel set in Iran's bustling metropolis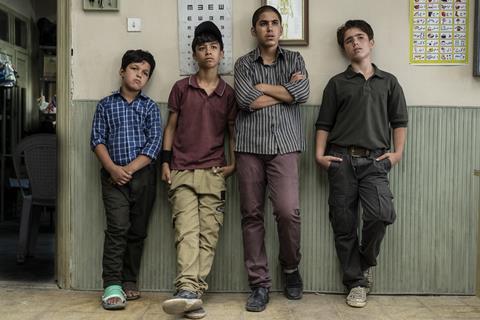 Dir: Majid Majidi. Iran. 2020. 99 mins.
Iranian filmmaker Majid Majidi crafts yet another empathetic film about poor but resourceful city kids in Sun Children. This rousing, old-fashioned, somewhat didactic tale set in a school established to give street kids an education is an unusual choice for a competition berth at Venice, but in today's abnormal times its naïve brand of 21st century neo-realism feels strangely refreshing, like a nostalgia trip back to some imagined past when Disney made live-action children's movies in Iran.
A film that has its heart firmly in the right place
Post Venice, Sun Children will aim for the global outreach of Majidi's best-known film to date, Children Of Heaven, which was beaten to the 1998 Foreign Language Oscar by another sentimental family ticket, Roberto Benigni's Life Is Beautiful. However its old-school charm shades into tired plotting more than once, and the moral lesson concealed in the film's central story about a gang of tykes' search for buried treasure can feel a little preachy.
An opening caption dedicates the film to "the 152 million children forced to do manual labour, and those who fight for their rights". The fast-paced intro shows young teen Ali (Rouhollah Zamani) and his three best friends and junior gang members attempting to steal car wheels on commission in the underground car park of an upscale shopping mall in Tehran. A cute freckled boy who is constantly on the lookout for sudden danger or sudden opportunity, Ali is the unofficial leader of this band of four, and has no trouble persuading them to enrol at the 'Sun' school when a neighbourhood crime boss sends him on a mission: to retrieve a treasure buried under a cemetery by digging a tunnel from the school basement.
It's the thinnest of premises, but it serves to get the four buddies into a school that becomes the story's central focus and main location. Majidi is good at distracting us from the clunkiness of the plot by filling scenes with life and incident. The crime boss turns out to be a clock-repairing Fagin whose office is on a rooftop filled with racing pigeon cages, while Ali's tentative romance with little Zahra (Shamila Shirzad), the sister of his Afghan friend Abofazl (Abofazl Shirzad) is set mostly on the gender-segregated metro carriages where Zahra sells trinkets. Life is tough and the frenetic city pace seems to have been internalised by these kids who are in perpetual motion, so much so that when we see him finally sitting down behind a desk at school, Ali has the uneasy look of a cornered animal.
Apparently based on a school set up in 2014 by an Iranian NGO, the Sun School is no idealised do-gooder refuge. It's a place staffed by stressed yet earnest teachers that has set itself the modest goals of channelling the energies of its young charges into sport or learning, keeping them off the streets and preventing them from knifing each other. In between tunnel digging, Ali bonds with sympathetic vice-principal Mr Refie (Javad Ezzati), even teaching him the correct way to headbutt an opponent when the teacher expresses an interest. The tunnel scenes, meanwhile, introduce a note of jeopardy as the four friends attempt to evade detection and hit the usual obstacles.
Warmly shot and scored by Ramin Kousha's lush orchestral soundtrack, Sun Children is not afraid to take on social issues such as the plight of Iran's large underclass of Afghan refugees (the main focus of Majidi's 2001 feature Baran), heavy-handed police treatment of underage street vendors and the lack of state support for schools like this that survive on private donations. If in the end the lesson dealt by its 'surprise' ending feels like it comes from the pulpit, that doesn't dismantle or entirely devalue the appeal of a film that has its heart firmly in the right place.
Production company: Majidi Film Production
International sales: Celluloid Dreams, info@celluloid-dreams.com
Producers: Majid Majidi, Amir Banan
Production design: Keyvan Moghadam
Editing: Hassan Hassandoust
Cinematography: Hooman Baymanesh
Music: Ramin Kousha
Main cast: Rouhollah Zamani, Mahdi Mousavi, Shamila Shirzad, Abolfazl Shirzad, Mani Ghafouri, Ali Nasirian, Javad Ezzati, Tannaz Tabatabale