A filmmaker tries to understand what prompted her seemingly perfect father to leave the priesthood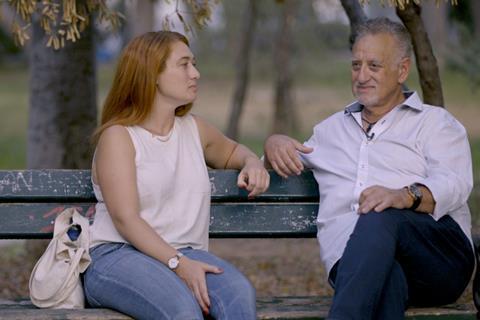 Dir/scr: Alethea Avramis. Greece/France. 2019. 80mins.
The certainties of a life are peeled away with gentle understanding in Sundays. Director Alethea Avramis deploys a family album of photos, home movies and conflicting memories to create a sympathetic portrait of her father Tom, a Greek Orthodox priest in America who was never happy with the figure he presented to the world. The result is a melancholy documentary with appeal for streaming services drawn to thoughtful human stories.
The camerawork makes viewers feel as if they are perched on someone's shoulder, listening in on a private conversation.
In Avramis's film, which world premieres online this week in Thessaloniki, Father Tom is shown as always leading his perfect life. Home movies portray a genial, bearded, bear-like individual brimming with confidence and charisma. His proud parents watch as he is ordained as a priest in 1981. Congregations fall under his spell. Colleagues admire the inspirational sermons of a man with a heart-and-soul commitment to his ministry, supported by loving wife Lisa and two great children.
Avramis choses images and footage that build such an idyllic picture of her father's life that you can't help but feel it is almost too good to be true. You hold your breath awaiting some startling revelation. Was he a serial killer? Did he conceal the grip of a secret addiction?
The reality is much less melodramatic. In 1989, Tom Avramis made a video diary of his innermost thoughts. There is an echo of Taxi Driver as he drives along with a camera fixed on the road ahead and his feelings in free fall. His whispery voice and clandestine filming give his own video the intimacy of a confessional as he records his sense of loneliness, inadequacy and inauthenticity. He felt he was living a lie.
Unravelling the stark contrast between how Tom was seen by the world and how he felt within himself lies at the heart of a film filled with visual and emotional contrasts. Avramis's serene images of beautiful stained-glass church windows are at odds with her father's inner turmoil; her mother's dignified survival is in marked contrast to her father's weepy fragility.
Eventually, Father Tom left the priesthood and divorced his wife. Avramis interviews both of them, trying to gain a sense of why he felt his life was a meaningless fraud and why nobody else seemed inclined to notice. Delving into the family history, the filmmaker discovers a man who wanted to please his parents, make them proud and do everything that was expected of him. The thought of doing what he wanted never seems to have occurred to him.
Avramis tries to probe deeper into some old wounds. She examines the influence of her formidable grandmother in setting out a path for Tom to follow that was never open to challenge. She questions her mother about a past now seen from a very different perspective. Her camerawork makes viewers feel as if they are perched on someone's shoulder, listening in on a private conversation.
Father Tom talks of an existential crisis that left him desperate to pursue his own life. We are never completely sure what that means, beyond no longer being a priest or being married. This is a compassionate film but also one that suggests that a daughter can only push so far. Is it significant that her brother Stefan does not appear on screen or have a voice in the telling of the story?
Ultimately, Sundays may leave you with some unanswered questions, but it does convey the sorrows of a man whose seemingly perfect existence left him with a lifetime of disappointment and guilt.
Production companies: Heretic, Mezzanine Films, GFC, CNC
International sales: Heretic Outreach, ioanna@heretic.gr
Producers: Giorgos Karnavas, Konstantinos Kontovrakis, Mathieu Bompoint
Editing: Esther Shubinski
Cinematography: Svetlana Cvetko, Alethea Avramis
Music: Philippe Deschamps