'Son Of Saul' director László Nemes returns with a complex drama set in Hungary on the eve of the First World War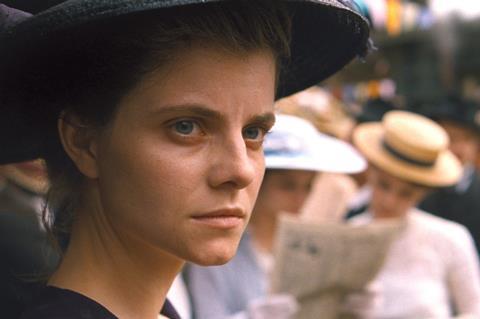 Dir: László Nemes. Hungary-France. 2018. 142 mins
Can a film be baffling and rewarding at the same time? Can a stimulating cinematic experience co-exist with the suspicion that the filmmaker has deliberately set out to frustrate the audience? For all who believe the answer to those questions can be 'yes', then Sunset (Napszállta), second film by Son of Saul director László Nemes provides a rich seam to explore. It helps that the story of a stubborn young woman's search for her lost brother in 1913 Budapest is strangely gripping for much of its length, even as the search turns in on itself and evaporates.
Son Of Saul's breathless subjective camera, hovering close to the face of the main character, or following close behind, is carried over wholesale into Sunset
Two hours and twenty minutes of Austro-Hungarian obfuscation is not everyone's cup of tea. But some viewers will undoubtedly be intrigued by the idea of David Lynch's Mullholland Drive meeting Joseph Roth's novel 'Radetzky March' in some Kafka-esque netherworld. With Sony Pictures Classics picking the film up for the US on the eve of its Venice competition debut, and with a raft of other territories already confirmed (among them France, Germany, Spain, Japan and the UK), arthouse audiences around the world will soon be given the chance to make the call.
Generations of school students have memorised bullet-point lessons about the causes of the First World War. Nemes seems to be suggesting that it wasn't quite so simple in this dreamlike period film. What, for example, if you were to sublimate all the tensions, violence and uncertainty of these years into a story of a woman who returns to the Budapest hat shop her parents used to own, now under new management?
Son Of Saul's breathless subjective camera, hovering close to the face of the main character, or following close behind, is carried over wholesale into Sunset. There is hardly a shot in which Juli Jakab's character Irisz is not present in some form as she sets out on a quest to find a brother she was not at first aware she had. Only in the very first shot, as she tries on a succession of elaborate hats, is her face at repose, lost in a dream. From then on, once she reveals to the shopgirl that she is not a customer but is looking for a job at what is clearly Budapest's top milliner's, her expression changes: setting her jaw, Irisz becomes driven, stubborn, haunted.
The score underlines this mood with a succession of somber held chords, leavened only occasionally, with a sense of dark irony, by classical music from the era by Schubert, Lehrer and other composers. Meanwhile, shouts, rumbles and whispers emerge from the background into fragments of dialogue.
Irisz is a Leiter, and she's a problem for smooth, guarded hat shop owner Oszkár Brill (Romanian actor Vlad Ivanov, good). His establishment is also called 'Leiter' – and trained milliner Irisz is, she reveals, the daughter of its founders, who died in a fire when she was two years-old. If Brill is keen to put Irisz back on the train to Trieste as soon as possible, it may also have something to do with the brother Irisz has just discovered she has – who killed a Hungarian count five years earlier and disappeared.
We're less than a quarter of the way in by the time all this has been revealed. What comes next is near-impossible to summarise. Like Saul, the protagonist of Nemes' Oscar-winning debut, Irisz is in a state of near perpetual motion, moving between the hat shop, where she has been reluctantly taken on by Brill and steely manageress Zelma (Evelin Dobos), the bustling city streets, and a countryside where great estates and rough villages violently intermingle.
There's something feverish about this whole society, a diagnosis reflected in Irisz's increasingly pallid, sweat-beaded face as she follows random unreliable characters – a deranged coachman, a porter boy who may have known her brother – and keeps stubbornly coming back for more despite being rebuffed, threatened, manhandled and very nearly raped. She's swept up in a torchlit raid that may have been orchestrated by her brother, but while guns are fired and people killed, we are never sure who is on which side and what they want. Pogroms lurk under the surface – Leiter is a Jewish surname – but so do millennial cults and anarchist or Communist insurrectionists.
Sunset begins to crumble, to offer itself up to scorn and absurdity, once we start asking questions like "Doesn't Irisz have regular work hours?" or "How come she always manages to get a lift in a coach just when she needs one?". This was not a danger in the director's last, where Saul's ability to access all areas was in the nature of his job and the careful staging of the action tracked by the roving camera eye was based on meticulous research. Does this make Sunset a lesser film? Yes, probably: the subjective camera, in particular, risks making the director seem repetitive.
But it's also a film dripping with brooding atmosphere that fashions drama out of locations as much as plot or character. The hat shop in particular is a proud symbol of established haute-bourgeois imperial-commercial prosperity, but it has a sealed-off room where the Empress Sissi once lost a hatpin, and owner Brill may or may not be pimping out its comely assistants. A final tracking shot set in the First World War trenches brings little closure for those searching for an easy explanation as to what we have just seen, but it is certainly a warning not to read it literally.
Production companies: Laokoon Filmgroup
International sales: Playtime, info@playtime.group
Producers: Gábor Sipos, Gábor Rajna
Screenplay: László Nemes, Clara Royer, Matthieu Taponier
Production design: László Rajk
Editing: Matthieu Taponier
Cinematography: Mátyás Erdély
Music: László Melis
Main cast: Juli Jakab, Vlad Ivanov, Evelin Dobos, Marcin Czarnik, Judit Bárdos, Benjamin Dino, Balázs Czukor, Christian Harting, Levente Molnár, Julia Jabukowska