A US indie set in the suburbs calls to mind Stand By Me and mostly bears up well to the comparison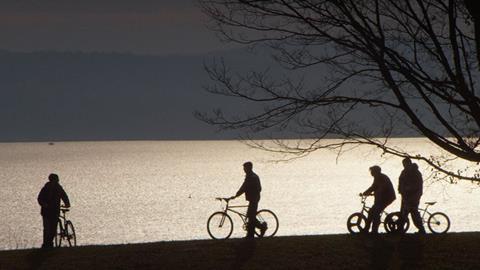 Dir. Kevin Phillips. US, 2017, 102 mins
For his debut, Kevin Phillips peers back into the mid-1990s to examine a small group of teenage boys whose friendship unravels after a deadly accident. While the period setting dispenses with plot complications such as mobile phones, it does lead Super Dark Times into Stand By Me territory - and it's to Phillips' credit that his rich character study mostly stands up to that scrutiny. Yet a sudden, late swerve into nervy genre comes at a high cost to the overall credibility of what is otherwise a finely-tuned piece.
A death, and its cover-up, strains the boys' friendship as suspicion sets in, and Super Dark Times becomes an interesting study in teenage psychology
Picked up by the Orchard for North American distribution prior to a Tribeca debut, Super Dark Times should have no difficulty hooking into younger audiences, lured by the Stand By Me/River's Edge comparisons and the recent success of Stranger Things. The young cast, led by Owen Campbell (The Americans) and Charlie Tahan (Wayward Pines) delivers nicely-modulated ensemble work which will make a connection, whether that's on a small theatrical release or a high-profile small-screen outing. But it's Phillips, along with writing partners Ben Collins and Luke Piotrowski, who make the greater impression with this stylishly observed, tautly-executed drama (the team first collaborated on the Cannes Critic's Week short Too Cool For School in 2015).
Zach (Campbell) and bespectacled, intense Josh (Tahan) are long-time best friends, at ease with each other and their families (in Zach's case, a single mother, in Josh's, absentee working parents). It's when other teenagers veer into their territory that things start to feel shaky. Both harbour tender feelings for their schoolmate Allison (a sweet performance from Elizabeth Cappuccino), and they put up with the boorish antics of Daryl (Max Talisman). But the combination of stolen marijuana and a Samurai sword proves fatal, in more ways than one.
The death, and its cover-up, strains the boys' friendship as suspicion sets in, and Super Dark Times becomes an interesting study in teenage psychology – the ill-advised tendency to secrecy, the attempts to understand and rationalise behaviour that is far beyond their young abilities. True to form for this kind of feature, adults are universally remote and unable to help, even when they try. The boys move quickly out of their depth. So 'super' in this respect is Super Dark Times, that you begin to wonder how far Philips and his collaborators can mine the rich seam they've opened. That's why the sudden swerve into genre is so disappointing, in a film which seems so sophisticated for its credits.
Disregarding that overwrought conclusion, Super Dark Times is sharply observed, particularly ominous in the lead-up to the defining death and its immediate shape-shifting aftermath. A dark colour palette, a strong sense of suburbia (the small, wooded town in Hudson Valley remains unidentified), looming wide-screen skies and a terse score feel like the work of a more experienced team. Phillips' collaborators work in harmony with the natural, nuanced acting; credits across the board are stylish and smooth, with lensing a standout. Also of particular note is the design; a rich, forest-driven colour saturation which suits the hooded houses and shadowy driveways of these traumatised teens.
Production companies: Ways & Means, Neighborhood Watch, Higher Content
International sales: The Match Factory, info@matchfactory.de
Producers: Richard Peete, Edward Parks, Jett Steiger
Executive producers: Dan Burks, William Hall, Niraj Bhatia, Cameron Lamb
Screenplay: Ben Collins, Luke Piotrowski
Cinematography: Elli Born
Production design: Jasmine E. Ballou
Editor: Ed Yonaitis
Music: Ben Frost
Main cast: Owen Campbell, Charlie Tahan, Elizabeth Cappuccino, Max Talisman, Sawyer Barth, Amy Hargreaves, Adea Lennox