Dir. Philippa Lowthorpe. UK, 2016, 96 mins.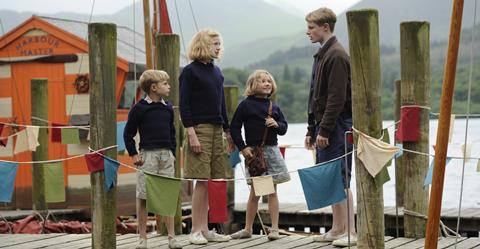 Retro British production Swallows And Amazons turns the tiller gently towards old-fashioned, gosh-golly, sandwiches-and-pop entertainment in a nostalgic adaptation of Arthur Ransome's beloved 1930 children's novel which spawned a series of sequels as well a film (1974), TV adaptation (1963), and several plays, most recently at the National Theatre (2011).
For a film industry determined to open itself to a diversity of voices, this is very much a safe, back-to-basics play for British audiences in need of some comfort food
Writer Andrea Gibb has attempted to spice up the pre-WWII holiday adventures of two families in the picturesque Lake District by turning Uncle Jim (Rafe Spall) into spy who is being pursued by Russians baddies (including Andrew Scott), but this dinghy romp - casting back to an almost mythical, pre-War moment in time – is gentle going for today's bruising British multiplex, of more immediate appeal to grandparents and The Archers fans than the young children they'll be taking.
Destined for Christmas and bank holiday play on UK terrestrial channels, Swallows hits British cinemas at the tail end of the summer holidays. More recent films of its type – Nanny McPhee, or even the Narnia series – have jazzed up the nostalgia with special effects and the plots with more obvious thrills, so first-time feature director Philippa Lowthorpe is betting the BBC's bank on the audience which has made the theatrical version of The Railway Children such a success in London.
Certainly, she has assembled a fine cast of adult ballast for her five child leads. The always-gracious Kelly Macdonald is the loving mother whose husband has been posted to the Far East and who brings her brood for the summer holiday to stay with locals played by Jessica Hynes and Harry Enfield at Holly Howe Farm. A Railway Children opening indeed, with the steam train delivering the Walker cargo to the magnificent Lake District with long sun-dappled days of dinghy sailing ahead on a vessel called The Swallow.
The children themselves, however, are more challenging. The oldest, John and Susan, have had their roles tweaked in a presumable attempt at modernisation, but actors Dane Hughes and Orla Hill aren't always entirely at ease. The imaginative Titty has been renamed Tatty, understandably enough, and Teddy-Rose Malleson-Allen is delightful if under-used in the part, while young Bobby McCulloch is the star of the show as the questing Roger.
It's an effort to squeeze cinematic thrills out of childrens dinghy sailing, and Lowthorpe struggles to engage the audience over the full 96 minutes with sallies to rescue picnic baskets, etc. The appearance of the rival Amazons around the mid-way mark sees the action element pick up somewhat, as Uncle Jim's adventures with the Russians also begin to take centre stage.
Period design is impeccable and elaborate, matched by costuming which sees the children pack a veritable Boden catalogue of matching plimsolls, crew-necks and shorts for their adventures. For a film industry determined to open itself to a diversity of voices, this is very much a safe, back-to-basics play for British audiences in need of some reliable comfort food.
Production company: Harbour Pictures Productions
International sales: HanWay Films, www.hanwayfilms.com
Producers: Nick Barton, Nick O'Hagan, Joe Oppenheimer
Executive producers: Hugo Heppell, Steve Milne, Ian Maiden, Thorsten Schumacher, Patrick Fischer, Peter Watson, Natascha Wharton, Danny Perkins, Dan MacRae, Jenny Borgars, Christine Langan, Beth Pattinson.
Screenplay: Andrea Gibb, from the novel by Arthur Ransome
Cinematography: Julian Court
Editor: Dave Thrasher
Costume designer: Amy Roberts
Production design: Suzie Davies
Composer: Ilan Eksheri
Main cast: Rafe Spall, Kelly Macdonald, Andrew Scott, Jessica Hynes, Harry Enfield, Dane Hughes, Orla Hill, Teddie Malleson-Allen, Bobby McCulloch, Seren Hawkes, Jessica Jayne Thorp.