Smartly focused story about the life and lack of soul of a social influencer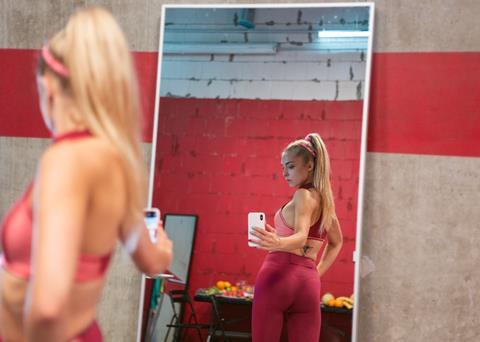 Dir/scr. Magnus Von Horn. Poland/Sweden. 2020. 104 mins
Sylwia Zajac is an entirely modern creation; a character who could only exist at the current moment in time. A fitness motivator, she is driven and single minded; her product, hawked in flurries of chirpy posts on social media, is herself. This accomplished and satisfyingly hard-edged drama harnesses the monetised narcissism of influencer culture and looks beneath the gloss to find an ache of emptiness. Nervy and excitable, the camera shadows Sylwia (a remarkable Magdalena Kolesnik) over the course of three days, during which she deals with the aftermath of a weepy confessional instagram post in which she admits her loneliness. The fallout includes a stalker, who has taken to loitering outside her house and masturbating, then sending her tearful video messages, sticky with regret and self-loathing.
Magdelena Kolesnik is well cast in the central role, capturing a brittle quality to the doggedly honed physical perfection. It's unnerving, as if she can turn off her soul at will
This is the second feature from Magnus Von Horn, whose debut, The Here After, premiered in Directors' Fortnight 2015 and won two Swedish Guldbagge Awards for Best Film and Best Director. Sweat confirms his status as a rising talent; it's certainly one of the more textured and rewarding features to deal with the phenomenon of modern celebrity. With or without the Cannes Label, it would seem to be a strong contender for a healthy festival run. Theatrical interest is also likely, although given the fact that the central character only seems fully alive when she is recording bite-sized motivational messages for her 600,000 followers online, a VOD release might also be a natural fit.
Kolesnik is well cast in the central role, capturing a brittle quality to the doggedly honed physical perfection. The public persona of Sylwia Zajac crackles with positivity – our introduction to the character comes as we mingle with her adoring followers as she runs an exercise class in a mall. The handheld camera is practically vibrating with excitement; the editing so skittish it's hard to catch breath. But backstage afterwards, Sylwia's face slams shut; all the warmth is tapped out, the sparkle in her personality has turned to ice.
It soon becomes clear that Sylwia is more at ease in her interactions with the camera on her phone that she is in real life. A superb scene, a chance encounter with an old school friend, demonstrates her social discomfort brilliantly. Coerced into sharing a coffee, she attempts a tight, bemused version of a smile as her friend shares a recent sadness. It's unnerving, as if she can turn off her soul at will.
A family party, in honour of her mother's birthday, reveals more, but never overtly. A subtle churn of tensions around the table, reminiscent of that of Cristi Puiu's Sieranevada, hints at a mother for whom nothing was ever quite good enough; at Sylwia's discomfort when the attention is not focused on her; at her frosting of displeasure when she feels she is the butt of a joke. It's a stark contrast to the effusive emotional exhibitionism of her insta presence. In some ways Sylwia is as much a social misfit as Rysiek, her stalker.
And it is a climactic encounter with Rysiek, one which culminates in a visceral hospital emergency room scene, which feels like a turning point for Sylwia. She is forced to admit certain truths about herself. But the film leaves us to speculate whether or not that turning point will lead to emotional fulfilment, whether Sylwia will ever have a relationship which will mean as much to her as the one she has with her online followers.
Production company: Lava Films
International sales: New Europe jan@neweuropefilmsales.com
Producer: Mariusz Włodarski
Cinematography: Michal Dymek
Editing: Agnieszka Glinska
Production design: Jagna Dobesz
Main cast: Magdalena Kolesnik, Julian Swiezewski, Aleksandra Konieczna, Zbigniew Zamachowski