A ravishing film from Warwick Thornton helps illustrate Australia's racial divide
Dir: Warwick Thornton. Australia. 2017. 112mins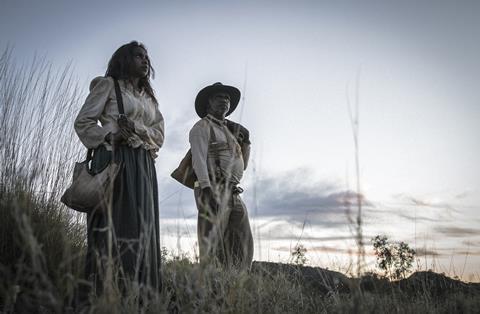 Warwick Thornton's long-awaited follow-up to Samson and Delilah, his 2009 Cannes Camera d'Or winning debut, is a resonant indigenous Western that explores issues of Australian identity and the disenfranchisement of the country's native peoples. There are echoes of The Searchers in a ravishingly shot film that portrays the Northern Territories frontierland of the 1920s as a place of uncertain cultural and ethical transition on both sides of the racial divide. It's not an idle comparison: beneath its quiet surface, Sweet Country is a milestone for Australian indigenous cinema that will travel extensively after its Venice competition premiere.
One of the many pleasures of this understated drama is its slow-burn magnetism and lack of flashy genre posturing
One of the many pleasures of this understated drama is its slow-burn magnetism and lack of flashy genre posturing. There's not even a soundtrack to distract us, until Johnny Cash's There Will Be Peace in the Valley plays, with bitter irony, over the end credits. Another virtue is Sweet Country's location of characters in a stark outback landscape that is not, as in Picnic At Hanging Rock, simply an alien place of danger and mystery, but a nuanced space where frontier towns, cattle stations, deserts and tribal lands shade into one another.
In the first section, which demands some patience and focus on the part of the audience, three remote cattle stations and their owners are introduced in rapid succession. Sam Neill plays Fred Smith, a devout Christian rancher who has a paternal relationship with his Aboriginal head stockman Sam Kelly (Hamilton Morris) and the latter's young wife Lizzie (Natassia Gorey-Furber). On a neighbouring station, the lonely Mick Kennedy (Thomas M Wright) is more of a despot with his own indigenous workers, though it soon turns out that one of them – adolescent Philomac (played alternately by twins Tremayne and Trevon Doolan) is in fact his son.
However Mick is a pussy-cat compared to brutal new rancher Harry March (Ewen Leslie), a hard drinker still traumatised by his combat experiences in the First World War, who without any "blackstock" of his own, as he contemptuously terms native labour, is reduced to borrowing first Sam, Lizzie and their pretty young niece, then later Philomac and an older stockman, from his neighbours.
Harry's racist, sadistic treatment of these native workers, and his vicious temper, culminates in an incident in which Sam shoots and kills the rancher in self-defence. He and Lizzie then go on the run for the simple reason that, as Sam will later tell a judge, "I killed a white fella". We never quite work out where the three ranches are in relation to each other; this disorientation is stoked by the sudden introduction, after Sam and Lizzie's flight, of a frontier town straight out of the American West. This comes complete with a saloon run by a tough hostess who is the nightly consolation of weathered police chief Sergeant Fletcher (Bryan Brown) – the leader of the posse that sets out to track Sam down.
Far from diluting the uniquely Australian setting and issues, this Western genre game serves as a kind of sounding board. The tension between free movement and homestead roots is a key Western theme. Thornton and his scriptwriters overlay this with a mood of insecurity: none of his white settlers seem quite at home in this harsh landscape of bloodwood trees and silver cassia, not even in the town, which feels as temporary as a film set (at one point, a travelling cinema show in main street drives the point home).
While on enforced walkabout, Sam and Lizzie, on the other hand, simply inhabit the wild, beauty of the landscape, which is shot by Thornton with clear-eyed poetry (the location was the MacDonnell Ranges near Alice Springs). But even they are in a land that is no longer quite theirs. They dress in Western clothes, they speak a pidgin language shot through with English terms, and they are utterly foreign to the tribal native Australians they meet along the way – yet rejected also by a white community that is gradually stripping away their land, health and rights.
Sam and Lizzie are played by non-professional actors Hamilton Morris and Natassia Gorey-Furber, a choice which adds an extra layer to Sweet Country's tale of two peoples living in close proximity, sometimes even physical intimacy, while failing to communicate on all but the most superficial level. And Fred's Christian kindness and charity comes with its own poisoned chalice – a point eloquently made in the closing minutes.
Production company: Bunya Productions
International Sales: Memento Films International, sales@memento-films.com
Producers: Greer Simpkin, David Jowsey
Screenplay: David Tranter, Steven McGregor
Cinematography: Warwick Thornton
Production design: Tony Cronin
Editor: Nick Meyers
Main cast: Bryan Brown, Sam Neill, Hamilton Morris, Thomas M. Wright, Ewen Leslie, Gibson John, Natassia Gorey-Furber, Matt Day, Anni Finsterer, Tremayne Doolan, Trevon Doolan