Leo Leigh's spiky feaure debut stars Maggie O'Neill as an older woman looking for love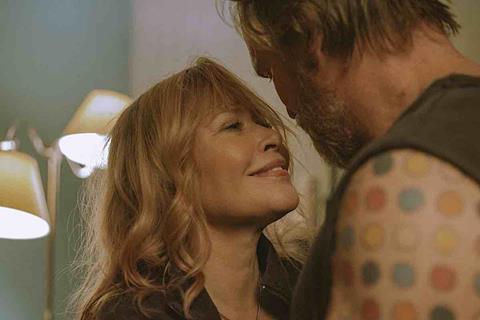 Dir/scr: Leo Leigh. UK. 2023. 99mins
Fifty-something Sue (Maggie O'Neill) is, once again, wearily venturing into the London dating circuit. It's a largely dispiriting experience but, in the unlikely setting of her brother's funeral, she meets Ron (Tony Pitts), a leather-clad biker lurking awkwardly behind his sunglasses, and something between them clicks. Then Sue meets Ron's son Anthony (Harry Trevaldwyn), an exuberantly camp vlogger and influencer, who hates her with every sparkly, diamanté encrusted fibre of his body. The feature debut from Leo Leigh is a satisfying, spiky portrait of a complex, lonely woman who has been through the relationship wringer a few too many times. But while O'Neill is terrific, there's a slightly disjointed, episodic quality to the storytelling and a schematic approach to the supporting characters that means that, ultimately, the film is somewhat lacking in emotional weight.
Serves as a reminder of the considerable talent of O'Neill
For Leigh, whose previous work includes the BIFA-nominated short film Mother and the feature-length documentary Fact Or Fiction: The Life And Times Of A Ping Pong Hustler, filmmaking is something of a family business: he is the son of Mike Leigh and Alison Steadman. And there's a clear kinship in filmmaking style between father and son – both are drawn to acutely observed bittersweet stories that walk a delicate line between comedy and pathos; both favour larger-than-life characters that teeter on the brink of caricature, but who somehow retain their humanity and relatability. The film's uncomfortable, minor-key humour will be a selling point for audiences at festivals following its Munich premiere and when it is later released in the UK and Ireland by Curzon.
If nothing else, Sweet Sue serves as a reminder of the considerable talent of O'Neill, who is perhaps best known for her UK television work: she played Sheila Jackson in Channel 4's Shameless and Suzy Branning in Eastenders. Here, she's a good-hearted woman with a sense of righteous justice but a limited supply of patience left for the world's fools. She is also, the film hints, a woman with a chequered past. Her elderly mother makes no secret of her disappointment when Sue visits, rather than her brother. And Sue's sister-in-law (Hannah Walters) fires a volley of stabbing side-eye glances, lips pursed in the effort to hold in decades' worth of grudges and recriminations.
Perhaps the weakest element of the film is the development of Ron's character and, by extension, the relationship between him and Sue. Ron is a man of few words while bubbly Sue has almost too many of them, and we see them joined in helpless laughter during a visit to Ron's friend in Hastings. But as soon as Ron's son Anthony enters the picture, Ron retreats into his motorcycle leathers and his rigid idea of masculinity. He has, it is clear, an issue with his son's sexuality. But we don't learn enough about Ron before he is paralysed by inarticulacy to get a clear sense of who he is and whether the relationship with Sue is genuine, or whether it's just two lonely people grasping at straws.
Anthony, on the other hand, is rather more fascinating, if deeply flawed. Trevaldwyn does a fine job revealing layers under the superficial glitter and fervent self-interest. And the scenes between Sue and Anthony, whether they are bonding over astronomy or clawing each other's fake tan off, crackle with an energy that dominates, but slightly destabilises, the rest of the film.
Production company: Electric Destiny, Somesuch, SUMS Film & Media
International sales: HanWay Films info@hanwayfilms.com
Producer: Scott O'Donnell, Andy Brunskill, Tim Nash
Cinematography: Simona Susnea
Production design: Lucie Red
Editing: Paco Sweetman
Music: Eska
Main cast: Maggie O'Neill, Tony Pitts, Harry Trevaldwyn, Hannah Walters, Jeff Rawle, Nick Holder