A man and a woman struggle to suvive in the bustling city of Seoul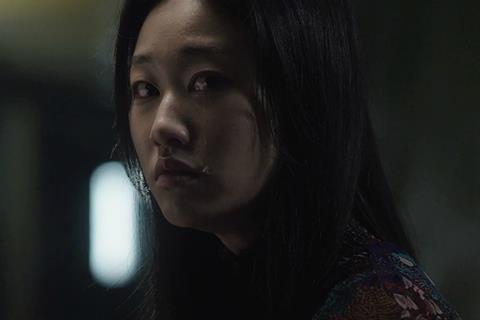 Dir/Scr: Ko Eun-ki. South Korea. 2017. 106mins.
Ko Eun-ki's harrowing drama Taklamakan takes its name from the desert in Northwest China, which has been interpreted as meaning 'Once you get in, you'll never get out'. There's certainly no way out for his characters, once they enter a dangerous and perpetual spiral of despair.
The film's cinematography captures the vast Seoul landscape
Premiering in Busan, like other Ko works including My Love Yurie (2008), it might have some further limited festival exposure, but the film's misogynistic scenes could make it problematic for some audiences; not least locally.
Told from the different perspectives of the male and female leads, the film begins by following a young woman, Su-eun (Ha Yun-kyung), as she walks across a demolition site. In a voice over she explains this is where she was buried, before she is seen packing her bag and leaving home.
Then the film turns to Tae-sik (Cho Seong-ha) who is divorced and having to provide for his ailing mother and young son. Unemployed, he tries to make a living by breaking into derelict properties, pulling out pipes and anything he can get his hands on to sell.
When he is out one night with a former business partner, they meet two escorts, including Su-eun, and Tae-sik tells them he is an affluent property developer. Su-eun and Tae-sik spend the night together but, after Tae-sik leaves the hotel the following morning without paying her, Su-eun confronts him; with dire consequences.
The film then flashes back to Su-eun's relationship with another woman called Hyun-jin (Song Eun-ji), a musician who wants to travel across the desert. This story strand, again told from Su-eun's perspective, eventually connects with the earlier part following Tae-sik, before concluding where it began; underscoring how Taklamakan is essentially one big narrative loop with no escape.
The film's cinematography captures the vast Seoul landscape with sprawling apartment complexes, a symbol of Korea's middle-class. Yet the two leading characters find themselves drowning in a society where they can only find despair and suffering, their problems going from bad to worse.
It is, however, the pain inflicted on women that could leave a sour taste, as Su-eun who is subjected to violent outbursts by men. Still, despite being a very challenging role to embrace with such authenticity, Ha Yun-kyung's performance is mesmerising.
Production Company: Cine Factory
International Sales: Cine Factory, eunki-go@hanmail.net
Producer: Kim Jun-young
Screenplay: Ko Eun-ki & Song Hwa-jin
Cinematography: Cho Seong-woo
Editing: Lee Doh-yeon
Production Design: Yu Young-jong
Music: Kim Sang-hyeon
Main Cast: Cho Seong-ha, Ha Yun-kyung, Song Eun-ji, Jang Bong-soo, Kong Sang-a