Dir/scr: Siân Heder. US. 2016. 111mins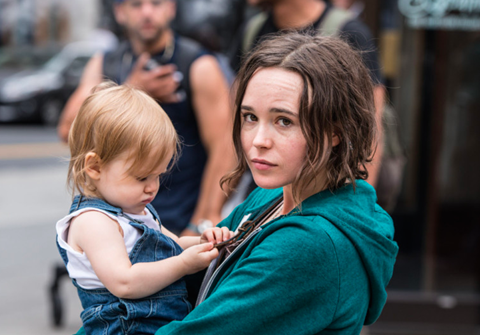 It takes a village to raise a child, especially in Tallulah, an often funny and moving drama about two disparate characters: a drifter who ends up becoming the unlikely caretaker of a one-year-old child; and the middle-aged soon-to-be-divorcée she tricks into thinking is its grandmother. In her first feature, writer-director Siân Heder sometimes overdoes the gentle dramatic ironies and cutesy, feel-good tone, but Tallulah has much to say about the ways that society judges women: as mothers, as wives, as lovers. Helped enormously by deeply-felt performances from Ellen Page and Allison Janney, this film mostly overcomes its unevenness by finding rich pockets of emotion and insight.
Tallulah has its tear-jerking moments, but the sober commentary underpinning this story resonates long after you've dabbed your eyes.
Netflix has already acquired the streaming rights for Tallulah, which premiered in Sundance's US Dramatic competition. With Page and Janney on board, there should be substantial theatrical interest, and good word of mouth out of the festival should further boost this film's commercial prospects. Speciality distributors will be the mostly likely destination, but Tallulah ought to fit comfortably on the small screen as well.
Page, who also executive produced, plays Tallulah — or Lu, as everyone calls her. Happy to live in a van traveling from state to state scrounging for food and stealing credit cards, she is nonetheless heartbroken when her boyfriend Nico (Evan Jonigkeit) leaves one night, fleeing back to his comfortable life in New York City.
Lu goes to New York in search of him, eating leftover room service in the hallway of a nice hotel when she encounters Carolyn (Tammy Blanchard), a spoiled, drunken adulterer who thinks Lu is a maid, asking the young woman to look after her baby Madison while she goes to hook up with her clandestine boyfriend. Lu is thrilled to rifle through Carolyn's belongings looking for things to pinch, but she eventually decides that the baby needs someone who actually cares about her, taking the child away. That's a risky plan — one that could land Lu in jail — but Tallulah gets even more complicated when Lu arrives at the home of Nico's depressed mother Margo (Janney), telling her that Madison is Lu and Nico's child.
A writer/producer on Netflix's Orange Is The New Black, Heder tells a very serious story with leavening humour, never diminishing the seriousness of the proceedings but also finding what's funny is this unusual situation without tipping over into broad farce. Margo initially distrusts Lu, correctly suspecting that she's homeless, but the arrival of the baby — and that fact that Margo hasn't heard from her son in two years — makes her understandably susceptible to Lu's lie, begrudgingly welcoming both characters into her lonely home. (Margo's willingness may also be because, ever since her husband left her for another man, she has felt spiritually marooned, desperately trying to rebuild her life.)
To be sure, Heder's conceit is riddled with triteness — of course, Margo will take a shine to Lu and the baby, and of course, the uptight, educated Margo will learn a thing or two from the freewheeling Lu — but for the most part Tallulah redeems those narrative clichés with smart writing and even better performances.
Janney provides the soul to a character who has the potential to be dramatically convenient. (The too-neat irony about Margo is that she made a career writing books about marriage and family, and now here she is getting divorced and falling out of touch with her only child.) But the veteran actress wears those conceits like a second skin, constantly bringing to the surface all the embarrassment and anger Margo feels about discovering that she has become, in essence, a walking cliché of unhappy middle-age.
As for Page, her performance is much trickier, considering that Lu doesn't reveal much of her inner life. (One suspects that living by her wits on the road has taught Lu to be wary.) While watching Tallulah, it's impossible to know what combination of desperate self-interest and genuine concern for the baby has gone into her act of abduction. It's probably not a spoiler to announce that Lu will eventually treat the baby like her own, but Page sells her character's evolution from being a selfish nomad to a conscientious provider with subtlety, leaving Lu's motivations an intriguing mystery throughout.
Heder may locate the unexpected humour in Tallulah, but she's a compassionate filmmaker, refusing to take cheap shots at anyone's expense. This comes through most strongly in the film's portrayal of Carolyn, who is introduced as a wealthy narcissist who doesn't have time for her own child. Soon, though, other dimensions to her personality reveal themselves. Blanchard so persuasively portrays Carolyn initially as a boozed-up nightmare that we don't realize we're making a knee-jerk reaction to a situation that's actually far more complex.
Wherever one looks in Tallulah, dissatisfied women can be found, and that's no coincidence, Heder asking viewers to observe her characters as they wrestle uncomfortably in the traditional female roles society assigns them. A scam motherhood ennobles Lu in Margo's eyes, while Carolyn's complicated feelings about having a child — both before and after Madison is abducted — leave her feeling ashamed. Tallulah has its tear-jerking moments, but the sober commentary underpinning this story resonates long after you've dabbed your eyes.
Production companies: Route One Entertainment, Maiden Voyage Pictures, Ocean Blue Entertainment
US sales: ICM Partners, jlacy@icmpartners.com and asaks@icmpartners.com
International sales: Good Universe, hleekim@good-universe.com
Producers: Heather Rae, Chris Columbus, Russell Levine, Todd Traina
Executive producers: Eleanor Columbus, Chris Lytton, David Newsom, Charlotte Ubben, Mark Burton, Paull Cho, Ellen Page
Cinematography: Paula Huidobro
Production design: Sara K. White
Editor: Darrin Navarro
Music: Michael Brook
Website: www.tallulahthemovie.tumblr.com
Main Cast: Ellen Page, Allison Janney, Tammy Blanchard, Evan Jonigkeit, Uzo Aduba, Felix Solis, Frederic Lehne, John Benjamin Hickey, David Zayas, Zachary Quinto