Dir: Sean Baker. US. 2015. 87mins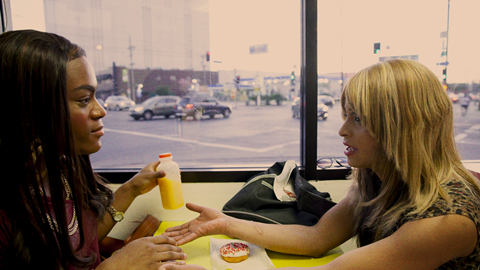 Shot on some of Los Angeles' grungier streets using mobile phones and a mix of pro and first-time actors, Tangerine paints a portrait of transgender sex workers and their clients that pulses with raunchy energy and compassionate humour. It's a bracing slice of American indie film-making that will further boost the reputation of writer-director Sean Baker – whose 2012 Starlet was a worldwide festival hit — and might prove something of a technical landmark as well.
Captured on iPhone 5S mobiles fitted with prototype anamorphic lenses, this boasts a grainy but highly saturated and surprisingly cinematic look
After its premiere at this year's Sundance followed by an international debut in Karlovy Vary, the comedy, set for a US theatrical release through Magnolia Pictures on July 10, should get traction with a hip young domestic audience. And festival buzz will give it a chance of breaking out internationally.
The script, by Baker and his Starlet co-writer Chris Bergoch, is set on Christmas Eve in an LA neighbourhood notorious for its underground economy of sex work and drug dealing.
At the centre of the action are best friends Alexandra (neophyte Mya Taylor) and Sin-Dee (first-timer Kitana Kiki Rodriguez), who is looking to call out her pimp boyfriend (James Ransone, from the Low Winter Sun miniseries, as well as Starlet) for infidelity during her spell in lockup.
But the film also follows Armenian taxi driver Razmik (Baker regular Karren Karagulian), a family man who secretly sees Alexandra and pines for Sin-Dee, and glimpses the oddballs who make use of the main characters' varied services.
The tone starts out brash and funny, showing the protagonists' world with a mix of matter-of-factness, humour and compassion that's instantly winning. The momentum lags for a while in the middle act but picks up with some nicely handled changes of mood leading to a melancholic conclusion.
According to press notes, the action was captured on iPhone 5S mobiles fitted with prototype anamorphic lenses. The result is a grainy but highly saturated and surprisingly cinematic look that lends the action a documentary feel and captures southern California's golden winter light.
Off-centre framing adds to the edginess and good use of music – hip-hop, indie rock and even a bit of Beethoven – provides some nice accents.
Production companies: Duplass Brothers Productions, Through Films, Cre Film, Freestyle Pictures Co
US distribution: Magnolia Pictures
Intl sales: Magnolia Pictures, www.magpictures.com
Producers: Darren Dean, Shih-Ching Tsou, Marcus Cox, Karrie Cox
Executive producers: Mark Duplass, Jay Duplass
Screenplay: Sean Baker, Chris Bergoch
Cinematography: Radium Cheung, Sean Baker
Editor: Sean Baker
Website: www.magpictures.com/tangerine/
Main cast: Kitana Kiki Rodriguez, Mya Taylor, Karren Karagulian, Mickey O'Hagan, Alla Tumanian, James Ransone