Dirs/prods. Bentley Dean, Martin Butler. Aus-Vanuatu, 104 mins.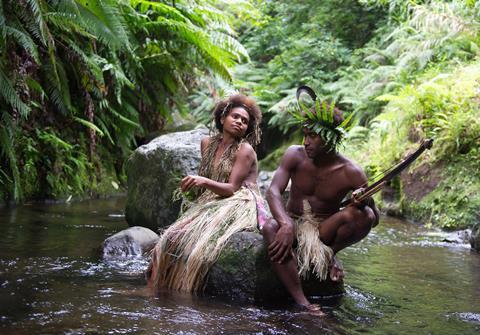 They wear grass skirts and penis shields and eschew Western influences but more importantly for this film, it transpires that the little-known people of Yakel, a village in Tanna (a small island in the South Pacific archipelago of Vanuatu), are natural-born actors. In fact, their enthusiastic story-telling and nicely-moderated performances are quite remarkable, and should elevate Tanna past being an ethnographic curio into niche festival play and perhaps even select arthouse, depending on whether buyers respond to the tribe's appealing purity.
Tanna fields magnificent levels of unselfconscious nudity, and the Yakel are an impressively fit and healthy tribe,
In Tanna, the Yakel give a sprightly rendition of their own true story which has the ring of Romeo And Juliet about it but is never predictable – although admittedly the film runs into South Sea longeurs at 104 minutes and could accommodate some trims. Rolf De Heer's Ten Canoes is clearly an an antecedent. Viewers may come for the Vanuatu vistas (of which there are many), but will leave having experienced the ages-old skill of tribal storytelling expertly communicated through a modern medium.
World premiering in Venice's Critic's Week sidebar, Tanna is drawn from and in the tribe's real, everyday life. Spoken in the Nauvhal tongue, the film is completely cast from non-actors – in fact all the principals lead an otherwise traditional life. Two story threads are set on a collision course: tomboyish young Selin (Rofit) is taken by her grandfather, who is also the tribe's Shaman, to the active volcano Yahul, whom they regard as their Earth mother, to learn respect. Meanwhile, Selin's older sister, the beautiful Wawa, falls in love with the Chief's orphaned grandson Dain.
When Selin's grandfather is attacked by rival tribe the Imedin, hostilities break out. Peace is brokered by offering to marry Wawa off to the Imedin, who killed Dain's parents, and this leads to events which will change the tribe's spiritual rules, the kastom, forever.
Producer-directors Martin Butler and Bentley Dean are accomplished Australian documentarians who reach high here for a meld of drama and reality which is very tricky to accomplish. Were it not for the abilities of the Yakel as natural born storytellers, Tanna might have been a different prospect. But the film is visually and culturally rich. The island of Tanna runs from tropical rainforest through to beautiful beaches and the arresting ash plain which surrounds the belching orange volcano Yahul. It's a beautiful odyssey with strong spiritual undertones.
As a footnote, Tanna fields magnificent levels of unselfconscious nudity, and the Yakel are an impressively fit and healthy tribe, setting off across the rainforest at quite a clip for the film-makers to follow. The younger actors are bright and engaging, but the proud tribal elders also don't hesitate to give Dean and Butler their full co-operation in bravely sending their story and way of life out across the world.
Production companies: Screen Australia, Contact Films
International sales: Visit Films, info@visitfilms.com
Producers: Martin Butler, Bentley Dean, Carolyn Johnson
Scr. Bentley Dean, Martin Butler, John Collee, in collaboration with the people of Yakel
Cinematographer: Bentley Dean
Sound: Martin Butler
Editor: Tania Michel Nehme
Cultural director: JJ Nako
Main cast: Mundau Dain, Marie Wawa. Marceline Rofit, Chief Charlie Kahla, Albi Nangia, Lingai Kowia, Dadwa Mungau,