Todd Field's third film features a commanding performance from Cate Blanchett as an enigmatic orchestra conductor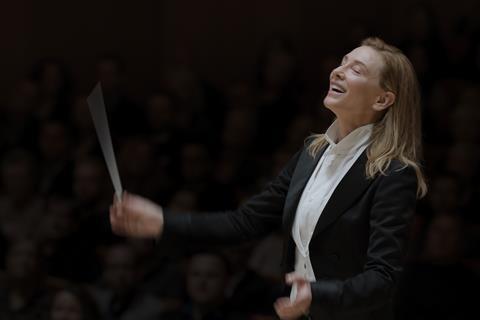 Dir/scr: Todd Field. US. 2022. 158mins.
What does being an artist look like in 2022? Writer-director Todd Field's third feature boldly tries to answer that sweeping question, telling the story of a celebrated conductor and composer who sleepwalks into an existential crisis. Cate Blanchett is exceptional in this enigmatic character study, which embeds us in its protagonist's rarefied world, trusting that we'll be able to navigate without a map as it depicts the inner workings of a life slowly unraveling. TÁR's engrossing spell starts to dissipate over its final third, and yet this is that rare film about a creative person that feels neither self-pitying nor self-aggrandising. Indeed, one of the picture's great strengths is that it's never entirely clear what Field thinks of his complicated heroine.
Considerably thought-provoking for adventurous arthouse crowds
Premiering in Venice Competition, Field's first film since 2006's Little Children will be released in the US in October, with a UK rollout planned for early next year. Blanchett is joined by a formidable supporting cast that includes Noemie Merlant and Nina Hoss, although the two-time Oscar-winner's commanding performance will be the main draw. Deliberate in its pacing and measured in its tone, this 158-minute drama won't be to all tastes but, despite occasional missteps, Tar should prove considerably thought-provoking for adventurous arthouse crowds.
An EGOT-winner living in Berlin with her partner Sharon (Hoss) and young daughter Petra, Lydia Tar (Blanchett) is renowned in the classical world, and is preparing to stage an ambitious performance of Mahler's Fifth. Field follows Lydia as she rehearses with her orchestra, confers with her loyal assistant Francesca (Merlant), and juggles her responsibilities as a mother and lover. (When Petra is being bothered by a school bully, Lydia handles the matter personally and directly.)
Blanchett plays this accomplished artist with a slightly haughty air, although TÁR observes everything from a slight remove which gives each of Lydia's interactions an intriguing evenhandedness. In its early stretches, the film has an almost clinical precision in its scenes of Lydia rubbing elbows with New Yorker writers and elegantly manoeuvring through office politics and college lectures alike. Even during a bravura extended single-take sequence in which she gets into a debate with a BIPOC student who dismisses Bach because he's problematic, TÁR doesn't tip its hand about how to feel about the serenely confident Lydia.
This nonjudgemental quality deftly adds to the picture's inexplicable sense of mystery, even menace, as disparate aspects of Lydia's personal and professional life come into focus, creating a rich tapestry of a woman who grows more compelling the longer we spend time with her. But because each element is given the same weight — the suicide of a former associate, Lydia's troubles sleeping, her nagging writer's block — TÁR keeps us enthralled about precisely where it's going. The tightly controlled Lydia is herself something of a riddle, relying on her brilliance to intimidate those around her.
It would be unsporting to reveal the plot twists that send the film down an unexpected path, but let it be said that Field wrestles with modern-day celebrity with more nuance than is often the case in cinema. Touching on social media and cancel culture, TÁR is refreshingly devoid of knee-jerk, reactionary commentary, instead investigating the ways in which contemporary artists in the public sphere face criticism about their behaviour in ways past generations did not. But rather than building to some grand statement, Field allows Lydia's odyssey to be a contemplative rumination on what drives creativity — and how flawed individuals do or don't hide behind their creations.
The filmmaker asks a lot of his star, who steps out on a proverbial limb once Lydia comes unmoored when her ecosystem collapses. Some of those risks don't pay off, with Lydia's prolonged denouement not nearly as well-executed as what came before. But Blanchett's tight grip on a guarded artist who finds she can't prepare for every contingency remains riveting.
She's aided by Hoss, whose Sharon – a violinist in Lydia's orchestra – has begrudgingly learned to accept her partner's many failings. Likewise, Merlant brings just the right amount of weary enthusiasm as Lydia's eager assistant who hopes one day to be a conductor herself; although she'll discover that her adoring boss can change her tune in a heartbeat. Made with intelligence and curiosity, TÁR isn't so much sympathetic to Lydia's reckoning as it is fascinated by the ineffable spark in some people to be artists — even when everything around them seems to be falling apart. The film sometimes falters, but like Lydia it just keeps moving relentlessly forward.
Production companies: Standard Film Company, Emjag
Worldwide distribution: Focus Features

Producers: Todd Field, Scott Lambert, Alexandra Milchan
Cinematography: Florian Hoffmeister
Production design: Marco Bittner Rosser
Editing: Monika Willi
Music: Hildur Guonadottir
Main cast: Cate Blanchett, Noemie Merlant, Nina Hoss, Sophie Kauer, Julian Glover, Allan Corduner, Mark Strong