Dir: Seth MacFarlane. US. 2015. 108min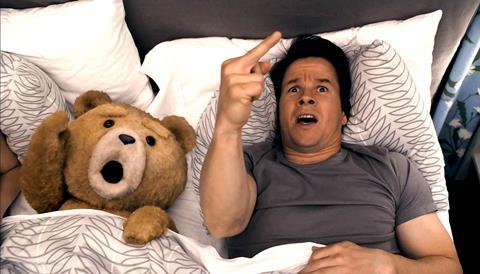 Sure to set the fur flying at the midsummer box-office, Seth MacFarlane's sequel to his aggressively lowbrow buddy comedy Ted should top its $549 million-grossing progenitor as the world's most successful 'R'-rated comedy. Again partnering the foulmouthed, dissolute CGI teddy bear with laidback John Bennett (Mark Wahlberg) in immature Boston-Irish buddyhood, MacFarlane has delivered Universal a faster, bigger, splashier tentpole this time out. Ted fans will be pleased to hear that the follow-up is more crass, slapstick-driven, and politically incorrect than the 2012 original.
As a calculatedly obnoxious button-pusher, Ted 2 goes further beyond the pale in a scene set in an improv comedy club where rowdy patrons bait the performers to act out 9/11, the Charlie Hebdo massacre, and "Robin Williams", an unambiguous reference to the actor's suicide.
The first movie was a vulgarly anarchic Pinocchio update in which John, having as a child dreamed life into his stuffed bear, finds him impeding his relationship as a thirtysomething dude with his girlfriend (non-returnee Mila Kunis). An unlikely story source this time for MacFarlane and his co-writers is the landmark Supreme Court case of Dred Scott, the enslaved African-American who in 1857 was denied citizenship and his right, therefore, to bring suit to buy his freedom. The "Dred Scott Decision" reaffirmed Scott as the legal property of his "owner". The same tag now threatens to attach itself to the anthropomorphic Ted.
Ted 2 gets at its fight for justice in a convoluted fashion. A year after Ted (voiced by MacFarlane) has celebrated his wedding to his fellow supermarket cashier Tami-Lynn (Jessica Barth) with an incongruously classy MGM-style showstopper, the two are smashing up their kitchen. To save their marriage, they decide to have a baby. Since Ted isn't sexually endowed, he and John vainly attempt to burgle semen from studly star quarterback Tom Brady (playing himself). They next repair to a fertility clinic where John, having made his contribution to Ted's cause, catches a drenching in the sperm bank. Since Tami-Lynn's drug use has made her infertile, she and Ted opt to adopt, which alerts the authorities to the issue of his legality. His marriage forcibly annulled, he has to go court to fight, as a non-human, for human rights.
The boys are delighted that the iconically named junior lawyer Samantha L. Jackson (Amanda Seyfried) who takes Ted's case pro-bono is as bong-happy as they are; her real role is to mend John's broken heart following his divorce. Defeated by a sleek government lawyer (played straight by Mad Men's John Slattery), Ted is, indeed, deemed property. As a last resort, he, John, and Samantha head to Manhattan to enlist an iconic civil rights lawyer, played with a twinkle by Morgan Freeman. (Guest cameos by Liam Neeson and talk-show host Jay Leno and opening-and-closing voiceover remarks by Patrick Stewart add a little zest to the stew.)
Ted's half-mad old adversary Donny (Giovanni Ribisi), a janitor at the Hasbro toy company, has meanwhile persuaded his sleazy boss (John Carroll Lynch) he should kidnap Ted so they can discover, with a knife, what makes him tick and lucratively clone him. Ted and Donny's encounter at a Comic-Con convention in Manhattan, the movie's teeming set piece, is as unfunny as it is messily depicted.
The film's one "beautiful" shot shows a moonlit cannabis field chanced on by the trio after Ted crashes their car en route to New York. That grace note aside, Ted 2 is as subtle as a frat-house flick. MacFarlane's magnification of There's Something About Mary's famous hair-gel gross-out joke in the sperm bank scene and the battery of visual and verbal jokes about penises are harmless, if grating. Ted's gags about gays and paedophiles are intended to mock the kind of people who make them, but some audience members will unknowingly laugh along.
As a calculatedly obnoxious button-pusher, Ted 2 goes further beyond the pale in a scene set in an improv comedy club where rowdy patrons bait the performers to act out 9/11, the Charlie Hebdo massacre, and "Robin Williams", an unambiguous reference to the actor's suicide. MacFarlane and his collaborators might argue that gallows humour relieves the pain induced by the daily diet of depressing news and is a salve for bleeding-heart liberalism, but their jokes at the expense of those who have suffered grievously seem like cheap shots. (The 9/11 reference may be MacFarlane's obtuse way of dealing with his and Wahlberg's narrowly missing Flight 11 from Boston's Logan Airport that day.)
Similarly, the attempt to give Ted's existence political significance by aligning his "property" status with that of America's enslaved Africans and their descendants comes across as glib in the extreme. Even the venerable Freeman can't dignify it.
Production companies: Fuzzy Door Productions, Bluegrass Films
Worldwide distribution: Universal Pictures, www.universalpictures.com
Producers: Scott Stuber, Seth MacFarlane, Jason Clark, John Jacobs
Executive producers: Alec Sulkin, Wellesley Wild
Screenplay: Seth MacFarlane, Alec Sulkin, Wellesley Wild
Cinematography: Michael Barrett
Production design: Stephen Lineweaver
Editor: Jeff Freeman
Music: Walter Murphy
Website: www.ted2-movie.com/ww/
Main Cast: Mark Wahlberg, Seth MacFarlane, Amanda Seyfried, Giovanni Ribisi, John Slattery, Jessica Barth, Morgan Freeman, Patrick Warburton, Sam J. Jones, Michael Dunn, Dennis Haysbert.