Dirs: Lyric R. Cabral & David Felix Sutcliffe. US. 2015. 84mins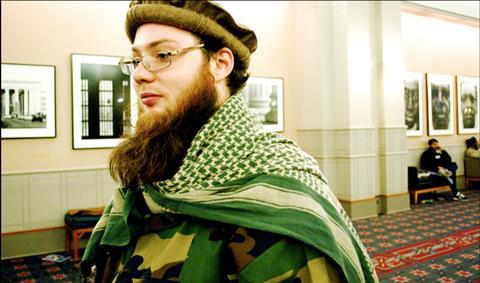 A sympathetic but clear-eyed character study transforms into something more insidious, sobering and infuriating in (T)error, a superb documentary that personalises the US War on Terror in ways that make the human toll intimate and unmistakable. At first a portrait of an FBI informant paid to go undercover to root out possible home-grown terror plots, directors Lyric R. Cabral and David Felix Sutcliffe's exposé ultimately finds both humour and horror in how the American intelligence community continues to overreact in the wake of 9/11, asking serious questions about whether the government's methods are actually doing more harm than good.
Cabral and Sutcliffe do a magnificent job reminding us to remain aware of the broader, more disturbing implications of their deceptively modest thriller.
Premiering early this year at the Sundance Film Festival before embarking on a festival run and a BBC Storyville slot on TV in the UK, T(error) begins in 2011 as Saeed Torres, a former Black Panther who has been working for the FBI's counterterrorism program for two decades, agrees to let the documentarians follow him as he travels from his undisclosed home on the East Coast to Pittsburgh in order to befriend a suspected local potential terrorist, a white Muslim convert named Khalifah Ali Al-Akili.
A Muslim himself, Saeed has no compunction about trying to entrap a fellow disciple, frustrated how his faith has been perverted by violent extremists and also desperate for the money the FBI provides him.
Making their feature-length debut, Cabral and Sutcliffe tell their story in miniature, sticking close to Saeed and getting a sense of his life as he misses his young son while struggling to pay the bills and living so far away from home. In his own words, Saeed explains how his dedication to supporting the African-American community as a Black Panther in the 1960s brought him into conflict with the US government — even though, ironically, he's now working for the same power structure he once despised.
This is a complex, fascinating man, and the fact that he's a paid informant is (T)error's first indication that Cabral and Sutcliffe have serious misgivings about US counterterrorism. If the FBI is turning to flawed, unpolished ex-cons like Saeed to uncover possible terrorist activities, how confident should Americans be in their government's safeguarding methods? (Another reason to question Saeed's effectiveness: he doesn't bother to inform his superiors that he's allowing the documentarians to film him while on assignment — an early revelation that gives the entire movie an air of quiet suspense.)
In a fleet, understated 84 minutes, (T)error spins a compelling cat-and-mouse yarn that lets the surprises develop organically. There are plot twists awaiting the viewer — one of which is so shocking, it's better left unspoiled — but the filmmakers demonstrate a calm confidence in the material by refraining from goosing the story's narrative turns with any artificial, manipulative gimmicks like a demonstrative score or showy editing tricks.
After experiencing (T)error and getting a sense of both Saeed and Khalifah, what comes through strongest is the almost comically woeful operation in which both men find themselves. In his 60s, Saeed brandishes a tough-talking bluster that seems to be his way of playing the role of a hardened, street-savvy informant, while the thirtysomething Khalifah is similarly putting on a performance — that of a dangerous, aspiring Taliban freedom fighter. (He shoots guns at a firing range and puts inflammatory anti-American comments on his Facebook page, although Saeed feels pretty confident that the younger man is all talk.)
But satire gives way to tragedy once it becomes apparent that Saeed and Khalifah are equally trapped in a larger net being silently drawn by a US government that is so determined never to let another 9/11 happen that it treats each of them as mere pawns in its overweening, intrusive surveillance program. Cabral and Sutcliffe do a magnificent job reminding us to remain aware of the broader, more disturbing implications of their deceptively modest thriller.
Production companies: ITVS, BBC Storyville, Charlotte Street Films, Stories Seldom Seen
US distribution: The Film Collaborative, www.thefilmcollaborative.org
International sales: ro*co, annie@rocofilms.com
Producers: Christopher St. John, Lyric R. Cabral, David Felix Sutcliffe
Executive producers: Eugene Jarecki, Nick Fraser
Cinematography: Lyric R. Cabral, David Felix Sutcliffe
Editors: Laura Minnear, Jean-Philippe Boucicaut
Music: Robert Miller
Website: www.terrordocumentary.org