A young woman stands trial for a sensational murder in Buenos Aires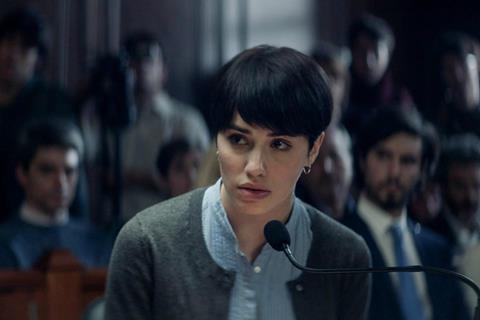 Dir: Gonzalo Tobal. Argentina-Mexico. 2018. 108mins
Winning in court isn't always about presenting a better case; sometimes it's simply about telling the better story. That's the theme of The Accused, a quietly engrossing drama in which the real question isn't whether or not college-bound protagonist Delores Deier (Lali Espósito) killed the hostess of a drunken party she attended; it's the narrative she, her family, her lawyer and her various advisors can decide on and then properly sell.
The Accused is a movie of slowly dawning discoveries
Bearing a slight resemblance to the infamous Amanda Knox case, the film is a story of casual sex, brutal murder and careless youth. Premiering at the Venice International Film Festival, this compelling crime story should find success in Spanish-language territories, while its powerful subject matter – and the commercial appeal of guest star Gael Garcia Bernal – may help it win some arthouse bookings further afield.
The story opens in Buenos Aires two years after the fateful party, with Delores charged with the murder of her best friend, who she swears was still alive when she left that evening. With the trial about to start, Delores' fiercely loyal family have closed ranks around her. Yet no-one talks about guilt, innocence, or even culpability. All they discuss is the careful coordination of magazine coverage and TV appearance; all they seem to care about is creating a winning narrative. Their biggest challenge in that regard may be the preternaturally chilly Doris herself, who is unwilling, or unable, to present the sympathetic image they need.
The Accused is equally determined to go its own way. Although shot in expansive widescreen, Fernando Lockett's cinematography is intimate, close-up and even, occasionally, claustrophobic. The story calmly picks up long after the violence, and the trial scenes don't rely on bursts of melodrama. Instead, it's a movie of slowly dawning discoveries. Like watching the way Daniel Fanego, as Dolores' lawyer, carefully coaches her in her testimony. Or noting how her father, fiercely played by Leonardo Sbaraglia, sacrifices everything for her defense while still resenting the cost.
Yet the biggest discoveries may belong to Dolores herself, whose own memories of that night seem mutable – and who is beginning to realise that if her parents have never asked if she did it, it's not because they don't need to hear her answer. It's because they don't want to.
As Delors, Espósito holds all these disparate thread together in a performance that's deliberately muted; Delores shut down long ago, which makes makes her not just difficult to read, but easy to suspect. Esposito conveys that dynamic in every slightly sad, silent stare. And, as The Accused reminds us, real people don't always act the way they do in movies and, sometimes, "the truth" is just a convenient story we tell ourselves.
Production companies: Instituto Nacional de Cine y Artes Audiovisuales in association with Kramer & Sigman Films, Piano, Rei Cine, Telefé
International sales: Film Factory Entertainment
Producers: Leticia Cristi, Benjamin Doménech, Santiago Gallelli, Axel Kuschevatzky, Matias Mosteirin, Matias Roveda, Hugo Sigman
Screenplay: Ulises Porra, Gonzalo Tobal
Production design: Sebastián Organbide
Editing: Alejandro Carrillo Penovi
Cinematography: Fernando Lockett
Music: Rogelio Sosa
Main cast: Lali Espósito, Gael Garcia Bernal, Leonardo Sbaraglia, Daniel Fanego
I have really only commissioned Orrizonti and Venice Days according to what is repeating in Toronto (ie to use in the dailies there) so am happy to commission more on your recommendation on the ground as you see them….if you want more commissions that is….