Bassel Ghandour's debut juggles tones and storylines for a labyrinthine portrait of a Jordanian neighbourhood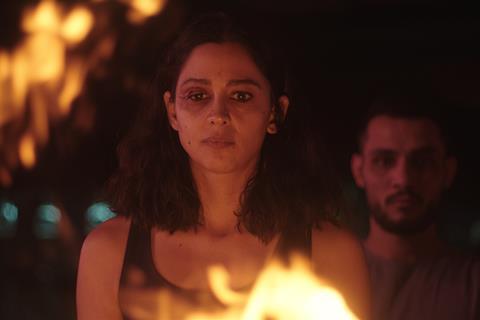 Dir/scr: Bassel Ghandour. Jordan/Egypt/Saudi Arabia/Qatar. 2021. 116 mins.
With a narrative as labyrinthine as the Jordanian neighbourhood in which it's set, this ambitious debut feature from Bassel Ghandour (who co-wrote the Oscar-nominated short Theeb) has confidence and style — even if he may have bitten off slightly more than he can effectively chew. As Ghandour's screenplay follows the colourful inhabitants through the tumultuous highs and lows of their daily lives, The Alleys is by turns dark comedy, mystery thriller and crime drama. Thanks to Ghandour's careful oversight of the material, these myriad threads just about knit together to create a satisfying whole.
It's largely due to the strength of the cast that none of these characters fade into the background
Having debuted at Locarno, The Alleys now plays in London's First Feature Competition and is likely to catch further festival attention — particularly those with a focus on Middle Eastern filmmakers. This is a film of many strands, and audiences must certainly keep their wits about them to follow the eclectic cast of characters whose lives intertwine to various degrees in the ancient alleyways of a traditional neighbourhood in eastern Amman. They would also do well to remember the early warning from The Alleys' narrator, who is only identified in the film's final scenes. Folk in the neighbourhood love a good story, he notes as the film opens. "Believe half of what you hear and two-thirds of what you see."
The first of the film's five chapters — fittingly entitled 'Hustle' — introduces us to the smooth-talking Ali (Emad Azmi), who pretends to his parents that he has a high-flying job, but actually spends his nights shepherding wealthy tourists into the local strip bars and pocketing a commission. Ali is having an illicit affair with Lana (Baraka Rahmani), the daughter of local beauty-salon owner Aseel (Nadira Omran) who does not approve of their union. When Aseel receives a video of Ali and Lana in a tryst, and told the video will be widely shared unless she hands over a wad of cash, her fear that her family will be publicly shamed pushes her to ask local mob boss Abbas (Monzer Reyahnah) for help.
This is the catalyst for an increasingly frenetic — and deliberately outlandish — series of events which will see Ali pushed to dangerous lengths in order to make a life for himself and Lana, and Lana facing an impossible choice between her love for Ali and her respect for her family. Abbas, too, finds himself in a precarious position when, after he is the victim of a horrifying revenge attack, he discovers that his vice-like grip on both the neighbourhood and his gang — including loyal right-hand woman Hanadi (an excellent Maisa Abd Elhadi) — slipping. Elsewhere, a moment of madness sees Aseel forced into a desperate clandestine fight for her own survival.
It's largely due to the strength of the cast that none of these characters fade into the background; each has autonomy and presence in their own story. And if the male characters display the traditional spectrum of masculine behaviours, from floppy-haired charmer Ali to chest-thumping street hoodlum Abbas, the female character are genuinely surprising in thought and deed. While both Hanadi and Aseel carry past traumas, they are not defined by them; each has found a way to navigate the challenging landscape in which they live, however aggressive and manipulative they have to be. And, despite being constrained by social tradition, Lana is determined to be the master of her own fate, whatever the cost. It's still rare to see such well-rounded and interesting women in any film, let alone one set in the traditional Middle East.
Visually, The Alleys is reminiscent of Azra Deniz Okyay's Venice Critics Week 2020 prize-winner Ghosts, which took place in the traditional alleyways of Istanbul, but unlike that film Ghandour is not concerned with the insidious encroachment of modern life, squarely focused instead on the immediacy of the present moment in this specific neighbourhood. Indeed, a scene in which the camera looks out towards the glowing city skyline late in the film is the only time cinematographer Justin Hamilton raises his energetic camera from the titular alleys — a rare opportunity to take a breath before we are plunged back into the action once more.
Production companies: The Imaginarium Films, Bayt Al Shawareb, Lagoonie Group Production

International sales: Elle Driver, sales@elledriver.eu
Producers: Yousef Abed Alnabi, Rula Nasser
Cinematography: Justin Hamilton
Editing: Eyad Hamam
Music: Nasser Sharaf
Main cast: Emad Azmi, Baraka Rahmani, Monzer Reyahnah, Nadira Omran, Maisa Abd Elhadi, Nadeem Rimawi, Mohammad Jezawi, Islam Al-Awadi, Jawdat Saleh, Ibrahim Al Noabna