A divorcing couple can't decide what to do with their pet turtle in this quirky relationship drama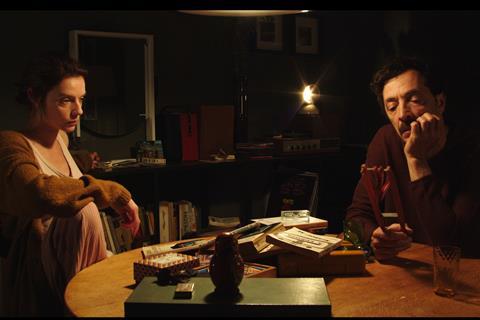 Dir/scr: Julio Alves. Portugal. 2020. 91 mins.
The fate of a turtle becomes the only impediment to a divorce in The Art Of Dying Far Away. Julio Alves' first dramatic feature is a rigorously composed adaptation of the Mario de Carvalho novel, offering an absurdist perspective on love, marriage and the tricky business of separation. Unashamedly quirky in manner and lugubrious in execution, it could secure some festival attention.
The Art Of Dying Far Away never entirely connects imagery and emotions.
Their marriage may be over, but Lisbon couple Barbara (Ana Moreira) and Arnaldo (Pedro Lacerda) continue to live under the same roof. We first see them seated in a dimly-lit room as gloomy and oppressive as their mood. A pool of light falls on a table, giving the impression of a set that has been lit for a theatre production. They are trying to agree on an equitable division of their assets. Who wants the books? Who needs the mattress? Possessions trigger memories or become ammunition in a war of attrition. You can almost feel the strain of their mutual attempt to remain civilised.
Each actor brings a brittle weariness to their performance. Moreira's exasperated Barbara just wants to move on with her life. She has clearly had enough of Arnaldo's stories and his presence. She never smiles in his company. Lacerda's Arnaldo is a more petulant figure, angry that events have come to this.
The one item that remains a bone of contention is a turtle. Showcased in frequent closeups, it is a magnificent specimen with mesmerising chessboard markings and an ornate shell. It is a symbol of continuity in a changing world.
The turtle was a birthday gift from Arnaldo to Barbara, but now neither of them craves responsibility for it. As long as the turtle remains in their possession, it feels as if the marriage might still have a chance.
There is a quirky charm to The Art Of Dying Far Away. Alves and cinematographer Paulo Castilho have an eye for an elegant, unexpected image. A peacock's spectacular display of colourful tail feathers fills the screen, a wall of framed movie-star posters spotlight Cary Grant, Margaret Lockwood and Stewart Granger among others, an abandoned subbuteo set has curls of cobwebs.
Flowing water and aquariums become recurring motifs, and Arnaldo starts to see humans with the heads and bodies of fish. He is also taunted by the sight of young love everywhere he looks. Lisbon landmarks, including the Gulbenkian Museum, feature heavily throughout, adding to the visual appeal.
We never learn what has driven the couple to divorce. As we follow their halfhearted attempts to move on, the film frequently turns towards the whimsical in a manner reminiscent of fellow Portuguese director Joao Nicolau's Technoboss (2019). Two oddball police officers feel as if they belong in a darker, more sinister film.
The Art Of Dying Far Away never entirely connects imagery and emotions. Drily droll at times, it can also feel aloof, unfolding at a pace akin to that of a wary turtle. Perhaps that is meant to reflect the slow drift of lives heading apart but still able to catch a current that might just bring them back together.
Production company/international sales: Ukbar Filmes, office@ukbarfilmes.com
Producers: Pandora Du Cunha Telles, Pablo Iraola
Editing: Hugo Santiago
Cinematography: Paulo Castilho
Production design: Teresa Amaral
Music: Joao Alves
Main cast: Pedro Lacerda, Ana Moreira, Custodia Gallego, Joao Lagarto