Ryoo Seung-wan's blockbuster is the biggest release of the year in Korea, yet fails to live up to the promise of Veteran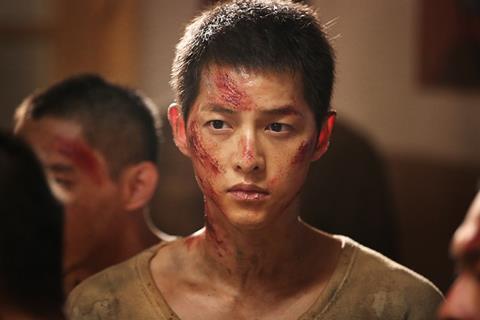 Dir/: Ryoo Seung-wan. South Korea. 2017. 132mins.
Renowned for his audacious set-pieces, maverick action director Ryoo Seung-wan follows up two blockbusters - The Berlin File and Veteran, Korea's second-highest-grossing film of all time - with a story set in a forced labour camp during the Second World War. . While there's no doubting its huge ambitions, The Battleship Island turns out to be a disappointing misfire.
Ryoo and Shin Kyoung-ill have delivered a jingoistic screenplay which pulsates with anti-Japanese sentiment.
The stellar cast (Hwang Jung-min, Song Joong-ki) and enticing subject matter have already set opening-day records in South Korea (July 26) with just shy of one million admissions, and that success should continue on to the weekend. The film's weakness could signify diminishing returns as word of mouth sets in, however. And while its pedigree may translate into strong box office sales in some Asian territories (not including Japan), its firecely nationalistic narrative might put off viewers further afield. CJ Entertainment has sold The Battleship Island globally, including reported record-breaking prices for some Asian territories.
Set during the latter stages of the the war when Korea is firmly under Japanese colonial rule, Ryoo's film follows bandmaster Lee Gang-ok (Hwang Jung-min) who attempts to travel to Japan with his young daughter Sohee (Kim Su-an) and his musicians. But they are duped and taken to the island of Hashima, located some 15km off the coast of Nagasaki, Japan. It turns out to be a prison camp.
Also on the island is a US-trained independence fighter Park Mu-young (Song Joong-ki), who has been sent there on a mission, along with Seoul gangster Choi Chil-sung (So Ji-sub) who fights his way up the chain of command, Yoon Hak-chul (Lee Kyoung-young) a spiritual leader and mediator, and the sex slave or so-called "comfort woman" Mallyon (Lee Jung-hyun).
With the war coming to an end and the Japanese on the verge of defeat, Mu-young aborts his original mission to rescue an independence movement leader, and devises a daring plan to evacuate all the Koreans from the island.
The film is mstly rooted in truth. Nicknamed Battleship Island owing to its resemblance to a Japanese war vessel (some exterior shots of the island were used in Skyfall), hundreds of Koreans were brought to Hashima during the war, many of whom were forced to work in mines a kilometre below the sea floor. "Comfort women" refers to women and girls forced into sexual slavery by the Japanese army before and during the war. Although fictionalising history is certainly not new in cinema, the entire escape, which serves as the film's climatic set piece, is completely made up. This may cause some problems with veterans, while Ryoo and Shin Kyoung-ill have delivered a jingoistic screenplay which pulsates with anti-Japanese sentiment.
Many of the film's problems lie in its characters, which are for the most part one-dimensional. In a crowded script, the more interesting dynamic is between Gang-ok and his daughter as he seeks to protect her. By quite a margin, rising star Kim Su-an (Train To Busan) is the best thing in the film as the young Sohee, and appears destined to become one of Korea's top actresses over the coming years.
Otherwise the cast fails to deliver. Hwang Jung-min (Veteran, Ode to my Father) is a talented actor and a huge box office draw. But like the film itself, he's a disappointment, while his co-headliners Song Joong-ki and So Ji-sub also fail to resonate. It isn't just the top-tier cast that has attracted attention to The Battleship Island, but the sheer scale of the production, which was budgeted at $22.3m. A gargantuan outdoor set was built in Korea to reconstruct the entire island, but the resulting film's cinematography and choreography surprisingly fail to reach the standard normally associated with Ryoo's innovative visuals.
The camera is certainly mobile with plenty of aerial, crane and tracking shots, especially towards the end. But The Battleship Island feels more like a standard blockbuster than a Ryoo Seung-wan film, lacking the dynamism of his daring visual aesthetic and while its final climatic set-piece might impress some viewers, it doesn't rescue the film. A lively score also sometimes feels at odds with its bleak tone and aesthetic.
Production company: Filmmakers R&K
International sales: CJ Entertainment (filmsales@cj.net)
Executive Producers: Jeong Tae-sung, Michelle Kwon, Simon Lee
Producers: Kang Hye-jung, Kim Jeong-min
Screenplay: Ryoo Seung-wan, Shin Kyoung-ill
Cinematography: Lee Mogae
Production design: Lee Hwo-kyung
Editors: Kim Sang-bum, Kim Jae-bum
Music: Bang Jun-suk
Main cast: Hwang Jung-min, So Ji-sub, Song Joong-ki, Lee Jung-hyun, Lee Kyoung-young, Kim Suan.