Stylish animated adaptation of Dino Buzzati's 1945 novel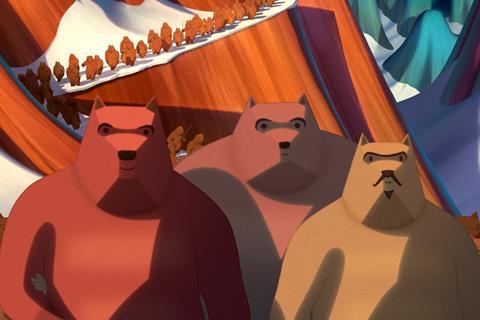 Dir: Lorenzo Mattotti. Italy/France. 2019. 82mins
Age-defying 2D crossover animation returns to Cannes's Un Certain Regard section three years after Michael Dudok de Wit's The Red Turtle. It's true that Paris-based Italian cartoonist and graphic novelist Lorenzo Mattotti's first feature, based on a children's parable by writer Dino Buzzati, skews more towards younger viewers: with its magicians, talking bears, toy soldiers and scheming court ministers, this is a film deeply rooted in European fairy-tale culture. But Mattotti's track record (he's designed everything from New Yorker covers to the 2000 Cannes film festival poster) and the visual delights on offer here are sure to broaden the appeal of a film that is likely to be most warmly embraced in its French and Italian co-production territories.
This is a brightly-coloured but also hip and stylish visual world
Buzzati's book, illustrated with his own naïf line drawings, was published in 1945, the same year as George Orwell's Animal Farm. Though more of a gentle divertissement than Orwell's angry parable, it too enclosed a political critique in the Trojan horse of a kid's story. Mattotti and his co-writers – who include regular Jacques Audiard collaborator Thomas Bidegain – have chosen to keep this very much in the background. Occasional scenes carry an echo of political satire, or a whiff of ecological awareness, but this is primarily a fantasy romp, one that charts the history of a short-lived intermingling between humans and bears in once-upon-a-time Sicily.
One of the challenges of Buzzati's source material for a modern feature director is its lack of any real female characters. So the scriptwriters have invented one: Almerina, a younger version of Gelsomina from Fellini's La Strada, a ragamuffin who helps strolling entertainer and storyteller Gedeone stage the fables he tells with the help of a scrolling painted backdrop that, by no accident, resembles a cinema screen.
One wintry night, still far from the next town, they take refuge in a cave which turns out to be the home of an elderly bear (voiced in the French version of the film by Jean-Claude Carrière and in Italian by Sicilian novelist Andrea Camilleri). In order to pacify the sleepy beast, the two entertainers mount a makeshift show and begin to tell the story that gives the film its name.
That tale, started by the mountebanks and finished by the old bear, follows closely, with some temporal leaps, Buzzati's yarn about a tribe of bears led by a king called Leander (rendered 'Leonce' in the Cannes print's English subtitles), who one day loses his son and heir Tony. With the bears facing hunger during a harsh winter, Leander decides to lead his hairy band down to the sea-port city ruled over by a vain, imperious Grand Duke, where, after a series of battles between the king's toy-soldier-like forces and the noble bears, the Grand Duke is vanquished, Tony reclaimed, and Leander crowned as their new leader by humans and bears alike.
That's only half of a story that also involves a spindly, top-hatted court magician; a shape-changing mountain ogre; and a fierce sea-dragon that comes across as an affectionate nod to the art of Hayao Miyazaki in a film that otherwise adopts a very different style from that of the Japanese 2D animation master. Influences that run from the stylized landscapes of Medieval painters like Giotto through to the metaphysical canvases of Giorgio De Chirico, Sicilian folk art, Futurist-era graphic design and vintage childrens' book illustrations (including Buzzati's) merge in Mattotti's vision, ably rendered and enhanced by his team of French animators.
Turning natural backdrops into sweeping textile patterns and bears into hard-edged sculptures of russet-brown shade and light, this is a brightly-coloured but also hip and stylish visual world, one that might appear on a retro chocolate box created by some cartoon-friendly Italian designer. Only the human forms and faces are a bit of a letdown, too redolent of a certain cost-saving style of Euro TV animation. In his inventive soundtrack, composer René Aubry mixes up Russian marches and Sicilian guitar trills, mirroring, in his sound textures, the film's kaleidoscopic range of visual references.
Production companies: Indigo Film with Rai Cinema, Prima Linea Productions, Pathé Films, France 3 Cinéma
International sales: Pathé International contact@pathe.com
Producers: Valérie Schermann, Christophe Jankovic
Screenplay: Thomas Bidegain, Jenn-Luc Fromental, Lorenzo Mattotti, based on the novel by Dino Buzzati
Editing: Sophie Reine
Music: René Aubry
Main voice cast: Toni Servillo, Antonio Albanese, Linda Caridi, Maurizio Lombardi, Corrado Invernizi, Alberto Boukabar Malanchino, Corrado Guzzanti, Andrea Camilleri