Dir. Ron Howard. US, 2016 102 mins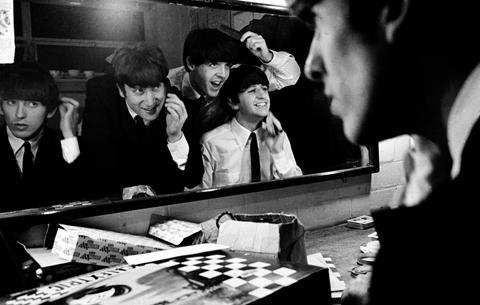 Ron Howard's documentary – the director's second, after 2013's Made In America – preserves the Fab Four in the amber light of nostalgia: happy, loving, funny comrades-in-arms, decent lads from Liverpool who wanted to be "toppermost of the poppermost". "By the end it became quite complicated, but in the beginning, things were really simple," says Paul McCartney. Howard takes a suitably straightforward approach, reassembling the Beatles dream through some revelatory archival footage, all with the blessing of Apple Corp and the survivors/estates.
The power of their performances certainly endures.
Blasting the viewer out the door to that brilliant rooftop rendition of Don't Let Me Down, from what would become their final Let It Be album, The Beatles: Eight Days A Week may take an softer, more superficial approach when compared to Martin Scorsese's lengthy George Harrison doc, Living In The Material World (2011), or the Anthology project. And its assembly of talking heads can be perplexingly random. But calling out from the past in 5.1 surround sound – a world away from the tannoy system in Shea Stadium in 1965 – this infectious piece harks back to happier, sweeter times for the Beatles and for pop music in general.
With its deft assembly of archive and rudimentary home video footage - some colourised - this seems well suited to US streaming service Hulu where it bows on on September 17, after a light bounce in cinemas and selectede venues the day before. And although Eight Days A Week can take an outsider's, quite US-centric perspective, assuming only an entry-level Beatles knowledge, the approach could work in the UK for younger, curious audiences when it goes out simultaneously through StudioCanal. The power of their performances certainly endures.
The Beatles: Eight Days A Week, doesn't dig particularly deep. Howard is positive, on forward-thrust at all times, moving towards a happy outcome when best friends John, Paul, Ringo and George concur not to pursue gruelling live performance in favour of the masterpiece Sergeant Pepper album. Touring was tough, posits the film: but they had their music and each other. Tough indeed: in four years they played 815 gigs in 15 countries and it pretty much destroyed them. Every close-up of a youthful, bubbling John Lennon as he harmonises with Paul McCartney can't help but poignantly amplify what Howard leaves unsaid.
The film's unwieldy title sets a path which it doesn't always follow. (The Beatles: Eight Days A Week – The Touring Years spends quite a bit of time in the studio, for example.) It starts by flitting around the quartet's Liverpool beginnings and Hamburg gigs to essentially focus on live performance from 1962 to 1966, although it starts with a Manchester gig in 1963.
Howard really becomes invigorated when the Fab Four arrives in the US, though. Beatlemania sets in, and they perform for half the nation on the Ed Sullivan show in February 1964. Whoopi Goldberg and Sigourney Weaver pop up to reminisce, alongside Elvis Costello and Eddie Izzard from across the pond alongside more potent contributions from the director Richard Lester, and the radio US reporter Larry Kane. The assassination of President Kennedy, segregation in the South, Vietnam: Howard is comfortably on his home turf, whether relevant or not.
Brian Epstein's role is breezed over – the Fab Four didn't set up a 25-city tour in the US in 30 days with two roadies by themselves, nor did they come up with the rule of a single every three months and an album every six months (producer George Martin, who died last year, is featured in voiceover). In fairness, hundreds of films could – and have – been made about The Beatles. By focusing on the touring footage, Howard's picture distinguishes itself by allowing us to remember them as they started out while emphasising their skill as musicians (there's an interesting comparison with Schubert and Mozart) and the endearing closeness of their unit.
It's nice to remember the days when Paul would tell a reporter "it's not culture, it's a good laugh" and it's equally sad to hear Lennon talk about how Help! was a crie-de-coeur. Award-winning editor Paul Crowder proves his mettle with a fluid assembly of footage which runs the gamut of quality and scope, providing multiple perspectives on some performances which prove thrilling. Occasionally there's the odd, discordant technical flourish, such as smoke rising from the cigarettes of still photos, or animated rain in the background. Judging by the pictorial evidence, an impressive amount of tea seems to have been consumed, although the film is coy when it comes to stronger substances.
Production companies: The Beatles' Apple Corps Ltd, White Horse Pictures, Imagine Entertainment
Contact: Apple Corps Ltd, www.thebeatleseightdaysaweek.com
Producers: Nigel Sinclair, Scott Pascucci, Brian Grazer, Ron Howard
Music producer: Giles Martin
Executive producers: Jeff Jones, Jonathan Clyde, Michael Rosenberg, Guy East, Nicholas Ferrall, Paul Crowder, Mark Monroe
Scr: Mark Monroe
Editor: Paul Crowder
Featuring (interviews): Paul McCartney, Ringo Starr, Whoopi Goldberg, Elvis Costello, Eddie Izzard, Larry Kane, Dr Kitty Oliver.