Charming French animation in which farmyard animals embark on three amusing adventures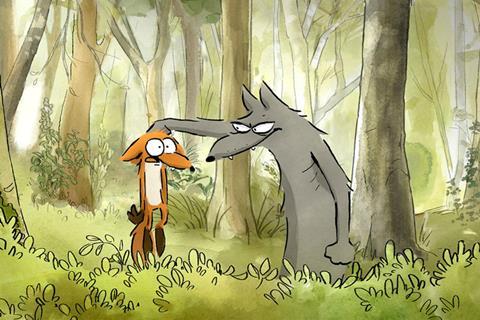 Dirs. Benjamin Renner, Patrick Imbert. France. 2017. 80mins.
If a bear and a mouse could strike up a friendship in Benjamin Renner's delightful Ernest & Celestine, then a farmyard full of animals — and their surrounding forest counterparts — can certainly work through their various problems, find common ground and zip through amusing life lessons in his second feature, The Big Bad Fox & Other Tales. Adapting his own graphic novel, the French filmmaker and his first-time co-helmer Patrick Imbert animate an affectionate and energetic madcap effort that might not completely match its predecessor's bursting heart, but still remains charming and engaging.
Helping the warm, wacky feature find its footing is Renner's preferred style of hand-drawn 2D animation
Proving the type of cross-generational family-friendly film, The Big Bad Fox & Other Tales is guaranteed further audience attention, with Gkids acquiring the title for North American distribution, and Studiocanal elsewhere. Its Toronto berth comes after premiering at Annecy and releasing in France in June, with a London Film Festival slot to follow. While reaching the same heights as the Cesar-winning, Oscar-nominee Ernest & Celestine is far from assured, its blend of sensitivity and slapstick will raise plenty of chuckles — and fans.
As co-written by Renner and Jean Regnaud, anthropomorphic creature capers abound in the film's three stories, as well as in the framing device that sees the titular fox (voiced by Guillaume Darnault) mounting a stage production along with a pig (Damien Wietecka), rabbit (Kamel Abdessadok), duck (Antoine Schoumsky) and more. They rush around in front and behind the curtain, comically not quite ready for the performance, before unveiling each separate segment.
In the eventful road trip of first tale, 'A Baby To Deliver,' the wise but cranky pig is saddled with the rabbit and duck's bumbling double act after a lazy stork (Christophe Lemoine) sweet talks them into ferrying his latest cargo — a newborn human — to its expectant parents
Next up is a case of mixed motivations and identity issues in 'The Big Bad Fox', in which the fox struggles to be seen as big and bad; a situation that doesn't improve when a wily wolf (Boris Rehlinger) convinces him to steal the hen's (Céline Ronté, also the movie's casting director) eggs, which then hatch into chicks that think he's their mother. And good intentions meet blundering actions in the final story, 'A Perfect Christmas', in which the animals believe they have accidentally killed Santa Claus and do everything they can to replace him.
Helping the warm, wacky feature find its footing is Renner's preferred style of hand-drawn 2D animation, looking soft yet rough as though it has just been sketched and painted. Indeed, loose yet dynamic proves to be the playful effort's visual and tonal niche, and one that, along with its lively voice acting, brisk pace and jaunty score, serves its fond yet farcical escapades well.
A balance of absurdity and insight is crucial to each adventure, which hews closer to Looney Tunes cartoons than the somewhat narratively comparable, in parts, likes of Storks, Chicken Run and Arthur Christmas. And though the film doesn't scrounge too deeply, offbeat gags, ample emotion and parallels with human nature all go hand-in-hand.
Production companies: Folivari, Panique!, StudioCanal, RBTF, BE TV
International sales: StudioCanal
US Distributor: GKids
Producers: Didier Brunner, Damien Brunner, Vincent Tavier
Executive producer: Thibaut Ruby
Screenwriters: Benjamin Renner, Jean Regnaud
Editor: Benjamin Massoubre
Production designer: Zaza and Zyk
Voice cast: Céline Ronté, Boris Rehlinger, Guillaume Bouchede, Guillaume Darnault, Magali Rosenzweig, Elise Noiraud, Jules Bienvenu, Damien Witecka, Kamel Abdessadok, Antoine Schoumsky, Christophe Lemoine