Dir: Adam McKay. US. 2015. 129mins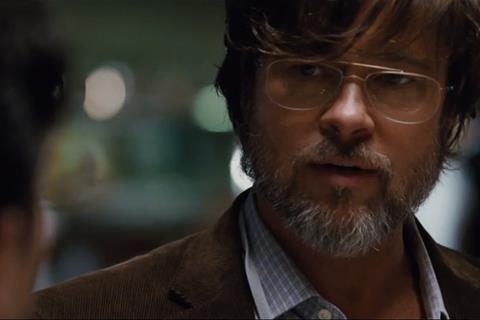 For those still enraged that the financial institutions which orchestrated the 2008 economic collapse walked away without punishment, The Big Short plays like a cleansing blast of outrage and scorn. Based on the 2010 Michael Lewis nonfiction book that chronicled the few individuals who foresaw theUS housing market crash — and decided to make a profit off it — this wildly entertaining satire can be uneven or strident at times, but director and co-writer Adam McKay taps into society's pent-up frustration and anger at Wall Street arrogance and lets it burst forth over two very engaging hours.
There are very few heroes in this film, and even the ostensibly good guys are deeply complicated
A fine cast led by Steve Carell, Ryan Gosling, Christian Bale and Brad Pitt guides this stupendously sour comedy-drama, as McKay manages to make dry economic terminology engrossing while sticking to a grimly prescient central thesis – that the crooks who nearly brought down capitalism are still among us.
Closing the AFI Fest, this Paramount release opens in the US on December 11, and while it may not be a major awards contender, strong buzz could make it a must-see amongst discriminating audiences. The Big Short certainly has plenty of star power, although McKay's previous work as a director on Will Ferrell vehicles like Anchorman may only prove a slight selling point. (The Big Short is certainly comedic, but it's easily the most serious of McKay's movies.) Commercially, the film could land in a happy middle ground between the festive season's mainstream offerings and its more sombre prestige pictures, proving to be both crowd-pleasing and artistically substantial. The struggle for Paramount will be convincing those on the fence that a movie about the root causes of the US recession is worth heading to the theatre for.
Spanning about three years, The Big Short cuts back and forth between different men who noticed, starting in 2005, that the usually reliable housing market was showing signs of weakness, the vulnerabilities egged on by risky subprime loans dreamed up by banks. Michael Burry (Bale), a brilliant hedge-fund manager who has Asperger's, bets big on the bubble bursting, much to the consternation of his bosses and his clients.
Mark Baum (Carell), a money manager who despises the greed and unethical practices of Wall Street, meets Jared Vennett (Gosling), a trader who convinces him that they can make a fortune betting against (or shorting) the banks' mortgage bonds. And Ben Rickert (Pitt), a retired trader, is coaxed by two up-and-coming investors (John Magaro and Finn Wittrock) to help them navigate tricky financial waters to take advantage of this potential economic collapse.
McKay's 2010 buddy-cop comedy The Other Guys dealt with the recession, the damage it did to America and the fact that nobody was prosecuted for illegal actions. But where those topics lay in the background of The Other Guys, The Big Short brings them centre stage, and it's a testament to the director's skill that he mostly finds a welcome balance between seriousness and sarcasm in his treatment of this fact-based tale. There are very few heroes in this film, and even the ostensible good guys are deeply complicated — partly because, although someone like Baum wants to punish Wall Street for its avarice and lack of social responsibility, everybody involved in shorting the banks is doing it to make a lot of money.
Perhaps not surprisingly, McKay tells this story almost as if it was a heist picture, digging into the processes by which investments, bonds and riches are made, letting us share in the seductive excitement of trying to hit it big in the financial markets. On occasion, The Big Short will stop the plot cold to explain some arcane piece of financial jargon.
McKay may risk cutesiness from time to time, but on the whole he's made an accessible movie about economic dishonesty that manages to be breezily informative without becoming patronising. And that's important because, as The Big Short rolls along, our familiarity with the financial jargon is crucial for understanding precisely why these men become more and more shocked by the unscrupulous behaviour they uncover.
Several of the leads play larger-than-life individuals — some real people, some fictionalised from Lewis's book — but the actors do a good job of keeping them three-dimensional. Carell is superb as Baum — who's constantly furious and believes the world is basically rotten — emphasising the character's moral centre and turning him into a lovably cranky champion for the little guy. (It's through Baum's satisfaction at proving smug Wall Street executives wrong about the health of the marketplace that we get to vicariously enjoy a little of their comeuppance.)
Bale leans heavily on Burry's quirks — his penchant for loud heavy metal in his office, his lack of social graces — but McKay helps the Oscar-winner locate the soul of a man who has never felt comfortable in society and instead finds comfort in numbers, which becomes a risk when his bet against the banks starts to look like a spectacular failure.
Pitt is more on the periphery as the alarmist Rickert — he already thinks society is on the brink of collapse even before hearing about the subprime mess — but he uses his star-power gravitas to suggest a master trader who walked away because he lost his enthusiasm for a business he no longer respected. As for Gosling, even if Vennett is a little too generically slick, the actor revels in the guy's cocky, macho charm.
McKay fills out his ensemble with fine actors in small but meaningful parts, including Marisa Tomei as Baum's concerned wife and Melissa Leo as a morally blind employee at a credit rating agency. There's a scrappy vitality to the performances that echoes McKay's overall strategy of making a film that's consistently rollicking while also subtly maddening. The Big Short means to infuriate its audience, but it's smart enough to know that such an approach doesn't preclude a film from being darkly, cathartically funny as well.
Production companies: Regency Enterprises, Plan B Entertainment
Contact: Paramount Pictures, www.paramount.com
Producers: Brad Pitt, Dede Gardner, Jeremy Kleiner, Arnon Milchan
Executive producers: Louise Rosner-Meyer, Kevin Messick
Screenplay: Charles Randolph and Adam McKay, based on the book by Michael Lewis
Cinematography: Barry Ackroyd
Production design: Clayton Hartley
Editor: Hank Corwin
Music: Nicholas Britell
Website: www.thebigshortmovie.com
Main Cast: Christian Bale, Steve Carell, Ryan Gosling, Brad Pitt, Melissa Leo, Hamish Linklater, John Magaro, Rafe Spall, Jeremy Strong, Finn Wittrock, Marisa Tomei