The last film from Krzysztof Krauze and his wife Joanna deals with the aftermath of the Rwandan genocide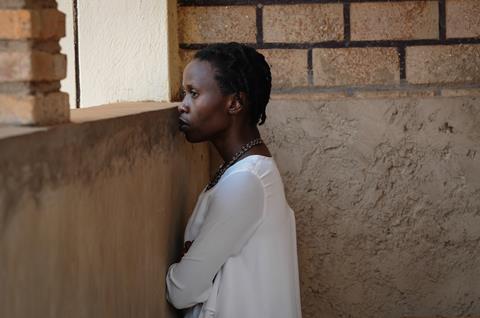 Dirs/scr. Joanna Kos-Krauze, Krzysztof Krauze. Poland. 2017. 113 mins
Dealing with the aftermath of the Rwandan genocide in 1994 and inherent topics of trauma, racism and the treatment of women, The Birds Are Singing In Kigali (Ptaki śpiewają w Kigali) is a raw but ultimately hopeful film about the extremes of human nature. Directed by wife-and-husband duo Joanna Kos-Krauze and Krzystof Krauze - whose previous films together include 2013's Papusza – the film will have its world premiere in Karlovy Vary's Official Competition where Kryzstof Krauze won a Crystal Globe in 2004 for the film My Nikifor. It's a bittersweet affair as Krauze passed away from cancer in 2014, leaving his wife to complete the film.
The stand-out is Rwandan actress Elaine Umuhire whose combination of quiet dignity and fierce anger is mesmerising
This powerful piece provides a fitting tribute to the late film-maker and should find many new admirers of his work with Joanna. Further festival showings seem assured, while there is every chance that arthouse distributors will circle a film which deals with issues that should resonate with international audiences.
In 1994, Polish ornithologist Anna (Jowita Budnik) finds herself caught up in the Rwandan genocide. There she witnesses terrible atrocities – including the murder of a Rwandan colleague with whom she had been working for years. Smuggling his daughter Claudine (Eliane Umuhire) out of the country, Anna carries deep emotional scars from the trauma she has witnessed. But the presence of Claudine makes leaving these memories behind a difficult process. As time goes on, Claudine tries to assimilate in Poland but the desire to return to her home country and achieve closure on the deaths of family and friends remains strong. When the opportunity to return to Rwanda arises, both must be ready to face the terrible truths of the past.
The film makes much of the juxtaposition between human behaviour and the natural world. Shots of vultures feeding on carrion or the organs of a disembowelled animal writhing with maggots are a reminder of nature's indifference to death. Humans are meant to be an evolved species and yet the Rwandan genocide would indicate that they are as callous as any animal. The massacred Tutsis are referred to as 'cockroaches' : just another animal to be crushed. The film also examines the treatment of women not only in conflict – rape was a regular occurrence in the genocide – but in society at large as Anna and Claudine try to deal with a trauma that many seem to dismiss.
But while the film deals with many themes – racism and immigration are also touched upon – it never feels disjointed thanks to the way the screenplay filters everything through Anna and Claudine's fractured relationship. While this was born from the best intentions of humanity – to save another person's life – it is also typified by anger and recrimination, with their relationship reminding one another of the terrible things both have suffered.
Jowita Budnik – a frequent collaborator of the Krauzes – gives a brittle and subtle performance as Anna, with emotions bubbling under the surface ready to explode at any moment. But the stand-out is Rwandan actress Umuhire whose combination of quiet dignity and fierce anger is mesmerising.
Utilising a flashback structure, the film flits between the naturalistic and the surreal as snatches of brutality surface like nightmares. Yet for all the rawness at the heart of the film, there are moments of transcendence – such as a flock of birds flying into dappled, sunset skies – reminding us that amongst the ugliness there is always a possibility of beauty.
Production company/international sales: KOSFILM, aleksandra.biernacka500@outlook.com
Producer: Joanna Kos-Krauze
Cinematography: Krzysztof Ptak, Józefina Gocman, Wojciech Staroń
Editor: Katarzyna Leśniak
Music: Paweł Szymański
Main cast: Jowita Budnik, Eliane Umuhire