Dir: Philippe Falardeau. US/Canada. 2016. 101 mins.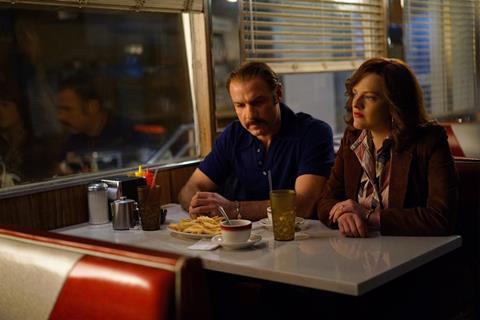 The 'I could have been a contender' brand of sports movie gets a twist in this tasty, if minor-key, biopic of the 'Bayonne Bleeder', Chuck Wepner, who famously went fifteen rounds with Muhammad Ali in 1975 before losing on a technical knockout 19 seconds short of the final bell.
Written off as an easy target, Wepner became for many a symbol of the stubborn underdog who refuses to go down
Like the fictitious brawler portrayed by Mickey Rourke in The Wrestler – another film that draws heavily on the dingy realism of its New-Jersey locations – Wepner parlays an increasingly desperate professional afterlife out of his fifteen rounds of fame. But there's a film within the film: Rocky, and the franchise it spawned, was inspired at least in part by Wepner – thus giving Liev Schreiber's likeable mess of a character not one but two stabs at screwing up his time in the spotlight.
Though Schreiber's solid, unshowy performance in a film that the actor and boxing fan boarded at an early stage of production could generate some awards-season heat, The Bleeder may be held back from setting the box office on fire not only by its turn-off title but also by a certain sense of deja-vu. From Goodfellas, among other contenders, it takes its over-indulgent use of voice-over and East Coast blue-collar community nostalgia; with American Hustle, Donnie Brasco and a host of others it shares a marketable feelgood soundtrack of 1970s hits (acts featured here range from Hot Chocolate to The Commodores) and a tendency for the colours to leech, at times, towards a sort of 1970s Instagram filter effect – a vintage Kojak-era warmth built into the very look of the movie.
However, it's The Wrestler that comes to mind here, repeatedly. The Bleeder even dares to set a bonding session on the Asbury Park boardwalk, just like Aronofsky's 2008 battered has-been story. And the comparison is not kind to The Bleeder, which stays in the ring, just like its hero, but without much sense of direction.
It takes a while to get used to Schreiber's jowly, face-puffing make-up, but it's a niggle that fades into the background as we begin to warm to a man who is not a hungry young kid with a mission but a settled journeyman boxer. At the time the story starts in 1974, Chuck is already a veteran of the ring, nicknamed 'The Bleeder' for his ability to soak up punches in bouts that earn him so little he's forced to work on the side as a liquor salesman.
He lives in an apartment dominated by a mustard-hued velvet sofa (the period production design is spot-on) with cute postal worker wife Phyllis – an on-form, wing-fringed Elisabeth Moss – and daughter Kim.
Wepner's chance to fight Muhammad Ali for the world heavyweight title in Cleveland might have been the climax of a different film; here, in a script that seems rather beholden to Wepner's own version of his life story, it comes around the midpoint. Staged because (we are told) promoter Don King wanted "a white guy" to face Ali after the latter's victorious 'Rumble in the Jungle" bout, the fight went on far longer than anyone expected before Ali won.
Written off as an easy target, Wepner became for many a symbol of the stubborn underdog who refuses to go down. What follows the efficiently-narrated fight sequence is the story of how Chuck forfeited that respect, and his marriage to Phyllis, over the next few years as he milked his minor celebrity status in cheesy one-nighters and descended into coke addiction – with the release of Rocky in 1976 simply prolonging his klutzy self-delusion.
Once we settle into the meandering rhythm of Chuck's post-fight lost years there are pleasures to be had over and above Schreiber's 1970s medallions, fur coat and chest hair – notably the supporting performances of Naomi Watts as Wepner's new love interest, Linda, for once an unclichéd tough barmaid with a heart of gold. There's also Jim Gaffigan as John, the NJ best buddy who becomes a helpless enabler of Chuck's drug habit, and Michael Rappaport, who does a lot with his limited screen time as the boxer's estranged brother Don.
Enjoyable cameos by Morgan Spector as Sylvester Stallone and Pooch Hall as Ali stoke our interest too. But in the end there's not quite enough of an original take on the washed-up-sport-star genre here to put to bed the slightly plaintive tone of anxiousness that seems to hide behind Chuck's very first drawling voice-over to the audience: "You know me, but you don't know you know me".
Production companies: Millennium Films, Campbell Grobman Films,
International sales: Millennium Films, rqasem@nuimage.net
Producers: Mike Tollin, Carl Hampe, Liev Schreiber, Christa Campbell, Lati Grobman
Executive producers: Avi Lerner, Trevor Short, Jeff Rice, Jeff Feuerzeig, Mark Gill
Screenplay: Jeff Feuerzeig, Jerry Stahl, Michael Cristofer
Cinematography: Nicola Bolduc
Editor: Richard Comeau
Production designer: Inbal Weinberg
Music: Corey Allen Jackson
Main cast: Liev Schreiber, Elisabeth Moss, Ron Perlman, Naomi Watts, Jim Gaffigan, Michael Rappaport, Pooch Hall, Morgan Spector