British director Rob Savage takes on Stephen King's 1973 short story to mixed results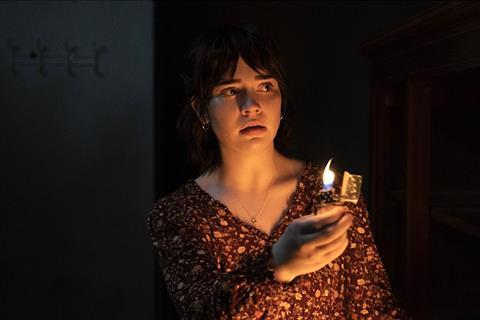 Dir: Rob Savage. US. 2023. 98mins
All horror films essentially force their audience to confront that most universal of fears: death. The best genre filmmakers, however, don't just throw buckets of blood at the screen, but mine our collective unwillingness to connect with our mortality. And while The Boogeyman — based on the 1973 Stephen King short story about a closet-dwelling stealer of souls — is as narratively generic as its on-the-nose (and oft-used) title may suggest, British director Rob Savage brings an innate humanness and playful spirit that lifts this otherwise-rote monster movie.
British director Rob Savage brings an innate humanness and playful spirit that lifts this otherwise-rote monster movie.
Hot on the heels of indie frighteners Host — the video-call horror which shot to popularity during lockdown — and iPhone-shot follow-up Dashcam, The Boogeyman now gives Savage a bigger canvas. He daubs it with blood spatters and plenty of jump scares, but also more of his inventive visuals and some excellent performances from his cast (including rising star Sophie Thatcher, recently seen in Yellowjackets). Developed by The Quiet Place writers Scott Beck and Bryan Woods, initially for streaming on Hulu, the similarly Disney-owned 20th Century Studios should see a return on its decision to put it on the big screen across multiple territories from June 2 — influenced, it's reported, by a hugely successful test screening and King's own positive reaction. Audiences will likely be temped by King's name, and respond positively to its crowd-pleasing (and PG-13 appropriate) scares.
Screenwriters Beck, Woods and Mark Heyman (Black Swan) have expanded the original's slight story out of its one-location setup — although that is where it begins, in the home office of psychiatrist Will Harper (Chris Messina). Here, as in King's story, Will consults with a patient, Lester Billings (David Dastmalchian), who speaks of a so-called 'boogeyman' who claimed the life of two of his children. Lester then apparently commits suicide in Will's closet. The Boogeyman then brings in an entirely new focus; Will's teenage daughter Sadie (an excellent Thatcher), still reeling from the recent death of her mother in a car accident and struggling with her own grief, a troubled younger sister Sawer (Vivien Lyra Blair) and a father who refuses to speak about what happened.
It's in these deeply human, monster-free moments that the film is most compelling. It explores the cracks that can occur within families following tragedy, the fissures of grief and guilt that can push people apart rather than pulling them together. Lost in his own pain, desperate to scrub the home of the memories which haunt him, Will is utterly unable to connect with his daughters — either to help them mourn or to listen to their growing assertions that something is very, very wrong inside the house.
The idea of a malevolent entity attaching itself to the wounded or vulnerable is a standard genre premise, as is the notion of a monster as a manifestation of buried feelings; Jennifer Kent's The Babadook remaining a gold standard for the latter. The Boogeyman hits somewhere between the two. There's no doubt that this wretched being is attracted to and fuelled by pain, but it is presented as a flesh-and-blood, three-dimensional entity that can itself be wounded. Designed like something from a children's drawing, this huge, spider-like scuttling monster is — despite some impressive sound design which imbues it with a mix of deep-throated growl and multiple human voices — increasingly less terrifying the more we see of it. Savvily, Savage keeps it in the dark for most of the running time.
Elsewhere, The Boogeyman is rather more visually arresting. Camera work from Eli Born favours off-kilter angles and unexpected framing, and effectively utilises cracks in doorways, blurry reflections, agonising slow-pans and things caught in the corner of the frame. Lighting is evocative, the family home being cast in mournful blue-grey daylight that casts shadows where anything could be lurking, occasionally punctuated with the cold glow of lamps, Christmas lights and TV screens. Brisk editing from Peter Gvozdas serves up plenty of jumps — both expected and not. The result is undoubtedly scary in the moment but, like most childhood monsters, the fear is instantly forgotten once the lights go up.
Production companies: 21 Laps Entertainment, NeoReel, Twentieth Century Fox
International distribution: 20th Century Studios
Producers: Dan Cohen, Dan Levine, Shawn Levy
Screenwriters: Scott Beck, Bryan Woods and Mark Heyman, based on the short story by Stephen King
Cinematography: Eli Born
Production design:
Editing: Peter Gvodzas
Music: Patrick Jonsson
Main cast: Sophie Thatcher, Chris Messina, Vivien Lyra Blair, David Dastmalchian, LisaGay Hamilton, Maddie Nicols, Marin Ireland, Madison Hu