Dir: Ben Falcone. US. 2016. 98mins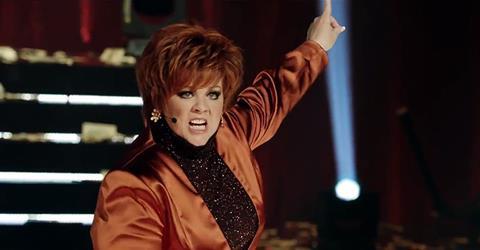 Trying to balance her trademark bulldozer comedic style with a little more sweetness, Melissa McCarthy gets part of the way there with The Boss, a sporadically funny film that has moments of real heart in what's otherwise a formulaic study of an aggressive businesswoman who learns to stop being so selfish. McCarthy, who co-wrote and produced the movie, somewhat tones down her over-the-top onscreen persona and has an adorable rapport with co-star Kristen Bell. But after last year's terrifically entertaining (and relatively nuanced) Spy, The Boss finds this Oscar-nominated dynamo still struggling to find the ideal vehicle.
McCarthy reveals a tenderness and pathos that have rarely surfaced in her mainstream comedies.
Opening on April 8 in North America, The Boss should continue McCarthy's recent box-office success, with even 2014's critically savaged Tammy managing to clear $100 million worldwide against a reported $20-million budget. Her films tend to perform better in the States than they do internationally, with the exception being the more action-packed Spy, and that pattern should continue here. Reviews probably won't be glowing, but a supporting cast that includes Bell and Peter Dinklage should make The Boss even more attractive for date-night crowds and fans of R-rated comedies.
Directed and co-written by Ben Falcone, who also directed Tammy, The Boss stars McCarthy as Michelle Darnell, a celebrity Chicago entrepreneur who enraptures stadiums full of devotees with her message of making lots of money and not letting anyone get in your way. (In truth, this incredibly successful businesswoman is trying to compensate for a childhood in which she never knew her parents and lived in a foster home, different potential families deciding to send her back after briefly adopting her.)
Indicted for insider trading, Michelle spends a few months in prison, only to discover once she's released that all of her assets have been seized and that the only friend she has is her former executive assistant, the loyal but overworked single mother Claire (Bell), who is raising tween Rachel (Ella Anderson). Camping out at Claire's place and hungry to regain her fortune, Michelle decides to start a business selling Claire's incredible homemade brownies.
Those familiar with McCarthy's brand of comedy from Identity Thief and The Heat — which mostly involved playing obnoxious characters whose abrasiveness makes them the butt of the joke — will find that the actress has tempered that hard edge, somewhat. Michelle isn't belligerently stupid like some of McCarthy's past creations, but the character's myopic, callous attitude isn't particularly funny, either. Only rarely do her snotty, snobbish quips really sting, and The Boss also fails to get much traction from shock humour involving female genitalia or unexpected violence. Frankly, these moments feel like an unhappy call-back to McCarthy's post-Bridesmaids career in which she leaned heavily on one-dimensional characters who quickly wore out their welcome.
But the film finds its rhythm once Claire reluctantly allows her old boss to stay with her, Claire's responsible, reasonable personality amusingly clashing with Michelle's spoiled, impatient childishness. The two actresses exhibit real warmth in their scenes, which makes their characters' initial clashing of horns come across as lovable rather than tiresome. Add to this some fine work by Anderson as Claire's kindly daughter, and you have the potential for a cute, sentimental, utterly forgettable comedy about a makeshift family all living under one roof. In her interactions with the charming Anderson, McCarthy reveals a tenderness and pathos that have rarely surfaced in her mainstream comedies.
It's a shame, then, that so much else in The Boss plays out in a predictable or convoluted fashion. Michelle's inevitable change of heart — she realises she can let people be close to her — is terribly programmatic, and the filmmakers create a needless third-act showdown in which our main characters have to save their burgeoning brownie company from a rival entrepreneur (Dinklage) who used to be Michelle's lover. Dinklage's performance as the blowhard rival is too attuned to the movie's overly broad tone, and when The Boss shifts awkwardly to become an action movie in its final reels, the decision feels less bold than it does haphazard, as if Falcone and his team didn't have faith in the quieter, sweeter story about Michelle, Claire and Rachel.
Bell makes Claire's levelheadedness both appealing and sexy, and the actress is superb at underplaying against McCarthy's more frenzied, ridiculous Michelle. And if Spy suggested how marvellous McCarthy could be playing a relatively normal person instead of a buffoon, The Boss at least allows her to demonstrate a little range, taking Michelle from being a parody of a driven businesswoman to someone more in touch with her emotions. McCarthy's skill at delivering a delicious, expletive-laden putdown remains, and Michelle's super-permed hair and ludicrous turtleneck ensembles are good for the occasional laugh. But although The Boss strives to show McCarthy's comedic range, it ends up being as scattershot as her earlier, far more one-dimensional offerings.
Production companies: On The Day Productions, Gary Sanchez Productions
Worldwide distribution: Universal Pictures, www.universalpictures.com
Producers: Melissa McCarthy, Ben Falcone, Will Ferrell, Adam McKay, Chris Henchy
Executive producers: Rob Cowan, Kevin Messick
Screenplay: Melissa McCarthy & Ben Falcone & Steve Mallory
Cinematography: Julio Macat
Production design: Rusty Smith
Editor: Craig Alpert
Music: Christopher Lennertz
Website: www.thebossfilm.com
Main Cast: Melissa McCarthy, Kristen Bell, Kathy Bates, Tyler Labine, Timothy Simons, Peter Dinklage