A struggling couple in Aden face up to hard choices in Amr Gamal's abortion drama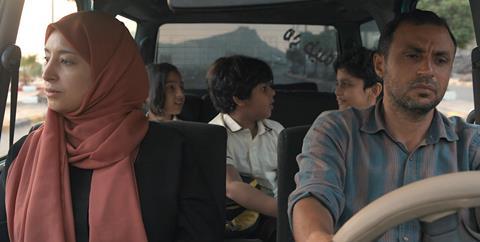 Dir. Amr Gamal. Yemen/Sudan/Saudi Arabia. 2023. 91 mins.
The theme of woes falling upon woes – raining stones, to quote a Ken Loach title – is universal in realist cinema. And today, the topic of abortion is coming very much to the fore, a reminder of how rights fought for in the past still need to be addressed today. The two themes converge in The Burdened, a hard-edged drama from Yemen that approaches abortion in totally matter-of-fact terms, against a backdrop of religious and social pressures in an Islamic country enduring tough times. The second feature by writer-director and stage practitioner Amr Gamal, following his 2018 Ten Days Before The Wedding, this no-frills piece should impress festivals, especially given the rarity value of Yemeni features, although its stylistic austerity could restrict wider prospects.
What's striking is how extremely spare and to the point Gamal's storytelling style is
An opening caption tells us that the film is based on a true story – but the nature of the episode is such that we suspect it could be based on many true stories. The setting is Aden in 2019, against the backdrop of the damage done by civil war in Yemen. Middle-aged Ahmed (Khaled Hamdan) works for Aden television, but finds that his salary, like those of many public workers, has been suspended for several months – part of a national crisis that has also closed schools for a period.
Lack of funds mean serious pressures for Ahmed, his wife Isra'a (Abeer Mohammed) and their three young children, who must leave their flat for cheaper and decidedly less welcoming premises. Ahmed has been keeping their heads above water with a second job as a taxi driver, shuttling customers around the city in the family van – which brings its own challenges and expenses - while the couple feel uneasy at having to consider financial help from family and friends.
Meanwhile, Isra'a is pregnant and Ahmed has persuaded her that abortion is the only option. A video from a respected imam declares that this would not be out of keeping with Islamic law, as long as termination takes place within 120 days, although other authorities, and public opinion, differ. Isra'a hopes that her doctor friend Muna (Samah Alamrani) can help – but while Muna is sympathetic, she's deeply uncomfortable with the idea. Later, when a hospital procedure looks more likely, there are further obstacles, administrative and financial, to negotiate.
Viewers will find The Burdened very different from other abortion stories of recent years, told in films such as Happening, Never Rarely Sometimes Always and 4 Months, 3 Weeks and 2 Days. These have tended to involve young single women fighting against social restrictions to achieve determination over their own bodies. Here, by contrast, the story plays out against a background of hard economic pressures, and against Islamic laws and social mores, with Isra'a universally being told that what she's planning is a sin. One well-disposed hospital staffer, wishing to reassure Isra'a about the procedure, even tells her that her aborted child will watch over her from heaven. An additional factor is that Isra'a's choice is very much influenced by Ahmed's insistence, giving this story a very different inflection from the affirmative one that Western audiences are used to.
The drama reaches its highest intensity in a long sequence in which the couple has to navigate various complexities in the hospital system, including a discrepancy around dates on an ultrasound scan. Building up to that, we see the everyday pattern of the couple's lives, as they jointly or singly confront their challenges, such as keeping their children content in the face of their natural demands for distraction and too expensive pleasures.
What's striking is how extremely spare and to the point Gamal's storytelling style is: there's zero fat on the bones of this story, giving the film a taut directness. The concrete realities of contemporary Yemeni life are evoked in overhead shots of the Aden streets, and city panoramas with rugged mountains in the background, bomb-blasted buildings to the fore.
The desaturated tones of Mrinal Desai's photography don't set out to seduce, and a largely uninflected acting style focuses us on the complexities of the situation, without being distracted by individual facets of personality. All this, together with the film's detailed, detached account of the administrative and medical technicalities of Isra'a's situation, gives The Burdened a hard, serious edge, but also makes it a touch harder to connect with in immediate emotional terms. A closing shot, with the three child actors are at last given free rein, ends the film on a teasingly unresolved note, but brings a last-minute breath of energetic relief to a tight-knit drama.
Production company: Adenium Productions
International sales: Films Boutique, contact@filmsboutique.com
Producers: Mohsen Alkhalifi, Amr Gamal
Screenplay: Amr Gamal, Mazen Refaat
Cinematography: Mrinal Desai
Editor: Heba Othman
Production design: Asim Abdulaziz, Tamim Mohammed
Music: Chen Mingchang
Main cast: Khaled Hamdan, Abeer Mohammed, Samah Alamrani, Awsam Abdulrahman