Familiar ingredients give rise to an impressive drama from a first-time Israeli film-maker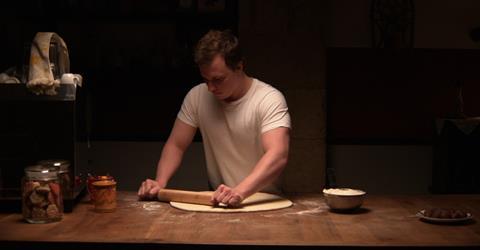 Dir/scr. Ofir Raul Graizer. Israel/Germany. 2017. 104 mins.
Yearning and melancholy are baked into every frame of The Cakemaker, and, like all good pastries, this grief-infused drama makes a strong impression while working from a classic recipe. Bowing in competition at Karlovy Vary, then headed to the Jerusalem Film Festival and a likely festival circuit career, Ofir Raul Graizer's debut feature explores the struggles of mourning from two initially contrasting, latterly intertwined perspectives: a married Israeli man's secret Berlin-based lover, and that of his wife and the mother of his son, who owns a cafe in Jerusalem.
The Cakemaker waits, letting unspoken truths and realisations simmer for as long as possible.
Graizere, who co-directed the 2015 Cannes short La Discothèque, has also written this contemplative full-length debut, understanding that patience and care are crucial in making a familiar formula feel like its own end product, particularly when blending together oft-examined subjects such as loss and culinary catharsis. More than that, however, he laces his recognisable ingredients with grander thematic concerns. Bubbling beneath his nuanced dual character study is a rumination on traditions and the divisions they inspire, be they national, sexual or religious.
When Oren (Roy Miller) walks into the German patisserie he always visits during his business trips abroad, and into chef Thomas' (Tim Kalkhof) life, it doesn't take long for a shared fondness for baked goods to give rise to an affair. Graizer jumps through their abridged, clandestine romance in a matter-of-fact manner — first, they meet; next, a year later, they're cosy and periodically cohabitating — while letting emotion ooze from their faces. They're close and comfortable, despite Oren's other life back home and Thomas' clear wish for something more permanent.
A spate of unreturned voicemail messages and an awkward trip to Oren's Berlin office later, and Thomas is bereaved. Oren has been killed in a car accident. Travelling to Jerusalem like a lost puppy, he visits the cafe owned by Anat (Sarah Adler), Oren's wife, asking for work. When she eventually gives him a job as a dishwasher, a new connection starts to simmer. This time, Graizer is in no hurry, keeping his focus intimate but happily giving his characters room to cope with their common source of sorrow, and to learn to trust and find solace in each other.
Of course, even when Thomas eventually, inevitably fires up the oven — whipping up cookies and cakes that improve the cafe's fortunes considerably — much still conspires against their friendship, as well as the possibility of something more. Anat's brother-in-law (Zohar Shtrauss) delivers stern reprimands about jeopardising the eatery's kosher status, in the feature's most heavy-handed inclusion, and Thomas' unmentioned history with Oren lingers in the air.
Again, The Cakemaker waits, letting unspoken truths and realisations simmer for as long as possible. Though the script rarely makes an unexpected choice, it's the way that the film dissects its many underlying complications that matters more than eschewing predictability. Calmly, but filled with feeling, Graizer lets his protagonists' actions and choices subvert the norm: charting a man's pain for the relationship he can never talk about, embracing a German in a Jewish kitchen despite warnings to the contrary, and watching a bond bloom between two people who shared the same lover.
The same formal composure characterises The Cakemaker's performances and visuals, and the same quiet revelation as well. Offering controlled but vivid portrayals, Kalkhof and Adler ensure their two sides of the same grieving, anguished coin remain as different as they do similar, all the more so as their characters slowly step closer together. Behind the lens, first-time feature cinematographer Omri Aloni frames with cool poise — other than when sensual food shots are involved — while fellow newcomer Michal Oppenheim proves just as precise with the film's measured editing.
Production companies: Laila Films, Film Base Berlin
International sales: Films Boutique, contact@filmsboutique.com
Producer: Itai Tamir
Cinematographer: Omri Aloni
Editor: Michal Oppenheim
Music: Dominique Charpentier
Production design: Daniel Kossow, Yael Bibelnik
Costume design: Lilu Goldfine
Cast: Tim Kalkhof, Sarah Adler, Roy Miller, Zohar Strauss, Sandra Sade