Marian Crisan gently explores political corruption through the experiences of a Romanian politician in a backwater town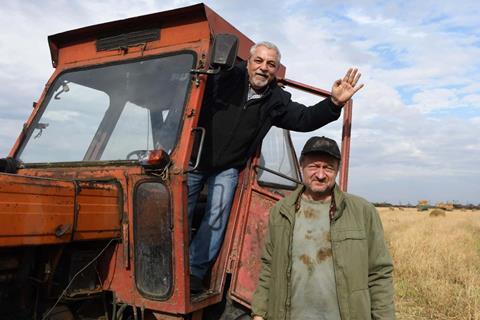 Dir: Marian Crisan. Romania. 2020. 94mins
Corruption is a favourite topic of Romanian cinema, films such as Child's Pose, Graduation and Collective painting a picture of a society still twisted and malfunctioning years after Ceausescu. The Campaign offers a gentler approach than most, low-key satire with a palpable fondness for its protagonists. But this doesn't make it any less effective; if an amiable naïf can be politically corrupted, then what hope is there for anyone else?
While there's a backwater charm to proceedings, the focus on the beleaguered European Union gives the film a broader currency
Director Marian Crisan sets the film in his hometown of Salonta, in western Romania. While there's a backwater charm to proceedings, the focus on the beleaguered European Union gives the film a broader currency that, allied to the enthusiasm for Romanian production, could appeal to arthouse audiences further afield.
Silvestru Mocanu (the excellent Ion Sapdaru) is in a fix. The former agriculture minister is facing corruption charges that include conflict of interest, tax evasion and forgery. For immunity from prosecution, he will need another elected office. And so Mocanu is on the campaign trail, as a candidate for a seat in the European Parliament, representing the county of Bihor, far from Bucharest. When his car fortuitously breaks down, tractor driver Viorel (Ovidiu Crisan) offers him a lift into town and a room for the night, and Mocanu sniffs an opportunity.
Mocanu wants to present himself as a man of the people, with local credentials and a common touch; Viorel desperately needs a new tractor – an easy promise for a corrupt politician to make. And so Mocanu moves in with Viorel and his accommodating wife Rodica (Maria Junghetu) and, with his newly minted 'army buddy' by his side, starts pressing the flesh.
There's fun to be had as they embark on a series of stunningly shameless photo ops: Mocanu at the wheel of Viorel's rusty tractor, becoming the godfather to the child of people he's never met, playing football with the locals – though the overweight politician can barely move. As Mocanu's marketing man Adi (George Dometi) sees it, "That's what the people want: pictures, not words." When his boss tries to appropriate JFK's already misguided "Ich bin ein Berliner" speech for his own use, it's easy to see why.
Meanwhile, the shabbily-dressed Viorel stands in the wings with the same fixed grimace, barely a sentence leaving his lips – uninterested, nonplussed, a character straight out of Kaurismaki central casting. At home, his wife is the more animated, finding in Mocanu a man who at least appears to be interested in what she has to say. A highlight involves Rodica taking her guest's blood pressure. "It can't be that high?" she muses, her dismissive husband observing that, "You don't have a blood pressure when you die."
Occasionally there's a hint of the seriousness of Mocanu's position and the truth of the charges against him, not least when he rages at the television, "Am I the only guilty one?" But Crisan's shrewd approach is to present Mocanu less as a shark, more a man fighting for his life, who seems naturally courteous, considerate, even becoming more human in the presence of his hosts.
The fact that he's alienated his family also weighs heavily on him, and there's a terrific, miserabilist cameo by Ioana Chitu as his daughter, flown in for a few days of false smiles, insisting, "This is the last time." While Mocanu's weakness is underlined by his confectionary comfort eating, Viorel's move towards the dark side is more subtle and, when it comes, packs quite a punch.
Production company: Rova Film
International Sales: Picture Tree International. pti@picturetree-international.com
Producers: Marian Crisan, Anca Puiu
Screenplay: Marian Crisan, Gabriel Andronache
Production design: Simona Paduretu
Editing: Tudor Pojoni
Cinematography: Oleg Mutu
Cast: Ion Sapdaru, Ovidiu Crisan, Maria Junghetu, George Dometi, Sorin Cocis, Ion Ruscut, Ioana Chitu