Filmmaker Ismail Basbeth follows a military jeep across Indonesia in his allegorical road movie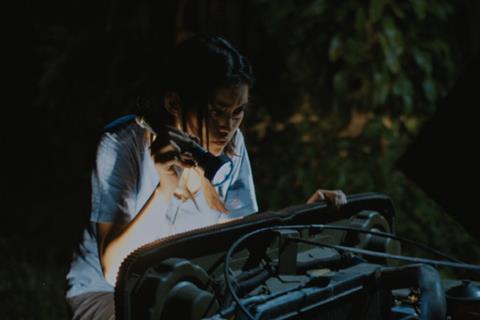 Dir. Ismail Basbeth, Indonesia, 2017, 84 minutes
A road movie where a military jeep travels many places with many drivers, The Carousel Never Stops Turning is a parable in theme and variations about Indonesia today.
Even with a minimal budget, solid production values make you feel the landscape as well as the road
This enigmatic ensemble of stories, full of codes and oblique references, should travel well on the festival circuit. A later life is far from certain, however, although may spark political debate inside Indonesia. Writer/director/producer Ismail Basbeth dedicates his film to George Orwell, Abbas Kiarostami, Martin Scorsese, Darwin Nugraha and Indonesia, and his film may resonate with the cinephiles and the literary crowd associated with those figures.
At the center of Carousel is a green jeep with a star on its bonnet and a gun mount in the rear that suggests that it was once military property. When we first encounter the vehicle, a man is speaking to it as if it were his lover, consummating that relationship in a garage with some heavy breathing.
Soon, we meet two farmers, wearing straw sun hats that look comically anachronistic and protesting a forced eviction from their demolished homes. Thrown off their fields, they roam the highways, walking as motorbikes speed by in the opposite direction. We watch them in long takes, seen from a distance, Kiarostami-style.
There are laughs in their reappearances that feel like an updated Waiting for Godot, yet the farmers are, like most of the characters here, casualties of society. Basbeth follows them as they attempt to protest their loss of land to indifferent observers. Mostly they wander on the road in vague locations where there's no sign of community.
The film's English title suggests a self-perpetuating state of abandonment. Every scene echoes some version of that, often with a Lav Diaz trademark stationary camera and scenes where there's barely any motion. Elsewhere, a newlywed couple tours an empty zoo and comes upon a lonely brooding orangutan; once a proud symbol of Indonesia's glorious fauna, it languishes in a bare recreated patch of its habitat. Nature itself feels compromised through Basbeth's eyes; even with a minimal budget, solid production values make you feel the landscape as well as the road.
Yet Carousel offers more than gloom. In a long road scene, three appealing young women from a band cruise along, musing on death, reincarnation, and the existence of God or something else in the cosmos. Their banter is a charming reverie, with no mention of Islam or anything officially religious, and the blithe young ladies (whose heads aren't covered) end up singing and dancing.
Basbeth's extended meditation eventually gets darker, as the well-meaning homeless farmers cross paths with violent thugs and a lone woman finds a fire at the end of an unlit road. Having come so far in the jeep, it's hard for that fire to be anything other than a political reference.
Production companies: Bosan Berisik Lab, Panji Prasetyo Pictures
International sales: Matta Cinema cornelio@mattacinema.com
Producers: Ismail Basbeth, Suryo Wiyogo
Executive producers: Panji Prasetyo, Henricus Herianto
Cinematography: Satria Kurnianto
Editor: Dwi Agus Purwanto
Production designer: Edy Wibowo
Main cast: Cornelio Sunny, Karina Salim, Yan Widjaya, Dea Ananda, Leilani Hermiasih, Shalifa Fala Pratika