Dir. Yuri Ancarani. France/Italy 2016, 70 mins.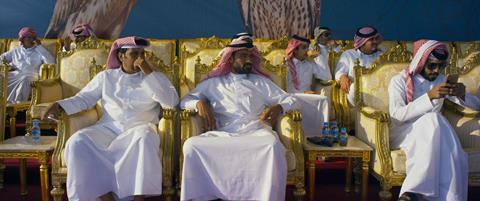 Art documentary The Challenge may be aptly named as a dramatically-structured piece, but there's an exquisite visual luxury at play in this loose trip across the Arabian gulf to a falconry competition in Qatar. Winner of the special jury prize at Locarno's 'Filmmakers of the Present' strand, Italian artist Yuri Ancarani's mostly-silent travelogue captures the Arabian peninsula without comment, its repetitive, dreamy imagery providing an insight to an age-old sport which plays out within the trappings of extreme wealth.
Ancarani's camera is not at all judgemental.
The art of falconry has existed throughout the millennia; while its glory may have faded in the Western world, it retains a spectacular prestige in the Middle East, where – at $24,000 for a bird at auction – it is a luxury ticket. Ancarani's camera places the sport in the context of custom-built sports cars, gold Harley-Davidsons, pet leopards and private planes as this majestic Gulf animal travels to the Qatar desert meet. (While many Western viewers might perceive falconry as being on a par with the Middle Eastern passion for equine sport, horses do not figure in Ancarani's piece).
Ancarani's previous films have played the festival circuit but also appeared in museums including the Guggenheim and the Pompidou Centre, and it seems assured that The Challenge will follow the same path, with its juxtaposition of the ancient desert and animal with the modern trappings of extreme wealth. When the meet finally takes place, for example, we watch the competition through a giant TV screen set up in the middle of Qatar's shifting sands, as the white robed, all-male spectators sit on elaborate Persian carpets inside their tents playing incessantly with their mobile phones – the modern Bedouins and the ancient sport.
Ancarani's camera is not at all judgemental. Swooping repetition is a large part of this 70-minute piece as he returns time and again to sequences such as gas-guzzling jeeps in the desert at night, the gold Harley, and the private jet which seats only one man beside his prized falcons, with whom he is surprisingly gentle. Shots where two sheikhs bid on a bird by phone while watching the auction on a giant TV is revelatory. The motion of taking the exquisitely-fashioned hoods from the birds' heads become a motif, although we never really see the birds fly in close-up. The viewer experiences the competition in the same way as the spectators, through the giant screen, juxtaposed with footage taken from a camera placed on the bird itself.
Production company: Slingshot Films
International sales: info@slingshotfilms.it
Producers: Christophe Gougeon, Fabrizio Polpettini, Pierre Malachin, Tommaso Bertani
Cinematography: Yuri Ancarani, Luca Nervegna, Jonathan Ricquebourg
Screenplay/Editor: Yuri Ancarani
Production design: Stéphane Dougoud, Tanguy Thirion
Sound: Mirco Mencacci
Music: Lorenzo Senni, Francesco Fantini